Cisco Live 2018: Vendor opens management console to partners
In Cisco's latest nod to software, the company has opened its Cisco DNA Center to developers, including a number of IT services providers and consultancies.
At Cisco Live 2018, the networking vendor continued its emphasis on software, opening Cisco DNA Center to developers and talking up opportunities for channel partners in building solutions on its intent-based networking platform. The Cisco conference was held this week in Orlando.
Cisco said it is releasing developer tools and open APIs into Cisco DNA Center, the control console for the vendor's intent-based networks. Cisco launched its intent-based networking initiative a year ago, shaking up its network design approach and underscoring its push toward network programmability. In opening DNA Center, Cisco encourages its partners to create applications that take advantage of data collected via Cisco DNA Center.
World Wide Technology Inc. (WWT), a technology solutions provider and Cisco Gold partner based in St. Louis, created a Mobile Ops Center to demonstrate the potential to build upon Cisco's control center.
"We have only scratched the surface of what is possible with the extensive API set Cisco has built into DNA Center," said Neil Anderson, practice manager of mobility and access at WWT.
Anderson said WWT plans to use the API capabilities to deliver IT automation on top of Cisco DNA Center and "speed the delivery of our deployments for customers." In addition, he cited the possibility of integrating across multiple platforms: integrating Cisco DNA with security and IT service ticketing help desk platforms, as well as linking policy in the network with policy in the data center.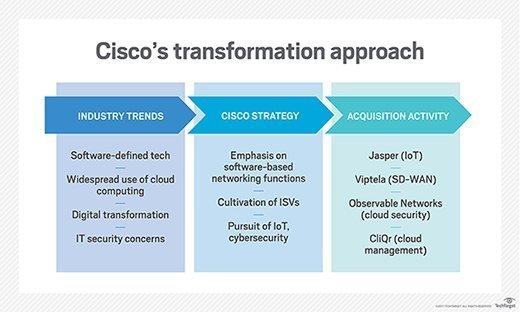 Cisco Live 2018: Developer base grows
The networking vendor used the occasion of Cisco Live 2018 to point to its growing developer base. Susie Wee, vice president and CTO of DevNet innovations at Cisco, said the company's DevNet developer program has reached the 500,000 registered members mark. "It means we've hit critical mass with a developer community who can program the network," Wee wrote in a Cisco blog post.
We have only scratched the surface of what is possible with the extensive API set Cisco has built into DNA Center.

Neil Andersonpractice manager of mobility and access, WWT
According to Cisco, its developer allies include infrastructure developers, cloud developers, independent software vendors (ISVs), systems integrators and network automation consultants. Cisco's traditional partners -- networking resellers -- have been retooling in response to Cisco putting software in the lead.
Jason Parry, vice president of client solutions at Force 3, an infrastructure and security solutions provider based in Crofton, Md., said network engineering is becoming more of a development and network programming endeavor. Force 3 is a Cisco Gold partner.
"I think the trend or the move towards software continues to be very evident," Parry said.
Cisco DNA Center opens opportunities
Parry said Cisco DNA Center will likely follow the path to greater openness that Cisco technologies such as Application Centric Infrastructure have taken.
"We will see them continue to open that up as they have other platforms," he noted.
The ability to access analytics and telemetry through the Cisco DNA Center APIs will let developers "leverage the network ... access layer in ways they really haven't before," Parry said. That ability will enable use cases around security, he added.
Fifteen partners have already created solutions on Cisco DNA Center and have demonstrated them at Cisco Live 2018, according to the company. Several of those partners come from the IT services space, including Accenture, Dimension Data, HCL, Logicalis, Presidio, Wipro and WWT.
Cisco said Accenture is creating services around software-image updates, while Presidio focuses on power management and HCL concentrates on third-party device provisioning.
WWT's Mobile Ops Center, meanwhile, aims to help IT engineers keep tabs on intent-based networks when they are away from the Cisco DNA Center management console.
"Today, DNA Center is a console-based experience -- the IT engineer needs to be present at the DNA Center console at his desk to proactively manage and operate the network," Anderson explained.
He said WWT Asynchrony Labs created a mobile app, using the Cisco DNA Center platform APIs, that lets engineers "take the DNA Center with them wherever they go."
Dell reverses storage slide
On the heels of its first-quarter earnings report, Dell Technologies highlighted how channel partners are contributing to the company's growth.
Dell reported $21.4 billion revenue for the first quarter with sales increases in its core technologies. Storage generated $4.1 billion in revenue, which represented a turnaround from a fourth-quarter slump.
"For the first time really since we brought [Dell and EMC] together ... we saw phenomenal share gains" in storage, said Cheryl Cook, senior vice president of global channel marketing, at Dell EMC. "It is our first quarter of turning that business back to growth, which has certainly been a focus area for us."
Among Dell EMC's recent efforts to boost storage sales were a number of channel incentives and expanded resources such as sales performance incentive funds and the addition of storage sales specialists.
According to Cook, highlights of Dell EMC partners' first-quarter performance included:
Fourteen percent revenue growth in Dell EMC's distribution business. Distributors continue "to be one of our fastest growth areas of partner types," she said.
Channel partners brought in about 14,800 new or reactivated customers.
Dell EMC approved about 120,800 deal registrations.
Partners earned more than 5,500 credentials.
Going forward, Cook said that Dell Technologies is looking to create a more integrated framework for partners for doing business across its strategically aligned businesses. That was a key theme discussed at the vendor's Global Partner Summit in May.
She said Dell Technologies plans to maintain separate partner programs -- for example, the VMware and Dell EMC Partner Programs -- but will focus on developing ways to recognize partners' training investments and benefits across programs.
"At some stage, we may drive ... 'loosely coupled alignment' across the programs rather than [the programs] all living inside one hard program. But we're very much focused on bringing the value proposition, the benefits and such that we can align our incentive structures similarly [and] recognizing training and credits in each of the programs so that it's not redundant or repetitive," she said.
Other news
Continuum, a managed service provider (MSP) technology platform provider, has acquired CARVIR to expand its cybersecurity offering. CARVIR provides monitored and managed security to MSPs targeting small and medium-sized businesses (SMBs).
Rackspaceunveiled Rackspace Colocation, a service that lets customers deploy their own hardware in Rackspace data centers. The offering provides an average of eight carriers per colocation data center, the company said.
A whitepaper from AMI-Partners notes managed services providers (MSPs) are partnering with ISVs, such as BitTitan, Microsoft and SkyKick, to help migrate SMBs to cloud-based email and productivity offerings. "By using a suitable tool, MSPs reported being able to save an average of 18 hours on a typical SMB migration project," AMI-Partners stated.
The vast majority of companies lack complete commitment to the DevOps process, according to a survey undertaken by 2nd Watch, a cloud consulting firm based in Seattle. The survey of more than 1,000 IT managers and directors found 78% of the respondents said separate teams still manage infrastructure/operations and application development. About 30% of the respondents said they use a manual process for deployment, while 70% use some form of an automated pipeline.
Tufin, a provider of network security policy orchestration technology, rolled out a program to support partners deploying, configuring and customizing its orchestration suite. The Service Delivery Partner Program has structured the program with two tiers -- Service Delivery and Service Delivery Plus -- and offers certification, professional services business referral opportunities, and access to best practices and tools among other benefits, Tufin said.
Data management vendor DefendX Software is targeting partners such as cloud and managed services providers with a new channel program. The DefendX True Partner Program provides deal protection, lead sharing and new customer incentives.
Chicago-based Telecom Brokerage Inc. (TBI) inked a distribution deal with Canadian communications provider Shaw Communications. Under the agreement, TBI's agent and value-added reseller partners can offer Shaw's data solutions in Canada.
Accenture has agreed to acquire DesignAffairs, a strategic design consultancy in Germany. The deal aims to bolster Accenture's smart products and services initiative, Accenture Industry X.0.
Agosto Inc., a cloud services and development company in Minneapolis, said it has named Rick Erickson chief cloud strategist. Erickson, Agosto's co-founder, focuses on the Google Cloud Platform in particular.
Atera, an IT automation platform vendor that targets MSPs, launched a chat feature that the company said service providers can use as a self-service tool for their customers.
Aparavi, a SaaS-based active archive startup, rolled out a program for service providers. Aparavi Advantage offers marketing support, training and sales assistance.
Telehouse America, a data center and managed IT services company, has expanded its alliance with Atlantic Metro into areas including SD-WAN and object storage.
Market Share is a news roundup published every Friday.