Managed services companies remain hot M&A ticket
The pace of merger and acquisition transactions in the MSP market shows no signs of slowing, despite macroeconomic developments; more news from the week.
Managed services companies continue to prove popular targets for investment, with more merger and acquisition deals surfacing this week.
Those transactions included private equity firm Lightview Capital making a strategic investment in Buchanan Technologies; Siris, a private equity firm, agreeing to acquire TPx Communications; and IT Solutions Consulting Inc. buying SecurElement Infrastructure Solutions.
Those deals follow private equity firm BC Partners' agreement last week to acquire Presidio, an IT solutions provider with headquarters in New York. That transaction, valued at $2.1 billion, is expected to close in the fourth quarter of 2019.
More than 30 transactions involving managed service providers (MSPs) and IT service firms have closed thus far in 2019. This year's deals mark a continuation of the high level of merger and acquisition (M&A) activity that characterized the MSP market in 2018. Economic uncertainty may yet dampen the enthusiasm for acquisitions, but recession concerns don't seem to be having an immediate impact.
Seth Collins, managing director at Martinwolf, an M&A advisory firm based in Scottsdale, Ariz., said trade policies and recession talk have brought some skepticism to the market. That said, the MSP market hasn't lost any steam, according to Collins.
"We haven't seen a slowdown in activity," he said. The LMM Group at Martinwolf represented Buchanan Technologies in the Lightview Capital transaction.
Collins said the macroeconomic environment isn't affecting transaction multiples or valuations. "Valuations aren't driven by uncertainty; they're driven by the quality of the asset," he noted.
Finding the right partner
Buchanan Technologies is based in Grapevine, Texas, and operates a Canadian headquarters in Mississauga, Ont. The company's more than 500 consultants, engineers and architects provide cloud services, managed services and digital transformation, among other offerings.
Valuations aren't driven by uncertainty; they're driven by the quality of the asset.

Seth CollinsManaging director at Martinwolf
A spokesman for Lightview Capital said Buchanan Technologies manages on-premises environments, private clouds and public cloud offerings, such as AWS, IBM Cloud and Microsoft Azure. The company focuses on the retail, manufacturing, education, and healthcare and life sciences verticals.
Collins said Buchanan Technologies founder James Buchanan built a solid MSP over the course of 30 years and had gotten to the point where he would consider a financial partner able to take the company to the next level.
"As it turned out, Lightview was that partner," Collins added, noting the private equity firm's experience with other MSPs, such as NexusTek.
The Siris-TPx deal, meanwhile, also involves a private equity investor and long-established services provider. TPx, a 21-year old MSP based in Los Angeles, provides managed security, managed WAN, unified communications and contact center offerings. The companies said the deal will provide the resources TPx needs to "continue the rapid growth" it is encountering in unified communications as a service, contact center as a service and managed services.
Siris has agreed to purchase TPx from its investors, which include Investcorp and Clarity.
"Investcorp and Clarity have been invested with TPx for more than 15 years, and they were ready to monetize their investment," a spokeswoman for TPx said.
IT Solutions Consulting's acquisition of SecurElement Infrastructure Solutions brings together two MSPs in the greater Philadelphia area.
The companies will pool their resources in areas such as security. IT Solutions offers network and data security through its ITSecure+ offering, which includes antivirus, email filtering, advanced threat protection, encryption and dark web monitoring. A spokeswoman for IT Solutions said SecurElement's security strategy aligns with IT Solutions' approach and also provides "expertise in a different stack of security tools."
The combined company will also focus on private cloud, hybrid cloud and public cloud services, with a particular emphasis on Office 365, the spokeswoman said.
IT Solutions aims to continue its expansion plans in the Philadelphia area and mid-Atlantic regions through hiring, new office openings and acquisitions.
"We have an internal sales force that will continue our organic growth efforts, and our plan is to continue our acquisition strategy of one to two transactions per year," she said.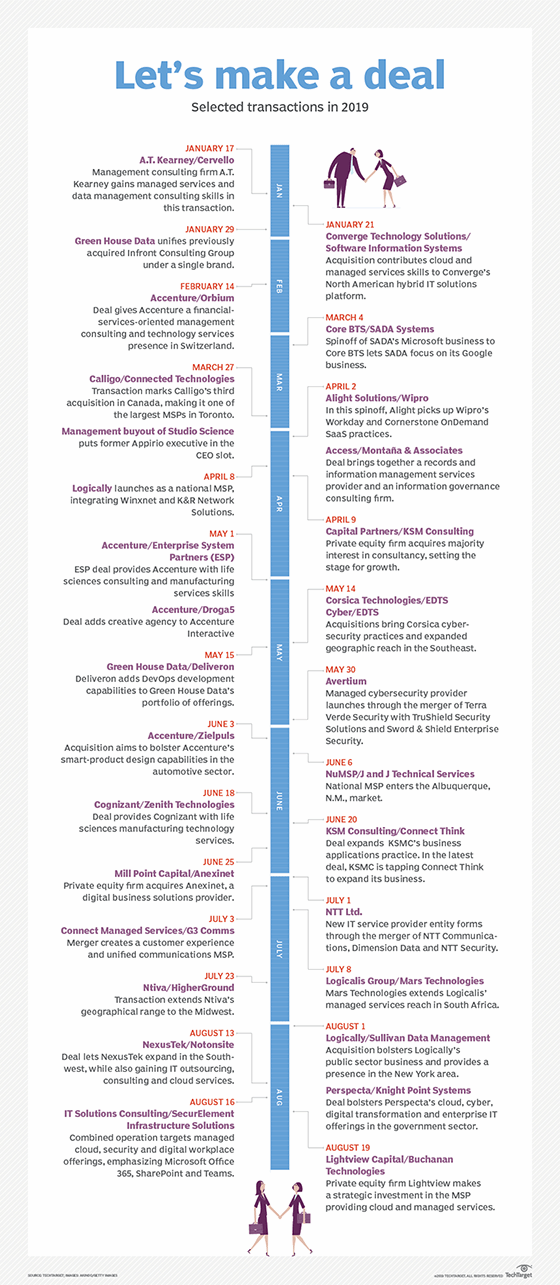 VMware arms cloud partners with new tools
Ahead of the VMworld 2019 conference, VMware has unveiled a series of updates for its cloud provider partners.
The VMware Cloud Provider Platform now features new tools to enhance the delivery of hybrid cloud offerings and differentiated cloud services, the vendor said. Additionally, VMware said it is enabling cloud providers to target the developer community with their services.
"Customers are looking for best-of-breed cloud that addresses their specific application requirements. ... In this world, where there are multiple types of clouds, customers are looking to accelerate the deployment of the applications, and, when they are looking at cloud, what they are looking for is flexibility -- flexibility so that they can choose a cloud that best fits their workload requirements. In many ways, the clouds have to adapt to the application requirements," said Rajeev Bhardwaj, vice president of products for the cloud provider software business unit at VMware.
Highlights of the VMware updates include the following:
The latest version of the vendor's services delivery platform, VMware vCloud Director 10, now provides a centralized view for hosted private and multi-tenant clouds. Partners can also tap a new "intelligent workload placement" capability for placing "workloads on the infrastructure that best meets the workload requirements," Bhardwaj said.
To help partners differentiate their services, VMware introduced a disaster-recovery-as-a-service program for delivering DRaaS using vCloud Availability; an object storage extension for vCloud Director to deliver S3-compliant object storage services; and a backup certification to certify backup vendors in vCloud Director-based multi-tenant environments, VMware said. Cohesity, Commvault, Dell EMC, Rubrik and Veeam have completed the backup certification.
Cloud provider partners can offer containers as a service via VMware Enterprise PKS, a container orchestration product. The update enables "our cloud providers to move up the stack. So, instead of offering just IaaS ... they can start targeting new workloads," Bhardwaj said. VMware will integrate the Cloud Provider Platform with Bitnami, which develops a catalog of apps and development stacks that can be rapidly deployed, he said. The Bitnami integration can be combined with Enterprise PKS to support developer and DevOps costumers, attracting workloads such as test/dev environments onto clouds, according to VMware.
Bhardwaj noted that the VMware Cloud Provider Program has close to 4,300 partners today. Those partners span more than 120 countries and collectively support more than 10 million workloads. VMware's Cloud Verified partners, which offer VMware software-defined data center and value-added services, have grown to more than 60 globally, VMware noted.
Managed service providers are a growing segment within the VMware Cloud Provider Program (VCCP), Bhardwaj added.
"As the market is shifting more and more toward SaaS and ... subscription services, what we are seeing is more and more different types of partners" join VCCP, he said.
Partner businesses include solution providers, systems integrators and strategic outsourcers. They typically don't build their own clouds, but "want to take cloud services from VMware as a service and become managed service providers," he said.
Other news
Rancher Labs, an enterprise container management vendor, rolled out its Platinum Partner Program. Targeting partners with Kubernetes expertise, the program provides lead and opportunity sharing programs, joint marketing funds and options for co-branded content, the company said. Partners must meet a series training requirements to qualify for the program.
Quantum Corp., a storage and backup vendor based in San Jose, Calif., updated its Alliance Partner Program with a new deal registration application, an expanded online training initiative and a redesigned partner portal. The deal registration component, based on Vartopia's deal registration offering, provides a dashboard to track sales activity, the deal funnel and wins, according to Quantum. The online training for sales reps and engineers is organized by vertical market, opportunities and assets. The company also offers new training options for in-person training.
Quisitive Technology Solutions Inc., a Microsoft solutions provider based in Toronto, launched a Smart Start Workshop for Microsoft Teams.
MSP software vendor Continuum cut the ribbon on a new security operations center (SOC). Located in Pittsburgh, the SOC will bolster the availability of cybersecurity talent, threat detection and response, and security monitoring for Continuum MSP partners, the vendor said.
Technology vendor Honeywell added Consultare America LLC and Silver Touch Technologies to its roster of Guided Work Solutions resellers. A voice-directed productivity product, Guided Work Solutions software targets small and medium-sized distribution centers.
Sify Technologies Ltd., an information and communications technology provider based in Chennai, India, aims to bring its services to Europe through a partnership with ZSAH Managed Technology Services. The alliance provides a "broader consulting practice" to the United Kingdom market, according to Sify.
US Signal, a data center services provider based in Grand Rapids, Mich., added several features to its Zerto-based disaster recovery as a service offering. Those include self-management, enterprise license mobility, multi-cloud replication and stretch layer 2 failover.
Dizzion, an end user cloud provider based in Denver, introduced a desktop-as-a-service offering for VMware Cloud on AWS customers.
LaSalle Solutions, a division of Fifth Third Bank, said it has been upgraded to Elite Partner Level status in Riverbed's channel partner program, Riverbed Rise.
FTI Consulting Inc., a business advisory firm, said its technology business segment has launched new services around its RelativityOne Data Migration offering. The services include migration planning, data migration and workspace migration.
Mimecast Ltd., an email and data security company, has appointed Kurt Mills as vice president of channel sales. He is responsible for the company's North American channel sales strategy. In addition, Mimecast appointed Jon Goodwin as director of public sector.
Managed detection and response vendor Critical Start has hired Dwayne Myers as its vice president of channels and alliances. Myers joins the company from Palo Alto Networks, where he served as channel business manager, Central U.S. and Latin America, for cybersecurity solutions.
Market Share is a news roundup published every Friday.