CyberX launches partner program in IoT security market
Managed service providers, consultancies and integrators are among the channel partners participating in CyberX's partner program; more news from the week.
CyberX, a Boston-based company that focuses on IoT and industrial control system cybersecurity, has unveiled a channel partner program.
The company's Xcelerate program includes technical support, online training, deal registration, not-for-resale software, marketing development funds and a partner portal. The program's scope encompasses managed service providers (MSPs), systems integrators, consulting firms, distributors, value-added resellers and technology alliance partners.
Service provider partners include Dimension Data, DXC Technology, NTT Security, Tata Consultancy Services and Wipro. Technology partners include IBM, ServiceNow and Splunk. CyberX also partners with industrial automation vendors such as Schneider Electric and Siemens.
CyberX provides a network security and monitoring system that covers IT and operational technology (OT) devices. The company has customers in the energy utilities, chemical and pharmaceutical markets. Vendors such as Cisco have advised channel partners to sell IoT services to OT and line-of-business executives, who direct much of the buying in that market.
The global IoT security market is forecast to grow from $18.82 billion in 2019 to $51.42 billion by 2024, according to BIS Research Inc., a market research company based in Fremont, Calif. The market will grow at a compound annual growth rate of 22.26% during that period, the company said.
The worldwide industrial control systems security market, meanwhile, is projected to grow at a 6.5% compound annual growth rate through 2023, when the market is expected to reach $18.05 billion, according to MarketsandMarkets.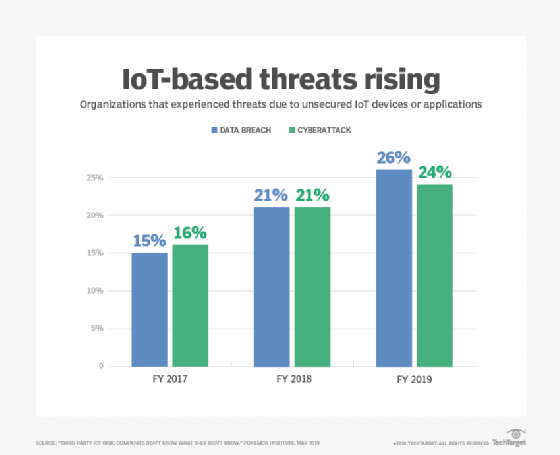 Berkshire bid boosts Tech Data deal to $6B
Berkshire Hathaway Inc. launched a competitive bid to acquire Tech Data Corp., compelling suitor Apollo Global Management to sweeten the deal.
Berkshire's offer surfaced in a Tech Data filing with the Securities and Exchange Commission. When Apollo's $130/share, $5.4 billion agreement to acquire Tech Data was revealed in November, the deal included a "go shop" provision that allowed the Clearwater, Fla., distributor to entertain alternative proposals until December 9. Hathaway presented a $140/share offer during that period. Apollo responded with a $145/share offer, which has cleared the path for the acquisition to proceed. Apollo's new offer will boost the acquisition's value to $6 billion.
Vendors launch cybersecurity integrations
Cybersecurity vendors this week revealed new integrations between their technology and MSP management tools.
Bitdefender integrated its GravityZone MSP security suite with Datto's remote monitoring and management (RMM) software. Bitdefender said the integration enables Datto RMM users to automate deployments of Bitdefender antivirus, antimalware and advanced endpoint layers via an OS-agnostic kit.
Meanwhile, Netsurion linked up its EventTracker security operations center service with IT Glue's documentation platform. The combination lets Netsurion MSPs access reports designed to demonstrate security and compliance posture to clients, Netsurion said.
Barracuda Networks integrated two of its own products: Barracuda Content Shield and the Managed Workplace RMM platform. Barracuda's RMM users can now tap Content Shield's cloud-based web filtering and malware protection.
Other news
Atos, an IT services and consulting firm based in Bezos, France, said it signed a distributor deal with Ingram Micro, headquartered in Irvine, Calif. Under the agreement, Atos will provide its cybersecurity offerings, including Atos Evidian identity and access management products, to Ingram Micro's U.S. channel partners.
D&H Distributing, a distributor based in Harrisburg, Pa., has identified five main areas of opportunity for 2020: cloud, commercial audio/visual and collaboration, esports, infrastructure/security and build-to-order compute and storage offerings.
KORE, an IoT solutions provider based in Alpharetta, Ga., has acquired Integron, an IoT-oriented MSP. Integron has offices in Rochester, N.Y. and Ulestraten, Netherlands.
SolarWinds said its remote monitoring platforms now include cryptographic algorithms for managing Windows systems that meet Federal Information Processing Standard 140-2. SolarWinds RMM and SolarWinds N-central adhere to the federal encryption standard.
Veeam Software enhanced its Veeam Accredited Services Partner (VASP) program. New VASP benefits include access to additional dedicated internal resources at Veeam, the company said.
Nuspire, a managed security services provider, has hired Lewie Dunsworth as its CEO. Saylor Frase vacated the CEO slot to become chairman of the board. Dunsworth was previously CISO and executive vice president of global security services at Herjavec Group.
Managed services automation company BitTitan named James Clifford as its new EMEA sales director.
Market Share is a news roundup published every Friday.