Moogsoft AIOps platform taps WWT in partner initiative
World Wide Technology will build out its AIOps practice by using the Moogsoft AIOps platform alongside Cisco's AppDynamics, according to Moogsoft; more IT channel news.
Moogsoft Inc., an AIOps platform provider, is partnering with World Wide Technology Inc. as part of its plan to work with channel partners that can help transform customers' network operations centers.
World Wide Technology (WWT), a technology solution provider based in St. Louis, will use Moogsoft's technology within its AIOps practice. WWT joins other Moogsoft partners such as Windward Consulting Group, a Herndon, Va., company that recently rolled out managed services around the Moogsoft platform.
Terry Ramos, Moogsoft's senior vice president of alliances and channel, joined the company in February 2020. Since then, the company's channel program has aimed to recruit partners able to help customers through an AIOps transformation.
"We're focusing on a small number of partners who understand the transformation of taking hundreds of thousands of events and narrowing that down to a set number of situations that a customer really needs to focus on and get resolved," Ramos said.
IT service providers have recently become more active in AIOps and intelligent operations. Companies building practices in those areas assess customers' environments, suggest strategies for building on what they have already and help them integrate new tools.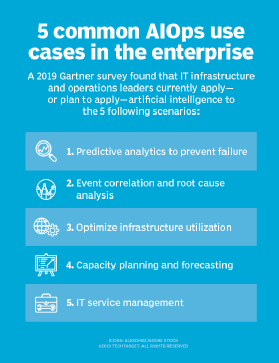 The Moogsoft AIOps platform integrates with monitoring tools to ingest event data, provides noise reduction and ties together similar alerts into what the company terms "situations." Moogsoft's machine learning technology identifies the probable root cause of a situation, which network operations center (NOC) or security operations center personnel can then resolve.
Regarding integrations, Moogsoft will operate alongside Cisco's AppDynamics in WWT's AIOps practice. "We have a partnership with AppDynamics, as well," Ramos noted. Moogsoft ingests monitoring and observability data from AppDynamics, according to Moogsoft.
Moogsoft, meanwhile, is promoting the concept of the virtual NOC, which lets ITOps and DevOps groups collaborate outside of a physical facility. Moogsoft Enterprise 8.0, based on the Moogsoft AIOps Platform, includes a Situation Room that lets personnel collaborate remotely.
Wipro launches channel partner program
Wipro Ltd. will collaborate with channel partners as it looks to accelerate the adoption of its products and platforms, which span areas from AI to virtual desktops.
The company's newly launched Global Channel Partner Program aims to facilitate relationships with IT services providers, products companies, consulting firms and resellers. Mandar Vanarse, general manager of the intellectual property unit at Wipro, said the company offers 60 industry-specific platforms and products as well as "industry-agnostic" technology offerings.
The company's portfolio also includes the Wipro Holmes AI and automation platform, Wipro's VirtuaDesk desktop-as-a-service offering and the Open Banking API platform.
"We are open to our partners selling … one or several of the products from our portfolio," Vanarse said. He added channel partners can sell Wipro's products "as is" or as a joint offering with their own products.
Wipro channel partner firms will target the enterprise market segment, which is also Wipro's primary segment. Vanarse said Wipro will avoid channel conflict with a "well-defined approach, which will be based on market, segment and accounts, which will help align our efforts to expand coverage and deployment."
Wipro will also offer deal registration through the program. "Channel partners will register their leads with Wipro," Vanarse said. "Wipro, in turn, will validate the leads and qualify the partner to pursue the lead."
According to Wipro, the company's channel partner staff will receive training at the Wipro Product Academy and have access to "special pricing models, sales enablement support, benefit calculators, and other sales and marketing material."
Other news
ServiceNow updated its partner initiative with a partner marketplace and an app monetization program. The company unveiled the ServiceNow Partner Industry Solutions marketplace, which features partner offerings that address joint customers' industry-specific workflow and digital transformation needs. The initial group of partners offering the industry solutions includes Accenture, Atos, Deloitte, DXC Technology, Ernst & Young and KPMG. ServiceNow also launched the Built on Now program, which provides a framework for app monetization. The company said the framework lets partners build, test, certify, distribute and sell digital workflows on the Now Platform. A year ago, ServiceNow said it would heavily invest in its partners as it pursues its goal of becoming a $10 billion company.
UiPath, a robotic process automation software company, said it is offering new partner training, certification and marketing programs through its UiPath Services Network. The additions include an expanded set of materials such as product training and solution guides; new turnkey digital marketing programs; and new technology integrations with vendors such as Oracle, Salesforce, ServiceNow and Workday. The company earlier this year launched UiPath Academy for Partners, a partner-specific training portal.
Omdia, a market research firm based in London, said the COVID-19 pandemic will boost SaaS market revenue in 2020 by 4 to 5 percentage points compared with earlier estimates. However, IT infrastructure service revenue will fall by 2 to 3 percentage points this year compared with previous forecasts. The company said the rise in remote working and e-learning is bolstering demand for SaaS, while business closures have reduced demand for IaaS and other infrastructure services.
MarketsandMarkets, a market researcher based in Pune, India, forecasted the global managed network services market size to grow from $52.7 billion in 2020 to $71.6 billion by 2025. The research firm said the main drivers behind the market expansion include organizations needing to lower capital and operating expenditures, growing interest in digital transformation and new demands for connectivity. MarketsandMarkets predicted that managed WAN will be the largest managed network service segment during the forecast period.
Mitel, a business communications firm based in Dallas, said its MiCloud Flex private cloud is now available on Google Cloud as a wholesale offering. Availability is in the U.S., United Kingdom and France. Mitel said MiCloud Flex on Google Cloud offers its channel partners the potential to create new recurring revenue streams.
Agosto, a Pythian company and cloud services and development firm, rolled out a Managed G Suite Administration Services practice. The practice offers administrative and engineering support around G Suite onboarding and off boarding processes; user moves/changes/adds/deletes; ticket escalation and incident management; license management; change management; continuous training; and an annual G Suite review with a remediation plan.
Peak-Ryzex, a digital supply chain and mobile workforce solutions provider based in Columbia, Md., has entered a partnership with ShipTrack, a cloud-based logistics management platform.
Niagara Networks, based in San Jose, Calif., has expanded its channel program in the Americas, having previously established its Niagara Networks Majestics Partner Program in other regions. The company said that program is now fully operational in North America, noting several dozen channel companies joined the program prior to its formal introduction.
Exabeam, a SIEM vendor in Foster City, Calif., launched a formal practice for managed security service providers (MSSPs) and managed detection and response (MDR) providers within its partner program. The addition will provide structure and support for MSSP and MDR provider business models, the company said. Separately, Exabeam disclosed a "significant investment" in its Asia-Pacific and Japan region to accommodate increasing demand for its cybersecurity offerings.
SADA, a business and technology consultancy based in Los Angeles, officially launched the National Response Portal, which provides data and analytics in support of COVID-19 recovery. SADA built the portal, collaborating with HCA Healthcare, which originated the idea, and Google Cloud.
Infoblox, a company that offers cloud-managed network services based in Santa Clara, Calif., said it now provides a dedicated team of business development specialists for channel partners. Other channel partner program investments include new sales incentives and the expansion of its Professional Services Program to EMEA and Asia-Pacific.
Pulseway, a remote monitoring and management vendor, rolled out a new software package for MSPs. The package is tailored for MSPs supporting remote working environments, the vendor said. The package includes its IT management platform, as well as several built-in features, including unlimited remote control concurrent sessions, remote user chat and file transfer, and automation workflows. The pricing starts from $1.04 per license, a Pulseway spokesperson said.
Veristor Systems, a business technology solutions provider based in Atlanta, has been named a strategic member of Respond Software's partner program. Veristor will offer its customers Respond Analyst, a software automation offering for security operations.
High Wire Networks, a cybersecurity service firm that sells to MSPs, added cloud detection and response (CDR) capabilities to its Overwatch Managed Security Platform as a Service offering. The company said the CDR technology aims to safeguard SaaS apps and public cloud infrastructure with automated attack detection, manual and automated threat hunting, prebuilt compliance reports, and manual and automated response.
Cloud distributor Pax8 is hosting a webinar series in place of its Wingman2020 event, originally planned as an in-person event in Denver next month. The Wingman Webinar Series will cover a range of partner-related topics, Pax8 said.
Market Share is a news roundup published every Friday.
Additional reporting by Spencer Smith.