IT services firms seek growth in generative AI services
Partners launch specialized offerings and practices to address enterprise customer demand, citing generative AI's innovation and optimization potential.
More service providers are getting behind generative AI services, creating offerings and launching practices around a technology they hope will represent a significant growth engine.
Companies benefiting from a period of rapid digitalization and stellar cloud growth rates were brought back to earth amid inflation, economic uncertainty and tighter IT budgets. The sudden emergence of generative AI, however, could spark a return to innovation among enterprises -- and a return to more aggressive technology investment.
It's yet to be seen whether an AI spending wave materializes along the lines of the earlier internet, mobile and cloud investment phases. In the meantime, the partner ecosystem is gearing up for that possibility. Developments in this market include the following:
Rackspace Technology, a multi-cloud technology solutions provider, today unveiled a global generative AI practice that builds upon the San Antonio company's earlier acquisitions and in-house use of the technology.
Insight Enterprises, a solutions integrator based in Chandler, Ariz., last week rolled out a generative AI service, tapping partners such as Microsoft, Nvidia and NetApp.
66degrees, a Google Cloud Premier partner with headquarters in Chicago, last week said it is building generative AI offerings in education, customer experience and customer support using Google's foundation models and Vertex AI machine learning (ML) platform.
Pursuing generative AI services
The launch of ChatGPT in November 2022 sparked interest in generative AI among enterprises -- and inspired service providers to develop offerings.
Professional services firm Accenture in March 2023 set up a generative AI and large language model center of excellence. That effort got a reinforcing push this week: The company plans a $3 billion investment in its data an AI practice, which will add 40,000 AI roles. In May, PwC took the wraps off plans to invest $1 billion to help customers deploy generative AI, while KPMG disclosed its intention to integrate Microsoft's generative AI wares into its project delivery platform.
The latest partner moves further underscore the technology's importance for solutions providers, consultancies and integrators.
Rackspace
Rackspace's newly launched FAIR practice, which stands for Foundry for Generative AI by Rackspace, aims to take customers through the technology adoption process, from ideation to industrialization. To do so, the company plans to tap resources including the AI/ML and data services acquired in its January 2022 purchase of Just Analytics. Rackspace's partnerships with hyperscalers and open source AI companies such as Hugging Face and Stability AI will also play a role in its generative AI services.
Srini Koushik, CTO of Rackspace, said the company has around five customers implementing generative AI, including one that will use the technology to help manage the security and compliance of its customers' data. He cited hockey stick growth for the technology over the last few months.
"At this point in time, we look at this as something that will probably add another engine to our growth strategy," he said.
Given the fast-changing nature of the technology, however, it's difficult to predict what will happen over the next three months, Koushik added.
Insight
Insight, meanwhile, said its service aims to create secure and scalable enterprise instances of generative AI within customers' environments. The company's Insight Lens for GenAI also identifies use cases, ingests data from multiple enterprise sources and provides infrastructure supporting generative AI platforms.
Carm Taglienti, distinguished engineer and portfolio director at Insight, cited plenty of client activity around generative AI. Organizations plan to use the technology to boost the productivity of their business processes, corporate functions and employees.
"Most of the traction we are seeing as we look [into the second half of 2023] is related to helping organizations understand how to integrate these capabilities into their corporate systems and processes," he said. "These activities should have a positive impact on services revenue in H2."
66degrees
At 66degrees, Matt Kelberman, vice president of business analytics, said the company views generative AI as a "major contributing factor" to its AI/ML practice.
The company's data scientists and AI/ML practitioners work with customers on digital transformation initiatives. In one example, 66degrees' data science team worked with Designer Brands, a footwear designer and retailer, on a customer personalization and recommendation project. That effort involved Google Cloud's analytics and AI/ML capabilities.
66degrees has partnered with Google Cloud since 2011.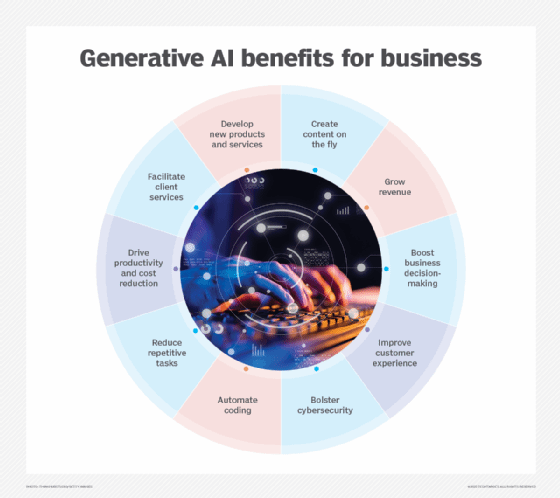 Generative AI innovation and optimization
Widespread interest in generative AI arrives at a time when many customers have been focusing on cost optimization rather than forward-looking investments.
"Generative AI concepts came about at the perfect time," Kelberman said. "Macroeconomics seemed to have resulted in companies focusing on making do, or optimization of their current assets and processes."
Generative AI concepts came about at the perfect time.

Matt KelbermanVice president of business analytics, 66degrees
But with the viral focus on generative AI -- and the wide breadth of possibilities it brings -- "we're seeing companies eagerly dive back into innovation," he noted.
Customers' urgency to gain competitive advantage has created a voracious drive for innovation "that I can't readily identify as a similar trend in recent years," Kelberman said. "I think a lot of folks were ready and waiting for something big to kick-start their creativity again."
Taglienti, however, suggested customer investment in generative AI can have a dual purpose. "Many of the use cases for gen AI are focused on productivity, which is usually correlated to optimization," he said. "So, in that case, customers are investing in innovation and optimization."
That's because the ROI can be very attractive if the technology is used properly, Taglienti added.
A May 2023 Forrester Research report stated that some generative AI use cases could provide ROI today, "though discretion when selecting where to deploy it is paramount." According to the market research firm, generative AI, in the main, will achieve positive ROI in two to four years. Forrester ranks generative AI among its top 10 emerging technologies for digital business.
Rackspace links generative AI to business models
For Rackspace, generative AI's acceleration fits into the company's recently deployed two-business-unit operating model. As of the first quarter of 2023, the company began reporting financial results for its Public Cloud and Private Cloud business units, having previously considered a business unit sell-off.
The company's FAIR practice resides within its Public Cloud business unit, Koushik said, noting that a lot of activity in generative AI will focus on hyperscalers such as AWS, Google and Microsoft Azure. That said, Rackspace's Private Cloud business is also experiencing generative AI demand. AI startups, for example, are looking for significant compute and storage capabilities within a private cloud environment on which they can build foundation models, he said.
Rackspace, Koushik added, implements high-performance computing technology for such customers.