Users look to Oracle Autonomous Database to lighten IT load
Early users are kicking the tires of Autonomous Database, attracted by Oracle's pledge that the cloud technology will automate database administration chores.
SAN FRANCISCO -- New systems often require additional IT infrastructure and increase the workload of IT administrators. But both of those things could change for Oracle users if Oracle Autonomous Database works as promised, according to early users of the cloud-based technology.
First detailed at last year's Oracle OpenWorld conference, Autonomous Database is now a central part of the vendor's cloud efforts. And at Oracle OpenWorld 2018, users who have started working with it shared their reasons for making the leap to the technology, which Oracle says can take over much of the database configuration, patching, tuning and update work done by database administrators (DBAs).
For David VanWiggeren, who heads a startup that's building a platform to manage customer loyalty programs for gas station and convenience store operators, keeping IT costs under control is a major part of the business strategy.
"We don't have a ton of DBAs," said VanWiggeren, CEO of Drop Tank LLC in Burr Ridge, Ill. "When we build something, we have to make sure it isn't something that will weigh us down later. We have to be efficient; we have to be thin to win."
From MySQL to Oracle ADW
Drop Tank began using the data warehouse version of Oracle Autonomous Database earlier this year to help its customers analyze activity in their loyalty programs. The shift involved a move from a MySQL database residing on the Rackspace cloud to the Autonomous Data Warehouse (ADW) cloud service, according to Timothy Miller, vice president of technology at Drop Tank.
In a joint interview with VanWiggeren, Miller seconded the notion that adding to Drop Tank's DBA ranks isn't the path to take. Miller said he doesn't want "a roomful of DBAs and sys admins" at the company. Instead, he said he wants his team to focus on development work that supports Drop Tank's business operations -- and not to have to "take a week off here and there to do patches" in its databases.
Rackspace has absorbed some maintenance and administration tasks for Drop Tank, Miller said, but it was still left up to his team to manage the company's databases on an ongoing basis. He and VanWiggeren said they hope that work will be minimized by the move to Oracle Autonomous Database.
Miller said Drop Tank has also now started to work with the Autonomous Transaction Processing service that Oracle launched in August to enable Autonomous Database to run transactional applications. It's still early in the deployment process at Drop Tank, but the company is looking to eventually migrate all its applications to the Oracle cloud.
Autonomous Database may add to cloud's appeal
Al Cordoba, chief data officer at Qualex Consulting Services Inc. in Bay Harbor Islands, Fla., has begun testing out ADW on existing Oracle data models created for customers in entertainment, sports and other industries. He said the move to the cloud is well underway for many of Qualex's customers, and requests for proposals that once never included cloud options now often solely specify cloud systems.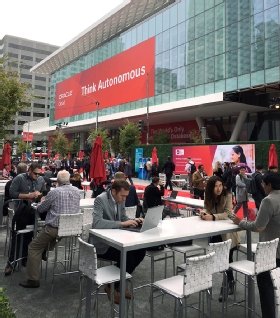 The automated features built into Oracle Autonomous Database could make cloud deployments even more appealing to the organizations with which Qualex works, according to Cordoba.
"The administrative costs of patching and of just 'keeping the lights on' for a data warehouse are important issues for many people," he said, adding that Oracle's pledges to provide high levels of security in Autonomous Database are also a key to the technology's adoption.
Cordoba said he sees changes ahead in the nature of the DBA's job that Autonomous Database could help enable.
"For sys admins, there has to be an evolution from someone doing upgrades to a hybrid role where someone is looking more downstream," he said. What companies really need, in his view, are DBAs who know their data, understand data governance and can interact effectively with business groups.
Patching the work day away
For data management teams as a whole, "it's long past time to actually do autonomous," said Merv Adrian, a Gartner analyst. "There are companies with thousands of database instances and several dozen employees spending their entire day -- every day -- patching them. This will be an enormous effectiveness boon."
Database automation is becoming an even more pressing need as the complexity of systems grows, Adrian added in an interview at OpenWorld.
"The database over the last decade has gotten more and more moving parts," he said. "And the more moving parts you use, the more moving parts you have to configure and the more likelihood there is of configuring it incorrectly."
There are companies with thousands of database instances and several dozen employees spending their entire day -- every day -- patching them.

Merv Adriananalyst at Gartner
Configuration, patching and other basic database administration work may not be the best use of valuable IT resources, but handing that work over to Oracle Autonomous Database may concern DBAs who aren't convinced the technology can be trusted to properly tune databases. For many, making sure that database performance meets user needs is a key part of their jobs.
Oracle's perspective, though, is that as adoption of Autonomous Database grows, more users will help make it better at tuning databases, said Penny Avril, vice president of product management for Oracle Database. "In the old days, we threw software over the fence," she said. "The advantage we have this time around on the cloud is that we can instantly react."
With Oracle Autonomous Database and other cloud services, the company can gather activity log data, see how new features are being used and make needed changes based on the available data, Avril said.
Dig Deeper on Oracle architecture and integration