10 cybersecurity best practices and tips for businesses
Looking to improve your business's cybersecurity program? Study these 10 cybersecurity best practices and tips.
Each employee of a business, from end users to security professionals to executives, has a role in protecting their business from cyber attacks. The actions that each employee takes -- or doesn't take -- can make the difference between "just another day" and a major security breach that harms the business's reputation and costs the business a lot of money.
To help businesses improve their security practices, we've compiled a list of cybersecurity best practices for security professionals to follow, and a list of cybersecurity tips for all employees to keep in mind. These lists focus on particularly important things for businesses today to address.
Cybersecurity best practices for security professionals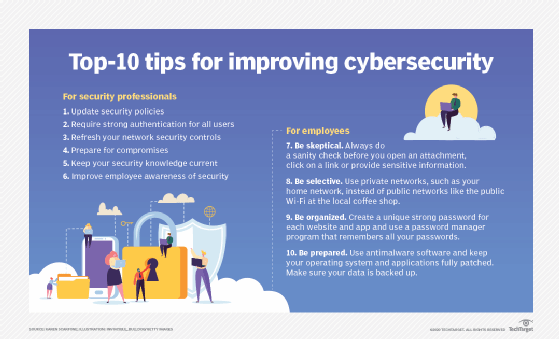 Cybersecurity tips for employees
Be skeptical. It's human nature to be trusting, but when you receive an email, phone call, text, social media request or other form of communication, the sender could be an imposter trying to trick you. Always do a sanity check before you open an attachment, click on a link or provide sensitive information. Does the communication look legitimate? Would this person or company send you this request? If you're not sure, call the sender and confirm that they sent the message in question. This helps you avoid phishing and other attacks intended to take advantage of your trust.
Be selective. Internet access is available almost everywhere, but security threats differ from place to place. Whenever possible, use private networks, such as your home network, instead of public networks like the public Wi-Fi at your local coffee shop. On public networks, your computer is directly exposed to attacks from the internet. Private networks use a firewall, internet router or other device to block attackers from directly connecting to your mobile and other devices. Choose private networks to reduce your risk.
Be organized. Many data breaches start with an attacker getting a regular user's password. The attacker can build from there to eventually gain access to the business's most valuable information. To help make things harder for attackers, be organized when it comes to your passwords. Use a password manager program that remembers all your passwords for you. This allows you to create a unique strong password for each business and personal website and app, and the only password you need to remember is the one for the password manager itself. But make sure the password manager's password is strong, and if it's an option, use multi-factor authentication to safeguard your stored passwords.
Be prepared. Even with your business working hard to provide cybersecurity protection, attacks may reach your computer. You should be prepared for them by using antimalware software and keeping your operating system and applications fully patched. However, some attacks may succeed, no matter what you do, so you need to be prepared for that too. For example, ransomware attacks can make your data and your computer inaccessible. Make sure your data is backed up in accordance with your business's policies, and verify from time to time that your backups are still working correctly. This helps ensure your information is safeguarded just in case something bad happens.
This was last published in
January 2021
Dig Deeper on Security operations and management