olly - Fotolia
5 top cybersecurity careers in 2021 and beyond
Cybersecurity is a challenging career path, filled with professional opportunities. Learn about the top cybersecurity jobs and the training and background they require.
Nearly 4,000 breaches were publicly reported in 2020, and more than 37 billion records were reportedly exposed during that same period, according to RiskBased Security's 2020 Year End Report. Many of these attacks were the result of the way COVID-19 transformed business, ushering in a mass transition to remote work while many enterprises lacked adequate cybersecurity preparedness for a remote workforce.
In April 2020, cybersecurity professionals reported a 63% increase in cyber attacks related to the pandemic, according the Information Systems Security Association International. This is why the Information Systems Audit and Control Association described cybercrime as the "fastest-growing crime in the U.S.," and the global cybersecurity market is expected to be worth $248.6 billion by 2023, according MarketsandMarkets research.
However, this also comes at a time when there is shortage of trained cybersecurity professionals, creating a challenge for IT organizations trying to close that skills gap. While that's troubling for enterprises, it's good for infosec job seekers, who can expect to find the following five cybersecurity careers in high demand over the coming years.
1. Security software developer
Role level: Midlevel to leader
Role type: Technical
Average salary: $75,000 per year, according to PayScale
A security software developer's role is perfect for coders who are also interested in information security. By combining technical programming knowledge with product development and security analysis skills, they can create software with built-in security features to "harden," or proactively protect, it from potential attacks. To do this, security software developers must understand the threat landscape, which is why entry-level roles in this position are virtually nonexistent.
Software developers wanting to play a security role should be able to conceptualize tomorrow's threats today and take action to address those threats early. They must be able to balance performance, functionality, user experience and security to avoid unnecessary trade-offs or costly errors. They will typically work with other professionals, such as software designers, engineers and testers. That means they must have strong communication and collaboration skills in addition to knowledge of software architecture, design and coding.
Security software developers are in great demand and have plenty of opportunities in internet of things and other emerging technology.
Education and skills
Midlevel roles:
Bachelor's degree in software development or software engineering

Secure coding practices

Security controls

Penetration testing (preferred but not always required)
Advanced roles -- all the above, plus:
Information security

Cryptography

Project management

Network security
Certifications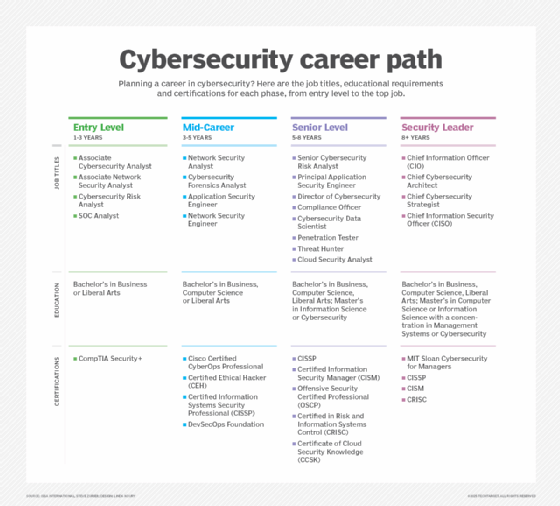 2. Security analyst
Role level: Entry to senior
Role type: Technical
Average salary: $77,000 per year
A security analyst's role is broad, encompassing numerous responsibilities. Most notable is monitoring security best practices, protocols and procedures and ensuring that those practices are properly implemented and followed. Analysts use a variety of tools to assess security reports and identify unusual or anomalous network behaviors. They may also control file access, credentialing, network updates and firewall maintenance.
A well-trained security analyst will have a solid understanding of how data is stored and managed, as well as the different kinds of cybersecurity threats, including ransomware attacks, social engineering and data theft. They may perform penetration testing and vulnerability scans, and they often recommend relevant changes to improve security.
Security analysts may work in a security operations center, which provides a specialized environment for monitoring, detecting, containing and remediating threats. In small to midsize organizations, their role may be broader and include security analysis and intrusion detection, firewall maintenance, antivirus updates and patch updates. Since they have expertise in security risks and best practices, they may be asked to train employees on cybersecurity hygiene.
Education and skills
Bachelor's degree in cybersecurity, information security or a related field
Proprietary network management
Penetration testing
Security incident triaging
Risk assessments
Data encryption
Firewall design, configuration, deployment and maintenance
Certifications
CompTIA Security+
CompTIA PenTest+
CompTIA Cy

SA+
3. Penetration tester or ethical hacker
Role level: Midlevel to leader
Role type: Technical and reporting
Average Salary: $86,000 per year
Ethical hackers are the spies of the cybersecurity world. They act like the "bad guys" to understand their motives, approach and threat actions, with the goal of helping enterprises avoid cyber attacks. They conduct penetration testing to find vulnerabilities and gaps in security protocols for networks, operating systems, devices and web-based applications. They also suggest relevant fixes before these security gaps can be exploited by threat actors. They also assist in incident handling and forensic analysis to improve an organization's security posture.
Since they often work on highly confidential and time-sensitive projects, people embarking on careers as ethical hackers should be trustworthy and able to deal with tight deadlines and high-stakes decisions. Creativity is another key skill, and ethical hackers must also be highly organized to effectively record and track their projects. Most importantly, they must constantly hone their knowledge, skills and techniques.
Education and skills
Bachelor's degree in information security or a related field

Penetration testing methods and tools, such as Network Mapper, Wireshark and Kali

Knowledge of Python, Golang, Bash and PowerShell

Open Web Application Security Project top 10 vulnerabilities

Social engineering
Certifications
CompTIA Security+
CompTIA CySA+
CompTIA PenTest+
4. Cybersecurity engineer
Role level: Senior
Role type: Technical
Average salary: $97,000 per year
Cybersecurity engineers build information security systems and IT architectures, and implement access management controls to prevent unauthorized access and cyber attacks. They develop and enforce security plans, standards, protocols and best practices, and build emergency plans to ensure infrastructure, applications and services can be quickly restored in case of a disaster.
Proactive thinking, planning and action are critical to this role. Cybersecurity engineers often spend a lot of time finding system vulnerabilities through penetration testing and figuring out how to deal with potential risks before they become serious security issues. They may also review other areas that affect IT security and recommend improvements.
Cybersecurity engineers also have the following responsibilities:
deploying and configuring firewalls and intrusion detection systems;

updating or implementing new security software and hardware; and

running encryption programs
A cybersecurity engineer's job also includes responding to detected security threats. They may move data to an uncompromised location or isolate compromised data. They also might work with an outside team to help the organization recover from a data breach. They must have strong communication skills to explain complex issues to management and articulate the best ways to implement the latest security plans and procedures. They may also have to work with law enforcement following an attack.
Education and skills
Bachelor's degree or higher in computer engineering, cybersecurity, information security or a related field
Secure coding practices and vulnerability detection
Risk assessment
Secure network design and architecture
Firewall architecture
Computer forensics
Virtualization technologies
Encryption technologies
Defending against advanced persistent threats, malware, phishing and social engineering
Certifications
CompTIA CySA+
CompTIA CASP+
(ISC)² CISSP
5. Network security architect
Role level: Senior
Role type: Technical and management
Average salary: $126,000 per year
Network security architects play a critical role in strengthening the security of enterprise architecture while maintaining network productivity, efficiency, availability and performance. They help translate business needs into functional systems, define appropriate policies and procedures for those systems and help train users and administrators. They also keep an eye on budgetary and operational constraints. Interpersonal and managerial skills are important for this role, in addition to technical knowhow.
To ensure ongoing security throughout the network lifecycle, network security architects take both defensive measures, such as firewall and antivirus configuration, and offensive measures, such as penetration testing. They oversee network changes to ensure they don't put the organization at risk. They are expected to have advanced knowledge of security tools and techniques related to firewalls, penetration testing and incident response. Network security architects must also understand computer networking requirements, including routing, switching and trust domains, as well as security best practices, technologies and industry-standard frameworks.
Success in this role requires the ability to conduct network and systems analyses to identify and select the best control mechanisms for the required security level. Network security architects must be aware of various access-control mechanisms, including role-based access control, mandatory access control and discretionary access control.
Education and skills
Bachelor's degree in computer science or a related field required
Master's degree in cybersecurity preferred
Strategic planning
TCP/IP networking
Intrusion detection systems
Risk management
Single sign-on identity management systems
Virtual private network layers and connections
Protocol encryption
Certifications
CompTIA Network+

CREST Registered Technical Security Architect
The takeaway
As the number, scope and scale of cyberattacks increase, the demand for qualified cybersecurity professionals is also on an upswing. The field is interesting and challenging, and offers numerous opportunities for career growth, high rewards and the chance to make a difference.
Learn more about the skills you need to succeed in a cybersecurity career.