Definition
mystery shopping software
Mystery shopping software is a type of customer experience management (CXM) tool that helps organizations manage and observe all components of a mystery shopping program. The goal of a mystery shopping program is to audit a store's customer-facing components. This includes the use of physical space, as well as personnel and workflows that contribute to the shopping experience.
The practice of mystery shopping involves enlisting an unknown employee or consumer to interact with a company under the false identity of a prospective customer. The mystery shopper then calls or visits an assigned location to assess performance. Additionally, shoppers may be asked to rate specific aspects such as cleanliness, layout, experience, compliance with store policies and friendliness of employees. Organizations can then use the data collected to improve customer service training, strengthen employee product knowledge and update retail locations.
Companies that have mystery shopping programs often find it challenging to track data, especially when many retail locations are involved. Mystery shopping software platforms enable this type of program to run smoothly.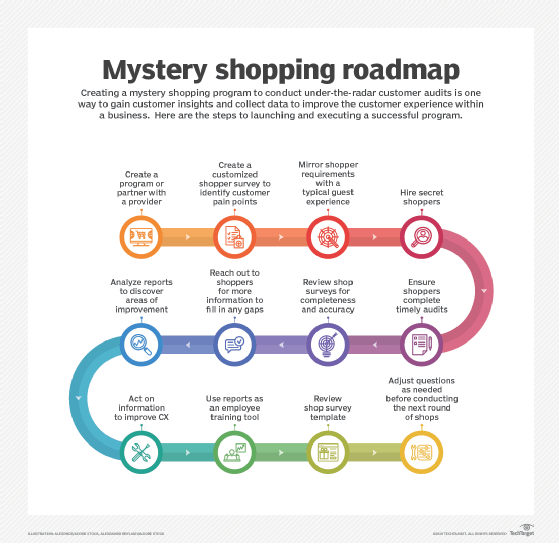 How mystery shopping software works
The functionality of mystery shopping software provides administration real-time data collection for internal audits, as well as features for analyzing results and reporting. The software's functionality can actually help a small organization develop the methodology for a mystery shopper program. The process starts by identifying the objectives and key performance indicators (KPIs) of the program and adding the corresponding fields to reports.
For example, reported metrics could include overall attitude, policy and procedure compliance (PPC) or customer support. Once a shopper has performed an audit, they can use a mobile mystery shopping app to input their results for reporting. It is then up to the organization to analyze the results, communicate them with stakeholders and implement necessary changes.
Features of mystery shopping software
Common features of mystery shopping software products include:
Advanced data analytics capabilities- Once a mystery shopper has completed an audit, the software can help them input their data for analysis by the client. Customized, interactive dashboards and reports can also be generated to make the most out of findings.
Project management- This feature can be used to track progress over time, set long term goals and oversee deadlines.
Mystery shopper profiling- In addition to keeping a history of shopper reports, the software can be used to train new mystery shoppers, assess their performance and rate their quality.
Mystery shopper organizing- If a mystery shopper is needed in a specific location or with particular requirements, the platform can assign an appropriate shopper to the job.
Messaging- Some tools enable an internal communications feature for clients to instant message mystery shoppers.
multimedia attachments- While most data from mystery shoppers will be text-based, there may be an option to include pictures, video and audio clips with audit reports.
This was last updated in
March 2019
Continue Reading About mystery shopping software
Dig Deeper on Customer service and contact center