Rawpixel.com - Fotolia
4 customer success best practices to ensure loyalty and retention
It's increasingly important for anyone who interacts with customers to be prepared to promote customer success. Learn how contact center agents can deliver a great customer experience.
Customer service teams are shifting priorities to focus on customer success as customer expectations rise and subscription-based business models become more common.
These expectations have forced customer service to improve, but not quite fast enough, said Shep Hyken, chief amazement officer at Shepard Presentations, a customer service training and consulting company in St. Louis, at Oracle's Modern Customer Experience conference in Las Vegas.
"You are being compared to the best service your customer has ever had," Hyken said.
Furthermore, the increasingly prevalent subscription-based business model makes customer success an ongoing concern that directly ties customers' current level of satisfaction to future revenue. For example, Carbon Inc., a company based in Redwood City, Calif. that manufactures industrial 3D printers, does not sell them outright, but instead uses a three-year subscription model that includes service and support.
"Because we want our customers to renew their subscription, we don't just care about selling the printer in the first place," said Heather Miksch, vice president of field and product operations at Carbon. "We actually want to ensure that our printers are being used because if they are not being used at the end of that subscription, they are going to give the printer back to us, and we don't want that to happen."
Taking into account the changing landscape of customer-brand relationships, business models and expectations, here are four customer success best practices that agents and managers can implement to ensure customer service teams focus on loyalty and CX:
1. Put customers first
Organizations train call center agents in a multitude of areas, including specific routing workflows and technical details of its products. But, the drive to help customers and ensure customer success is the most important quality for an agent to have, and that is an inherent rather than a learned skill. Kristi Eveland, director of global customer solutions at Carbon, looks for this quality when hiring agents to work on her customer success team, even if it means hiring an agent who is less qualified in other ways.
However, when business initiatives and product development are aligned with putting the customer first, it is easier for service and support agents to do their jobs well.
"We value innovation and new technology -- those are really important -- but only in the sense that they improve the customer experience," Eveland said.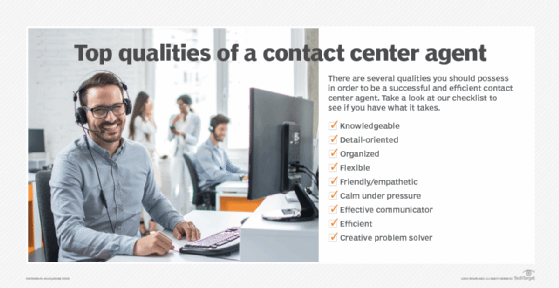 2. Monitor customer behavior for signs of problems
Another customer success best practice is to empower agents to not only respond to customer problems, but also make sure that customers get everything they can of the product or service they purchased.
Carbon looks at product and service usage every day, and reports to the leadership team each week. If the company sees a drop in utilization, both the customer success and account manager's teams get involved, Miksch said.
Carbon's printers are IoT devices, so the organization can remotely track how customers use them. But even organizations that do not have this granular insight can check on customer success, by directly asking the customer about usage or tracking behavior that may indicate that customer is having a problem and reach out preemptively.
3. Be better than average all the time
"There is a difference between satisfied customers and loyal customers," Hyken said. "My premise about creating an amazing experience is you never have to be over the top -- you just have to be a little bit better than average, and be better than average all the time."
The worst kind of customer experience is a "fine" one, Hyken said. Even a bad experience gives organizations the opportunity to create customer loyalty by fixing the problem quickly and compassionately.
Consistency is vital to creating loyalty. Returning customers want to know what the experience of doing business with a brand will be like.
4. Ask the extra question
When a customer has a problem, the agent solving it can't just make the assumption that they understand exactly what the customer needs. They need to ask clarifying questions. This is particularly important for agents who represent companies with technically complex products.
"If you're a mechanic, you know what the right and left sides of the car are, but you should ask 'Do you mean the passenger side or the driver's side?'" Hyken said. "That is the extra question. I would rather look dumb than give them the wrong part and have them come back."
When agents take the time to ask the extra question, they can solve the customer's problem correctly the first time, rather than creating an additional problem and wasting both company and customer time.