Fotolia
Organizations reap benefits of mobile CRM apps
Salesforce now offers organizations such as Cornell University the ability to render CRM systems as apps, making it easy to manage students and faculty at a number of colleges.
In an increasingly connected world, mobile CRM is becoming more important for organizations designing CRM strategies.
The global mobile CRM market is estimated to grow exponentially over the next 10 years, according to a study by Future Market Insights (FMI). In 2019, the market's estimated value was around $15 billion, up from $13.5 billion in 2018. Healthcare, retail and education are some of the markets with the highest potential to gain benefits from mobile CRM apps.
The biggest benefit of mobile CRM is improving CX and providing content on demand, according to the study.
"If you consider CRM to be a customer database supporting sales and account teams, it makes sense that you would want to make that available on mobile devices," said Nicole France, vice president and principal analyst at Constellation Research Inc. "We're getting to a point where tech is helping us do better things with customers instead of getting in the way."
Nonprofits and educational institutions have long been users of Salesforce CRM systems, and they, too, are tapping into the benefits of mobile CRM apps. In 2014, Cornell University rolled out a mobile version of its Salesforce CRM system in the College of Agriculture and Life Sciences using some of the new features of Salesforce Community Cloud, which gives customers the option to render desktop CRM systems in a mobile format. Customers can customize it with their own branded material without having to actually code and design a mobile app in-house. The app can integrate with other tools to give students the ability to see college-specific announcements and events, schedule appointments with advisers and join groups of fellow students to discuss classwork, said Rebecca Joffrey, IT innovation officer at Cornell. Currently, the school is in the pilot phase for a spring rollout of the app across its entire campus.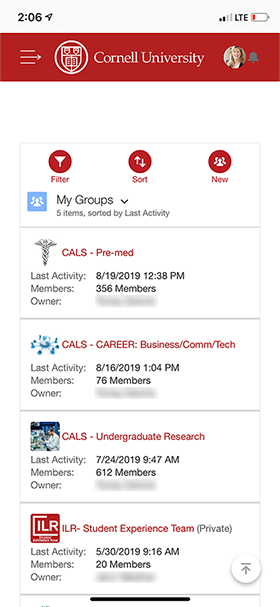 "Scaling it up is a challenge. An engineering student needs to see just the content available to them. If everyone is in there, there's a lot of groups. They need to either have a quick way to search or have the CRM system know who they are and show what's relevant to them," Joffrey said.
There continue to be challenges, such as streamlining and scaling processes, but France said that these are a far cry from the problems CRM had when mobile versions were first developed. There was a lot of pushback on mobile CRM systems when they were first developed, especially from salespeople and IT professionals who found them intrusive and unintuitive. However, pushback has lessened as mobile CRM technologies improve and as companies pay for SaaS instead of updating systems themselves. France believes, soon, mobile offerings will be a common offering for CRM vendors.
"What's nice about those tools is they're providing interactive capability. You can find stuff you might want to know before meeting a customer. You can use a voice assistant before a meeting takes place," France said. "When you make it easier to use or provide help to users, that benefits everybody -- be it management or salespeople."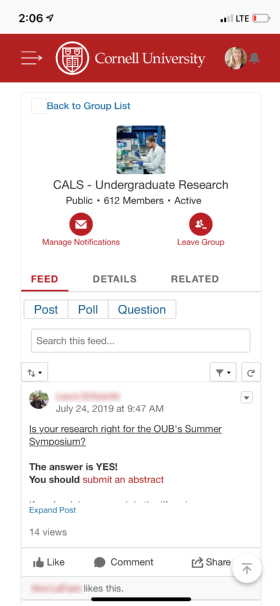 France and FMI both believe businesses will continue to see the benefits of mobile CRM apps as they plan their CRM strategies. Oracle Mobile Hub and SAP Mobile Platform both represent mobile CRM offerings from other major vendors, and Microsoft recently rolled out a redesigned mobile version of Microsoft Dynamics 365. Some vendors, such as RapidFunnel or LeadCrush, even design their entire CRM system around a mobile-first strategy. All of them aim to meet the expectations of a mobile world on increasingly larger stages.
And, due to Salesforce's mobile capabilities, a lot of the mundane hassle of schooling has already been streamlined at Cornell.
"Student reaction to our app has been very positive. They need answers to questions. They expect it, so it's nice to deliver it in a way that doesn't cause them extra work," Joffrey said. "Our app is not a social platform. It's a service. It comes out of our advising offices. The advisers are in the community, and they answer questions to help [students] navigate the college and course registration. That can't happen on Facebook."