Impartner PRM integrates with Microsoft Dynamics 365 for sales
Impartner's collaboration with Microsoft delivers Impartner PRM for Microsoft Dynamics 365, a PRM sales software that gives users immediate access to direct and indirect sales data.
Impartner and Microsoft introduced Impartner PRM for Microsoft Dynamics 365, a collaborative product that allows users to access direct and indirect sales information from a single dashboard.
Impartner and Microsoft claim the partner relationship management (PRM) software will integrate channel revenue scaling tools -- including lead distribution, deal registration, and business analytics tools, among others -- into a common workspace; users will be able to manage their channel sales ecosystem in the same manner that CRM facilitates direct sales.
With traditionally limited access to indirect sales information, sales teams typically have to wait for incremental business reviews to analyze indirect sales revenues. With Impartner PRM for Microsoft Dynamics 365, users will be able to access both indirect and direct sales data in the moment, according to the vendors. Users can communicate and share critical deal information at any point, eliminating surprises regarding revenue production from the indirect channel.
Impartner PRM for Microsoft Dynamics 365 also enables sales teams to register deals, access leads, request and use funds, and get business plan updates from a personalized portal. In addition, the vendors claim the product will strengthen engagements with partners through a combination of Impartner's scalability and Microsoft Dynamics 365. Impartner claims its existing PRM platform increased users' revenue, on average, by 31% and reduced administrative costs by 23% in the first year of use.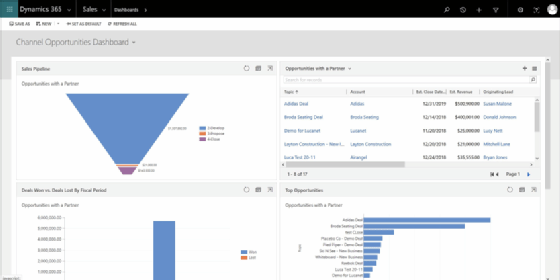 Channel data management has historically been viewed as complicated, reactive and ineffective in delivering business insights to partners; PRM tools like Impartner and Microsoft's aim to improve knowledge and relationships with channels.
In June, Impartner acquired U.K.-based Tremolo Software to add social features to its PRM platform, which bolstered communication capabilities and expanded Impartner's geographic reach.
Impartner PRM for Microsoft Dynamics 365 will be priced the same as Impartner's standard product. Microsoft will co-market and co-sell the software to Dynamics 365 customers.