Rawpixel - Fotolia
Channel strategy glossary: Terms of the trade
Every tech field has its own terminology and the same holds true for the IT channel. Learn more about channel partner program vocabulary in this glossary.
When a technology vendor pursues an indirect selling model, the company's effort to recruit and cultivate partners is called a channel strategy.
A multitude of vendors are making the channel sales approach a central element of their sales and marketing initiatives. The list of channel devotees ranges from long-established IT vendors such as IBM, Microsoft and Cisco to early-stage companies looking to channel allies to get the word out on their wares. In recent years, cloud providers in the IaaS and SaaS sectors, for example, have developed extensive channel partner ecosystems.
Vendors pursing a channel strategy cite a number of benefits, including the ability to get more "feet on the street" to represent their brands among customers a direct sales force may have difficulty accessing. Channel partners, the label applied to a range of companies from resellers to managed service providers, are also a way for vendors to target specialized vertical markets and expand their reach in different geographic regions. Channel partners also provide consulting and professional services that help vendors get their products not only sold, but installed, integrated and adopted.
This glossary provides some terms of the trade for vendors or channel partners entering into partnering relationships.
Partner program. The channel partner program is the embodiment of a vendor's channel strategy. This program serves as the hub for the vendor's channel-directed communications, financial incentives, training and credentialing initiatives, co-marketing activities and other forms of partner outreach. Partner programs may be tiered with partners receiving various perks for meeting sales, training or other mutually agreed upon business objectives.
Partner account manager. The partner account manager, or channel manager, serves as a critical link between the vendor's partner program and individual channel partners. Partner account managers are tasked with building and managing relationships with channel companies. They develop business plans with partners and help them seize upon revenue opportunities.
Channel partner portal. Portals represent the online component of a vendor's channel partner program, offering partners access to product information, marketing support and training, among other features. The portal provides an always-on resource that partners turn to when they don't have time to contact a partner account manager.
Market development funds. Partners may apply for vendors' market development funds, also known as MDF, to purchase radio spots, roll out digital marketing campaigns, host webinars or tradeshow booths or support other marketing activities. MDF funds, at times, go untapped if partners are unaware of their existence or uncertain about application procedures.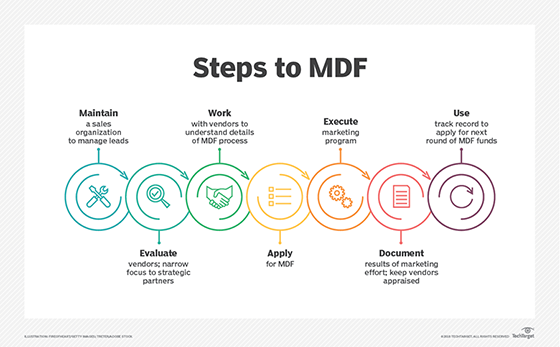 Sales lead. The primary point of MDF is generating sales leads -- individuals or organizations that express an interest in a channel partner's offerings. Partner companies, however, should be prepared to dedicate sales people to follow up on leads to turn them into prospects, and ultimately, customers.
Deal registration. In this component of a channel strategy, a partner submits a sales lead for vendor approval. If approved, the vendor prioritizes the sales lead and gives the partner a set period of time in which to close the sale. During this protected period, the vendor commits to barring other channel partners and internal sales personnel from negotiating a similar deal with the sales lead. Deal registration efforts are typically accessed and managed through a vendor's channel partner portal.
Channel conflict. Channel conflict occurs when a vendor's sales team competes with a channel partner for a given customer deal. In some cases, the conflict arises among a vendor's channel partners. Deal registration programs aim to reduce instances of channel conflict. A vendor may publish channel partner rules of engagement to formally state how the vendor sales team should behave with regard to channel partners.
Go-to-market strategy. A go-to-market strategy is the umbrella approach a business uses to offer its product or service to end customers. This strategy encompasses defining the target market, determining the value proposition and setting the pricing approach. A channel strategy is another component of the broader go-to-market strategy.