TimurD - Fotolia
Primary and secondary storage combos attract channel partners
Nontraditional storage vendors, such as ClearSky Data and Reduxio, are attracting resellers and managed service providers with technology, simplicity and business partnerships.
Channel partners' allies for primary and secondary storage aren't always the usual suspects such as Dell EMC, IBM and NetApp. Companies such as ClearSky Data and Reduxio Systems are also on the wanted list.
Indeed, managed service providers (MSPs) and resellers now cultivate relationships with lesser-known enterprise storage vendors, as well as long-established vendors. They cite technology and business reasons for doing so. On the technology side, newer vendors offer fresh takes on storage that channel partners -- and their customers -- find attractive. From a business standpoint, the storage upstarts offer relationships in which partners have a shot at influencing future product directions.
The partner realignment comes at a time when storage technology is undergoing a transition from legacy systems to newer approaches. Those approaches include flash storage, cloud tiering and products that collapse primary and secondary storage levels into a single offering. Simplification of storage is a key selling point for channel companies.
Reaching for the cloud
Molnii, an MSP and managed cloud provider based in Baltimore, has tapped ClearSky Data as a storage partner. ClearSky Data offers on-demand storage that includes backup and disaster recovery (DR), obviating the need for customers to purchase separate products for primary and secondary storage. The vendor's storage service tiers data across three platforms: on-premises Edge Cache for the most frequently used data, a metro PoP within 120 miles of the customer's data center, and the cloud.
Arthur Olshansky, founder and managing partner at Molnii, said his company uses ClearSky Data to "provide high-performance primary storage, as well as backup and DR, all bundled as one solution."
Olshansky said ClearSky Data's architecture helps clients consolidate storage. One customer, he said, wanted to refresh its IT infrastructure, which consisted of one cabinet of compute and networking gear and four cabinets of legacy EMC storage.
"They were looking at ... a fairly large capital expenditure," Olshansky recalled. "The largest cost happened to be storage."
ClearSky Data's cloud approach, however, let the customer shrink five cabinets to half a cabinet.
In addition to the reduction in data center footprint and attendant cost, the storage refresh also provided a "huge performance boost," according to Olshansky. "The storage, itself, presents as SSD-based storage," he added, noting that the customer's applications run faster than they did on legacy disk.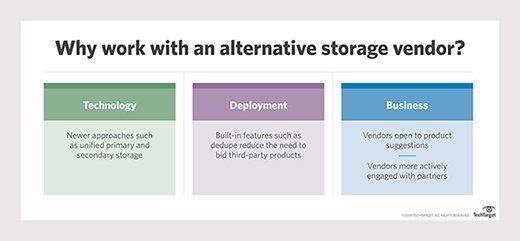 Simpler storage
Meanwhile, Halski Systems, an MSP based in Georgia, has tapped Reduxio as a storage partner. Reduxio provides a unified primary and secondary storage platform with integrated DR and copy data management. The vendor provides on-premises flash storage systems and lets customers use cloud-based storage as an additional tier.
When Reduxio was first introduced to Halski, the company was considered yet another dime-a-dozen storage vendor with a product to pitch.
"They were in that bucket at first," said Seth Seagraves, president at Halski.
But Halski tried Reduxio Systems on one deal and the customer liked the product. The MSP had the same experience deploying Reduxio for a second and a third client.
"And before you know it, we sold 30 to 40 boxes and have a lot more in the pipeline," Seagraves said.
Prior to working with Reduxio, storage products had not been a focus at Halski.
"We are all about service," Seagraves said. "But [Reduxio] enabled us to get a lot more revenue and margin on the hardware side. We sell it as a complement to our services."
Simplicity is another important plus for Reduxio. A customer readying a DR plan would typically need to purchase deduplication or compression software and a third-party replication product, as well as storage, Seagraves explained. But Reduxio offers inherent deduplication capabilities, as well as replication.
As a result, the Reduxio offering is much easier to sell, since Halski doesn't have to create a bill of materials with multiple line items. Selling Reduxio, Seagraves said, involves only two options for customers: a full box or a half box.
"We can provide a quote and it is one line item," he said.
Olshansky, meanwhile, also cites simplicity as a benefit of alternative storage offerings. He cited the example of a client who had been using two different backup technologies to protect its virtualization platforms. The use of ClearSky Data, which Olshansky described as a "self-protecting technology," lets such customers avoid additional backup software purchases.
"We have customers dropping their commitment to some software vendors and leveraging what is native to ClearSky," he said.
Reduxio taps resellers, MSPs
When Reduxio took its product to market more than two years ago, the company found it challenging to find the right channel partners, recalled Mike Grandinetti, chief marketing and corporate strategy officer at Reduxio.
He said partners didn't want to threaten their relationships with incumbent storage suppliers such as Dell EMC, IBM and NetApp. So, the company decided to court channel partners that lacked a significant storage business.
"We are providing resellers that haven't really been heavily involved in storage the opportunity to offer something that complements what they have already created," Grandinetti said.
He said "technology forward" channel partners gravitate toward the vendor's unification of primary and secondary storage.
Managed service providers are also part of the vendor's channel mix. Since launching version 3 of its product, Reduxio has started to see considerable interest from MSPs -- both pure-play MSPs and hybrid companies that pursue MSP and reseller business models, Grandinetti said.
Business benefits
Working with the smaller storage companies presents business, as well as technical benefits for channel partners. Olshansky said ClearSky Data provides a roadmap of where the company is heading and asks his company how it can improve as a vendor.
For instance, ClearSky Data uses physical hardware in its DR function, which Molnii would like to see virtualized. The company has brought up that point with the storage vendor.
We feel they have bought into some of our ideas.

Arthur Olshanskyfounder and managing partner, Molnii
"We have been talking about virtualizing the physical hardware component from the DR perspective," Olshansky said, noting that his company is open to testing such a feature.
Molnii has also made recommendations to ClearSky Data with regard to the types of reports it would like to see the vendor's management console generate.
"We have seen them add those functions to the console," Olshansky said. "We feel they have bought into some of our ideas."
Feedback and communication -- ClearSky Data's CTO visited Molnii's office for a state-of-the-industry discussion over lunch -- set the vendor apart from much larger rivals.
"You won't get that from the legacy guys," Olshansky said.
Seagraves said Halski's relationship with Reduxio has also been positive.
"The team has been very supportive and much more engaged than other vendors," he said.