TimurD - Fotolia
SAN storage devices: MSP finds new business in tech upgrade
Evercom, a managed services provider, was able to both upgrade its storage and find a new business opportunity when it purchased new gear from Reduxio Systems.
Evercom, a managed services provider and cloud services firm, got a pleasant surprise when the company upgraded its SAN storage devices: Its new storage platform offered the ability to launch a new line of business.
The Hertfordshire, England, company had been using two Dell EqualLogic SAN storage units in its data center. Those SAN boxes supported a range of services the MSP offers its customers, including virtualized desktops, on-demand storage and servers, and cloud-based email.
Nick Antoniou, technical sales director at Evercom, said the company's SAN storage devices were at a point where they needed an upgrade and a capacity boost. The company's fourth-line support contractor recommended Reduxio Systems and its enterprise storage offerings. Reduxio, based in San Francisco, provides a unified primary and secondary storage platform. Antoniou found the cost of renewing the maintenance agreement for a Dell EqualLogic box was about 75% of the cost of buying a new storage unit from Reduxio Systems. He said the maintenance renewal cost was £15k per year (about $21,000), per Dell EqualLogic box.
"It was a no brainer," Antoniou said. "We decided to go down the Reduxio route."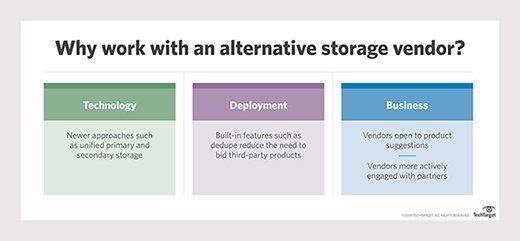 Rapid migration
Evercom purchased two Reduxio Systems flash storage devices, one for production and one for failover. The primary production Reduxio Systems device runs in Evercom's main data center, while the failover unit is housed in a secondary data center.
The migration from Dell EqualLogic to Reduxio Systems was "a very quick process," Antoniou said. He noted that Evercom has a 10 gigabit Ethernet network while Reduxio Systems provides 10 gigabit fiber links, making for a seamless process when it was time to move virtual storage to Reduxio. Antoniou said the task involved installing the Reduxio Systems gear in Evercom's data center and then repointing its virtual machines and associated disk files to the new storage location using VMware's Storage vMotion.
Along the way, Reduxio Systems took a hands-on approach, while other storage providers tend to work along transactional lines, Antoniou suggested. Storage vendors typically "send the box and you don't hear from them" once they process an order, he said.
Reduxio Systems, on the other hand, kept an eye on equipment status and notified Evercom when something went amiss. In one example, Reduxio Systems alerted Evercom's tech team that the snapshot schedule was set in such a way that snapshots were occurring too frequently and taking the company over the capacity threshold.
"They were actually being proactive with us," Antoniou said.
Revenue opportunity
Evercom's new systems promise to be more than a replacement of SAN storage devices. Indeed, Evercom uncovered a revenue-generating opportunity in its Reduxio Systems gear. Antoniou said his company uncovered a Reduxio feature it had been unaware of when it purchased the systems: the ability to replicate multiple storage volumes from different customer sites to a single Reduxio Systems' unit.
Once we found out we could replicate those volumes from anywhere with internet connection to the main storage box, that allowed us to build a new model.

Nick Antonioutechnical sales director, Evercom
"Once we found out we could replicate those volumes from anywhere with internet connection to the main storage box, that allowed us to build a new model," Antoniou said.
In that emerging business model, Evercom plans to resell Reduxio Systems storage and off-site backup services to customers as a package, using the Reduxio unit in Evercom's data center.
"That is something that allows us to ... generate some more revenue from using their products," Antoniou said.
Evercom plans to launch the Reduxio backup services sometime after April. The replication service will be billed monthly on a per-gigabyte usage basis. Antoniou said his company has two prospective customers in the sales pipeline: a company in the chemical industry and a college.
Mike Grandinetti, chief marketing and corporate strategy officer at Reduxio, said he has seen other MSPs provision services around the company's storage technology.
"We are enabling brand new business models that they really didn't have access to before," Grandinetti said. "You are seeing this dramatic move to backup as a service, especially for midmarket companies," he added, citing research from market watchers such as Forrester and Gartner.