Managed service pricing pressure mounts during pandemic
The COVID-19 economy brings with it both boons and challenges for MSPs, including pressure to slash prices, according to speakers at Kaseya Connect IT; more news from the week.
Managed service pricing pressure is building as customers, facing revenue shortfall amid the COVID-19 pandemic, are taking a hard look at their MSPs.
Executives speaking at the Kaseya Connect IT conference, a virtual event that concluded on Thursday, depicted a market that is simultaneously a growth opportunity and a harsh environment for delivering services. MSPs' bread-and-butter SMB customers rely on IT more than ever to conduct business. As a result, service providers are on the hook to rapidly, and successfully, roll out IT offerings that directly affect customers' survival. And they'll need to sharpen their pencils in doing so, as customers have become extremely cost-conscious.
"Customers of MSPs, since March or April, are looking very closely at if their technology provider is delivering what they need," said Kaseya CEO Fred Voccola.
Under these conditions, MSPs face a potentially higher customer churn rate. Kaseya research in the second quarter of 2020 found 72% of SMB customers said they are considering changing service providers. Voccola said few small businesses were considering such a move in the fourth quarter of 2019.
Customers are asking MSPs to reduce their monthly rates, noting that plenty of service providers will be waiting in the wings to take the work at a lower fee, Voccola said. "When [MSPs] customers start to talk to other technology providers, they are going to get some pricing pressure," he said.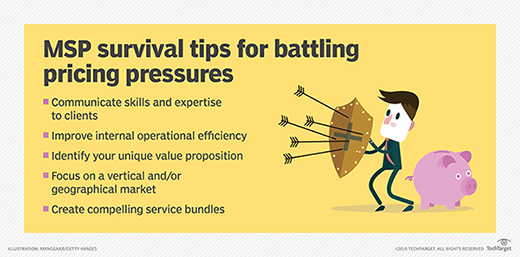 Gary Pica, president at TruMethods, an MSP training and software organization, also pointed to the growing but difficult-to-navigate market.
"Overall, the market for MSPs is tremendous," said Pica, who presented at Connect IT. "The addressable market is expanding."
But Pica also noted the pandemic's challenges have caused low-profit service providers to trim muscle along with the fat. "This is a tough business," he said. "MSP profitability is more critical in the COVID world."
Efficient service delivery is the key to profitability, according to industry executives. Voccola cited business management software integration as the key to boosting efficiency. Pica, meanwhile, suggested MSPs can keep tabs on efficiency by paying attention to "leverage," which is a measure of how much services revenue an MSP generates per employee. Pica's approach sets a target of $150,000 of services revenue per employee, including non-technical personnel, and a target of $250,000 per technical employee. The leverage lens helps MSPs evaluate the suitability of new customer opportunities.
"You have to have more command over your business," Pica advised.
NTT Data Services acquires ServiceNow consultancy Acorio
NTT Data Services, an IT services provider based in Plano, Texas, has agreed to acquire Acorio, a ServiceNow consulting firm.
Acorio, based in Boston, describes itself as the world's largest pure-play ServiceNow consultancy. The company offers advisory services, technical consulting and operates practices in fields such as IT service management, IT operations management, HR services and customer service management. The company is designated in ServiceNow's partner program as a ServiceNow Elite Partner.
The Acorio transaction is expected to close in 2020. According to NTT Data, the addition of Acorio would boost the "scale and scope" of its ServiceNow activities in strategy, application development and implementation areas.
In a message posted on the company's website, Acorio CEO Ellen Daley said customers and future clients will benefit NTT Data's "R&D, applications, infrastructure and investments in digital transformation and innovation." Additionally, she said NTT Data's vertical market approach will help Acorio address business outcomes in industries from manufacturing to healthcare and "adapt faster to new industry playbooks that ServiceNow develops."
The pending transaction underscores the continuing interest in cloud and SaaS consulting firms. Accenture, for example, earlier this month acquired Organize Cloud Labs, a Brazilian company and ServiceNow Elite-level partner. ServiceNow, for its part, has been enlisting the help of partners as it aims for a revenue target of $10 billion.
Other news
Channel sales declined 5% year-over-year in the first half of 2020, according to The NPD Group, a market research firm based in Port Washington, N.Y. The pandemic-influenced sales climate, however, has been improving since May, NPD's B2B Distributor and Reseller Tracking Service noted. Other bright spots include notebook and tablet sales, which generated 22% and 24% sales growth in the first half of 2020 compared with the first half of 2019. Chromebook sales grew almost 50% during that period. Other growth areas include identity and access management software (31%), gateway and firewall software (17%), and cloud infrastructure and PaaS (21%). Channel partners have cited security and cloud computing as growth areas during the pandemic.
GitLab said it added more than 175 partners to its ecosystem over the past year. Additions to its Open and Select partner categories, which include resellers, integrators and service providers, include Avisi, BoxBoat Technologies, CI&T, Contino, D-OPS Digital, GitLabHost and SADA.
In the business process outsourcing sector, Everise, based in Austin, Texas, said it is recruiting 4,500 full-time customer and product support agents to work from home. The hiring activity across the U.S. will double the company's domestic headcount, according to Everise, which provides outsourced customer experience services. The company said its U.S. revenue grew 29% during the first half of 2020.
Accenture helped implement SAP SuccessFactors for Brandix, an apparel manufacturer in Sri Lanka. The deployment, which was completed in four months, consolidates Brandix's HR processes into one platform. Accenture continues to support Brandix's digital transformation activities in areas such as manufacturing, supply chain and finance in addition to HR.
Anexinet Corp., a digital business solutions provider based in Philadelphia, is partnering with Veltek Associates Inc. on a system that tracks the location of lab equipment. The system, called Core2Scan, is geared to pharmaceutical and biotechnology companies.
Druva, a cloud data protection and management company based in Sunnyvale, Calif., tapped Tech Data as a distribution partner. The relationship puts Druva in a position to bring more partners into its channel program, Druva Compass, according to Druva.
PerimeterX, a web app security vendor based in San Mateo, Calif., unveiled a partner program for resellers, service providers, systems integrators, marketplace companies and technology providers. The first group of program members include Adobe, AWS, Contrast Security, Evotek, Fastly, Fishtech Group, Google, GuidePoint Security, Hitachi, Microsoft, Okta, Optiv, Salesforce, Veristor and Yottaa.
SaaS Alerts, a Wilmington, N.C., company, is making its SaaS application monitoring and alerting platform free to MSPs through October 1. The company's monitoring platform keeps tabs on such SaaS offerings as Microsoft Office 365, G Suite, Salesforce and Dropbox.
Nerdio, a Chicago company that provides Azure deployment, management and optimization tools for MSPs, will be getting channel assistance from newly appointed board of directors member Andy Lees, a former Microsoft executive. Nerdio chief revenue officer Joseph Landes said Lees' immediate focus is to guide the company's strategy as it introduces new community engagement and support initiatives for MSPs partners. In addition, Lees, who joined the Nerdio board earlier this month, will "craft and implement a partnership strategy" specific to end-user computing and systems integrator partners to support Nerdio Manager for WVD, Landes said.
Peak-Ryzex Inc., a digital supply chain and mobile workforce solutions provider, implemented a mobile distancing and contact tracing offering at its managed services operations center in Alpharetta, Ga. The company has equipped its operations center employees with Zebra TC77 mobile computers and MB1000 Bluetooth beacons. Peak-Ryzex also uses Kutir Mobility's cloud-based Worksafe platform. The hardware and software components help employees understand their physical proximity to coworkers, according to the company.
CoreView, a SaaS management platform provider based in Boston, is partnering with Altron Karabina, a Microsoft Gold Partner based in South Africa. Altron Karabina provides managed services, consulting and cloud migration among other offerings.
Market Share is a news roundup published every Friday.