Gartner forecasts RPA software growth, $1.58B market
RPA software adoption is on the rise, driven by companies seeking rapid transformation during the COVID-19 pandemic; other IT channel news from the week.
Robotic process software automation software, among the top opportunities for channel partners during the pandemic, will see double-digit growth in 2020, with the worldwide market forecast to hit $1.58 billion.
Research from Gartner published this week points to RPA as a strong business in the COVID-19 economy. The market research firm predicts RPA software revenue to grow 11.9% in 2020 over 2019. Gartner also anticipates businesses to intensify their RPA usage over the next few years. Gartner forecasts that 90% of large organizations will adopt RPA in some form by 2022. Those organizations will expand their purchasing of RPA software licenses, tripling their RPA portfolio capacity through 2024.
Gartner research vice president Fabrizio Biscotti said RPA technology appeals to the business side of organizations, as CTOs and other executives more closely scrutinize IT spending. "More and more business people are involved in how IT budgets are spent," he said. "It's much easier to comprehend a language of business outcomes than a language of features and functions. RPA is very much business-outcome-oriented."
Amid the pandemic, RPA serves the need for greater agility, letting organizations automate processes, save money and boost efficiency -- and do so rapidly, Biscotti noted. In addition, the solid price/quality ratio of RPA software means that these improvements can be had at relatively low cost.
Those factors are fueling RPA uptake. "We are witnessing an acceleration of adoption," he said.
Burgeoning demand opens opportunities for IT service providers in RPA and the broader automation market. Citing RPA as the fastest-growing software market, Biscotti said RPA fits into the larger trend of hyperautomation. Hyperautomation provides an overarching framework that encompasses integration platform as a service, low-code application development and intelligent business process management suites as well as RPA, he said.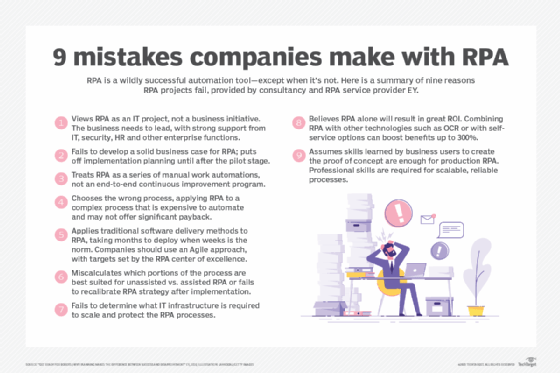 Service providers, Biscotti said, will benefit from "evangelizing the concept of hyperautomation in which RPA is an essential component."
A study published earlier this month by Insight Enterprises, an integrator based in Tempe, Ariz., found public sector IT professionals have made automation a higher priority during the pandemic. Nearly every organization, whether in the public or private sector, aims to simplify operations, gain agility and reach customers more conveniently at a time of limited face-to-face encounters, said Scott Friedlander, vice president of Insight Public Sector.
Organizations are tapping approaches such as conversational AI, touchless payments and RPA, Friedlander noted.
RPA is also important for service providers' internal operations. IT services provider 1901 Group, for example, uses RPA "to automate tasks such as reporting on cloud consumption," said James Christopher, executive vice president of operations and engineering at the company, which is based in Reston, Va. Such reporting helps customers better understand cloud service subscription and utilization, so they can right size their IaaS capacity, he said.
1901 Group this year is expanding the level of automation within its managed services platform, which the company uses to automate the monitoring, management and optimization of IT environments. That effort includes "harnessing the power of AIOps," Christopher said.
IT services providers have increased their adoption of AIOps over the last couple of years.
Accenture forecasts growth on new business bookings
Accenture this week reported $14 billion in new bookings for its fiscal fourth quarter, and company executives forecast a return to pre-pandemic growth levels.
The number of quarterly bookings is Accenture's second highest on record, according to the professional services firm. Accenture CFO K.C. McClure cited "strong demand" for digital, cloud and security-related services, speaking during the company's earnings call. Those three service areas generated about 70% of Accenture's fiscal year 2020 revenue.
Accenture's revenue for the fourth quarter, which ended Aug. 31, was $10.8 billion, a 2% decrease compared with Q4 2019. For the full fiscal year, Accenture reported revenue of $44.3 billion, a 3% increase.
Accenture CEO Julie Sweet said the company is "turning a page" in fiscal year 2021. "We are no longer navigating a crisis," she said "We are facing a new reality and plan to return to pre-COVID growth rates by the second half of this fiscal year."
Accenture guidance for the first quarter of financial year 2021 revenue ranges from a 3% drop to flat. But McClure predicted the company will "reconnect with higher growth" in the second half of its fiscal year, with growth rates in the high single digits to low double digits.
In other company news, Accenture agreed to purchase N3, a sales and demand-generation firm. The deal will bring 2,200 employees as well as AI and machine learning capabilities.
Cameyo launches partner program
Cameyo, a digital workspace vendor, unveiled a partner program for MSPs and resellers.
The Cameyo Global Partner Program includes an online portal, market development funds (MDF) and training for sales and technical personnel. Cameyo's technology lets partners' customers access business applications on any device from the browser, according to the company. Remote work is a key use case.
Cameyo co-founder and chief marketing officer Robb Henshaw said his company's offering addresses users who need to access applications remotely but don't require a full virtual desktop. He said Cameyo provides a remote work option that is more cost-effective than virtual desktop infrastructure (VDI). Citing research from Enterprise Strategy Group, he said large-scale VDI and desktop-as-a-service deployments require 10 full-time IT people to manage.
The technology "gives our partners the ability to help their customers right-size their approach to remote work and virtualization," Henshaw said.
Cameyo's partner program has three tiers: Platinum, Gold and Silver. Platinum partners get higher discounts and receive MDF based on 3% of the previous quarter's revenue. To qualify for the Platinum tier, partners must have $750,000 in annual recurring revenue.
While quarterly MDF is guaranteed for Platinum partners, Gold partners must earn MDF on a quarter-by-quarter basis. Gold partners' annual recurring revenue target is $500,000. The threshold for Silver partners is $250,000.
Henshaw said Cameyo in most cases works directly with MSPs and resellers, but the company also works with distributors such as D&H Distributing, which have networks of MSP partners.
Henshaw said 30% of Cameyo's revenue currently comes through the channel and that slice to increase to as much as 37% by the end of 2020. The channel program and new partner recruitment efforts will help push the channel's share of company revenue to 45% by mid-2021, he predicted.
Cameyo's channel recruitment strategy will target partners that focus on vertical markets such as education. Thirty-four school districts have become Cameyo customers in the last 30 days, with about 15% of those customers coming through the channel, Henshaw noted.
2nd Watch expands GCP services
2nd Watch, a professional services and managed cloud company based in Seattle, has expanded its Google Cloud Platform services with an Anthos offering.
The company's Hybrid Cloud Solutions with Anthos service includes an Anthos workshop, setup and configuration of Anthos, and use of Google's Migrate for Anthos to containerize applications, among other components. 2nd Watch originally built cloud practices around AWS and Microsoft Azure and has added Google to the fold. The company in May said it is participating in the Google Cloud Partner Advantage Program. In September, 2nd Watch rolled out a modernization readiness assessment service for Google Cloud.
"We've had a number of our clients start to inquire about Google Cloud and enabling them," said Michael Elliott, senior director of product market at 2nd Watch.
The new Anthos service lets 2nd Watch work with customers on cloud strategy.
"It's really sitting down with our clients to understand their applications environment," Elliott said. Customers can consider which applications make sense to modernize in-house before moving to the cloud and which make sense to move to the cloud immediately and modernize later.
Other news
Ahead, a Chicago-based digital transformation services provider, said it plans to acquire RoundTower Technologies and Kovarus, both technology solutions providers. The deals will make Ahead a $2.1 billion company with more than 1,000 employees. In 2019, Ahead merged with Data Blue and acquired Sovereign Systems.
Computer Design & Integration, an IT solutions provider based in New York, acquired P5 Solutions Inc., a consulting firm and ServiceNow Elite partner. SaaS consultancies have become popular acquisition targets. Last month, NTT Data Services agreed to purchase Acorio, a ServiceNow consulting firm.
Lemongrass, a services provider based in Atlanta, launched a service to help shift customers from aging or underutilized SAP systems to the AWS cloud. The Lemongrass Application Archiving service works in conjunction with the Lemongrass Cloud Platform and is intended for customers that must retain access to historical data within SAP systems.
Mission, a managed cloud services provider based in Los Angeles, unveiled a managed detection and response service. The service combines the company's AWS-certified managed services personnel with Alert Logic's MDR platform. MDR has become an increasingly important service offering for channel partners.
ConnectWise, a Tampa-based provider of software and services for MSPs, kicked off a bug bounty program, which the company said will supplement its in-house vulnerability management efforts.
Green House Data, a digital transformation consulting firm and MSP, rebranded itself across North America as Lunavi. The company, which has offices in Denver, Cheyenne, Omaha, Atlanta, Seattle and Toronto, has conducted seven acquisitions and doubled its employee headcount over the past six years.
Infosys, a digital services and consulting firm, is partnering with software vendor WANdisco to migrate enterprises' data lakes to public clouds such as AWS, Azure and Google Cloud.
Xtravirt, a cloud consulting firm and MSP based in the U.K., joined Menlo Security's EMEA partner program.
Respond Software, a cybersecurity investigation automation company based in Mountain View, Calif., said it has added 23 VAR, MSP and managed security service provider partners.
Dynatrace, a cloud monitoring vendor based in Waltham, Mass., launched a partner competency program. The program's competencies correspond to partners' expertise in use cases and technologies such as AIOps, DevOps, Cloud, ITSM/ITOM and government.
HYCU Inc., a data backup and recovery software company headquartered in Boston, now offers a new certification program for partners and customers as part of an update to its Learning Center. The certification program focuses on best practices for deploying, managing and maintaining the company's multi-cloud data management offerings.
IT management software provider SolarWinds said it has integrated the Cisco Meraki Dashboard API with its SolarWinds N-central remote monitoring and management The company said the integration will let MSPs more easily discover and monitor Cisco Meraki devices within their N-central dashboards.
FrontWell Solutions, a German consulting firm, inked a services partnership with Critical Manufacturing, a manufacturing execution systems vendor based in Porto, Portugal.
Market Share is a news roundup published every Friday.
Dig Deeper on Emerging technologies for MSPs