Oracle Autonomous Database Cloud gets transaction processing
Oracle launched a transaction processing version of Autonomous Database, a cloud-based platform that automates configuration and management of Oracle databases.
Oracle is now offering transaction processing capabilities as part of its Autonomous Database Cloud software platform, which is designed to automate the database administration process for Oracle users in the cloud.
The vendor launched a new Oracle Autonomous Transaction Processing (ATP) cloud service, expanding on the data warehouse service that debuted in March as the first Autonomous Database Cloud offering. The addition of Oracle ATP enables the automated system to handle both transaction and analytical processing workloads, Oracle executive chairman and CTO Larry Ellison said during a launch event that was streamed live.
Ellison reiterated Autonomous Database Cloud's primary selling point: that automated administration functions driven partly by machine learning algorithms eliminate the need for hands-on configuration, tuning and patching work by database administrators (DBAs).
That frees up DBAs to focus on more productive data management tasks and could lead to lower labor costs for customers, he claimed.
"There's nothing to learn, and there's nothing to do," said Ellison, who also repeated previous jabs at cloud platforms market leader Amazon Web Services (AWS) and previewed the upcoming 19c release of the flagship Oracle Database software that underlies Autonomous Database Cloud.
Cloud success still a test for Oracle
However, while Ellison taunted Amazon for its longtime reliance on Oracle databases and expressed skepticism about his competitor's ability to execute a reported plan to completely move off of them by 2020, Oracle lags behind not only AWS but also Microsoft and Google in the ranks of cloud platform vendors.
Make no mistake, Oracle still has to prove themselves in the cloud.

Adam Ronthalanalyst, Gartner
"Make no mistake, Oracle still has to prove themselves in the cloud," Gartner database analyst Adam Ronthal said in an email after the announcement.
And Oracle isn't starting from a position of strength. Overall, the technology lineup that Oracle currently offers on its namesake cloud doesn't match the breadth of what users can get on AWS, Microsoft Azure and the Google Cloud Platform, Ronthal said.
But Oracle ATP "helps close that gap, at least in the data management space," Ronthal added. Together, ATP and the Autonomous Data Warehouse (ADW) service that preceded it "are Oracle coming out to the world with products that are built and architected for cloud," with promises of scalability, elasticity and a low operational footprint for users, he said.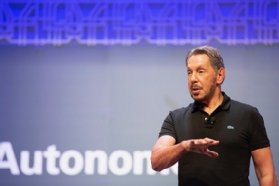 The Autonomous Database Cloud services are only available on the Oracle Cloud, and Oracle also limits other key data management technologies to its own cloud platform; for example, it doesn't offer technical support for its Oracle Real Application Clusters software on other clouds.
In addition, Ronthal noted that it's typically more expensive to use Oracle databases on AWS and Azure than on Oracle's cloud because of software licensing changes Oracle made last year. "Oracle is doing everything it can to make its cloud the most attractive place to run Oracle databases," he said.
But now the company needs to build some momentum by convincing customers to adopt Oracle ATP and ADW, Ronthal said -- even if that's likely to primarily involve existing Oracle users migrating to the cloud services, as opposed to new customers.
Oracle's autonomous services get a look
Clothing retailer Gap Inc. is a case in point, although the San Francisco company's use of Oracle databases could grow as part of a plan to move more of its data processing operations to the Oracle Cloud.
For example, Gap is working with Oracle on a proof-of-concept project to convert an on-premises Teradata data warehouse to Oracle ADW, said F.S. Nooruddin, the retailer's chief IT architect.
That's a first step in the potential consolidation of various data warehouses into the ADW service, he said. Gap also plans to look closely at Oracle ATP for transaction processing uses, according to Nooruddin, who took part in a customer panel discussion during the ATP launch event.
Gap already runs Oracle's retail applications and Hyperion enterprise performance management software in the cloud. As the retailer's use of the cloud expands, the Autonomous Database Cloud technologies could help ensure that all of its Oracle databases, from test and development environments to production systems, are properly patched and secured, Nooruddin said.
Ellison said Oracle ATP also automatically scales the transaction processing infrastructure allotted to users up and down as workloads fluctuate, so they can meet spikes in demand without paying for compute, network and storage resources they don't need.
That capability appeals to Gap, too, said Connie Santilli, the company's vice president of enterprise systems and strategy. Its transaction processing and downstream reporting workloads increase sharply during the holiday shopping season -- a common occurrence in the retail industry. But Santilli said Gap had to build its on-premises IT architecture to handle the peak performance level, with less flexibility for downsizing systems when the full processing resources aren't required than a cloud deployment offers.
Cloud costs and considerations for Oracle users
In taking aim at AWS, Ellison again said Oracle would guarantee a 50% reduction in infrastructure costs to Amazon users that migrate to Autonomous Database Cloud -- a vow he first made at the Oracle OpenWorld 2017 conference.
Meanwhile, Ellison said Oracle customers can use existing on-premises database licenses to make the switch to Oracle ATP and ADW, avoiding the need to pay for the software again. In such cases, users would continue to pay their current annual support fees plus the cost of their cloud infrastructure usage.
The ATP and ADW services layer the automation capabilities Oracle has developed on top of Oracle Database 18c, which was released in February as part of a new plan to update the database software annually. During the ATP launch, Ellison disclosed some details about the planned 19c release and the capabilities it will add to Autonomous Database Cloud.
When databases are upgraded to the 19c-based cloud services, new functionality being added to the software will automatically check built-in query execution plans and retain the existing ones if they'll run faster than new ones, Ellison said. That will eliminate the need for DBAs to manually do regression testing on the query plans before upgrading, he added.
Other new features coming with Oracle Database 19c include the ability to configure Oracle ATP and ADW on dedicated Exadata systems in the Oracle Cloud instead of sharing a multitenant pool of the machines, and to deploy the cloud services in on-premises data centers through Oracle's Cloud at Customer program.
Oracle's official roadmap shows 19c becoming available in January 2019, but Ellison claimed that was "worst case" and said the new release may be out before the end of this year.