Definition
direct email marketing
What is direct email marketing?
Direct email marketing is a format for email-based campaigns in which standalone advertisements are sent to a targeted list of recipients. The messages -- which might be text, Hypertext Markup Language or rich media -- look like web-based ads or typical email ad messages.
Several elements make direct email marketing different from spam. For example, the sender might use customer segmentation techniques to ensure that the message is appropriate for the group it's being sent to and use personalization techniques, so the recipient is addressed as an individual.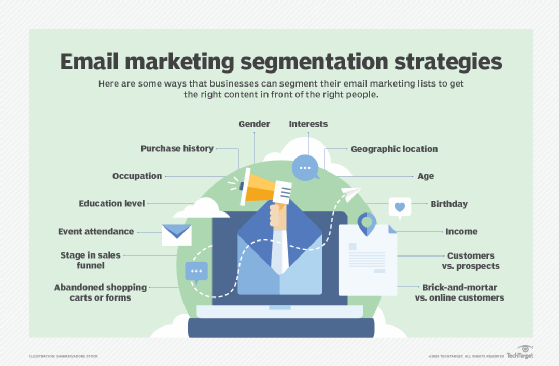 In contrast to the bombardment approach of spam, the concept behind direct email marketing is to send professional and compelling ads to a smaller group of recipients that might be more interested in receiving such messages. Direct email marketing is generally a permission-based opt-in email, as opposed to unsolicited commercial emails. Email campaigns sent directly to interested subscribers make potential customers more aware of the organization's newest products or sales offers.
Direct email marketing messages often include mechanisms that provide senders with feedback on the effectiveness of a campaign. This makes it possible for organizations to track metrics such as the number of messages opened, the number of clicks generated from a message, the number of recipients who requested removal from the sender's list and the number of messages bounced by the recipient's server.
Benefits and effectiveness of direct email marketing
Some benefits of direct email marketing include the following:
Personalized email marketing. Personalized email marketing that includes the recipient's name or targets an interest or hobby enables an organization to increase the likelihood of successful conversions while also being able to target a niche audience.
Create a closer rapport with a target audience. An organization can personalize its emails for each recipient based on customer information it might already have and can make its message professional or casual to develop a closer rapport with potential customers.
Metrics for measuring success. Results that help determine a successful email marketing campaign include open rates, click-throughs, conversions and delivery rates.
An affordable option to reach many people quickly. Direct email marketing is a cost-effective way for organizations to reach their target audience quickly. Some email marketing services offer a specified number of emails for free and then charge a minimal amount per email.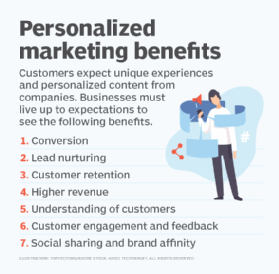 Best practices for direct email marketing success
Organization should take the following steps when conducting direct email marketing:
Define the audience to create a targeted and segmented mailing list of individuals who might be interested in a particular product or service.
Write a call-to-action to entice recipients to follow through and complete a transaction. For example, the call to action could be written to act soon for a limited-time offer.
Include an image to get the recipient's attention.
Thoroughly proofread the email copy.
Mobile-friendly formatting helps ensure that marketing emails are aesthetically pleasing for anyone viewing them on a mobile device. The email's body text should also be short.
Provide unique offers such as exclusive invitations to sale or other events to help entice recipients to follow through.
Use email software or automation to select the best times to send out emails, automatically send welcome emails or automatically track performance analytics.
Include a tracking link in the email along with an image, URL or call to action that takes the recipient to a specific landing page. This helps organizations monitor the success of a campaign by keeping track of webpage traffic.
How to measure direct email marketing
Organizations can use the following metrics to measure direct email marketing efforts:
Conversion rate is the percentage of individuals who interacted with the email and completed a desired goal such as purchasing an advertised product.
Click-through rate is the percentage of times email recipients interact with the email.
Open rate is the percentage of emails opened by recipients.
Delivery rate is the percentage of emails that were successfully delivered to the prospects.
Email marketing tools and services
Email marketing tools are designed to help an organization send personalized and targeted bulk emails. These tools can track an organization's campaign performance, manage its contact lists and segment prospect customers into groups.
Examples of direct email marketing tools include Sendinblue, HubSpot and Constant Contact.
Sendinblue is an SMS and email marketing tool that uses marketing automation features to segment prospects, send emails and create automatic follow-up emails. This tool features a drag-and-drop email editor and can automatically select the best times of day to send out emails. It offers free and paid plans. Free plans let users send 300 emails per day. Paid plans include SMS support.
HubSpot enables an organization to personalize emails for subscribers based on device, location or other custom target subscriber personalization. The tool includes features such as marketing automation, performance analytics, A/B testing and drag-and-drop based email templates. Like SendinBlue, HubSpot includes free and paid versions. The free version includes marketing, sales, service and operations tools, as well as the ability to send 2,000 emails. Paid versions include more advanced features.
Constant Contact enables users to manage email lists, contacts and email templates. Features include unlimited emails, tracking and reporting, an image library, list segmentation, email automation and subject line A/B testing. The tool offers a 60-day free trial and a paid version.
Learn about different email marketing strategies online retailers use to increase revenue and attract repeat customers.
This was last updated in
December 2022
Continue Reading About direct email marketing
Dig Deeper on Marketing and sales