Getty Images/iStockphoto
6 e-commerce email marketing strategies to heed
Building a database, nurturing existing customers and using an email service provider are some e-commerce email marketing strategies to help businesses increase revenue.
Online retailers constantly seek more ways to increase revenue, attract repeat buyers and increase their market share in a competitive digital shopping space.
When the COVID-19 pandemic began, in-person purchases at brick-and-mortar stores naturally dropped off, as more people stayed and worked at home. More businesses relied on online stores and e-commerce email marketing strategies to better engage audiences. Even as retailers saw a rebound in foot traffic after 2020, they still embraced creative uses of email marketing to drive more sales online, with options to pick up in-store, to take advantage of increased email engagement.
An e-commerce email marketing strategy goes beyond sending promotional emails to a list of contacts. It also involves sequencing, retargeting and personalization with unique content tailored to that segment.
What is e-commerce email marketing?
In its most definitive form, e-commerce email marketing is the art and science of using email campaigns to generate sales for an online store. Welcome emails, cart abandonment emails and other campaigns designed to nurture subscriber lists focus on building customer relationships.
Organizations send marketing messages with the intent to educate, build loyalty or sell products at various stages of the customer journey. An email marketing channel is an owned marketing activity, meaning the sender has complete control over the content and distribution to various audience segments with low associated costs.
Below, explore six e-commerce email marketing strategies that can help businesses on their way to success.
E-commerce email marketing is the art and science of using email campaigns to generate sales for an online store.
1. Build an email marketing database
Marketers measure the amount of traffic websites get from new and returning visitors. However, even with highly targeted traffic, most new visitors to a website don't return. This can change if businesses give them a reason to return, like an offer encouraging them to subscribe to marketing emails or create accounts on their e-commerce platform to collect more information about those users.
An e-commerce email marketing strategy should begin with capturing a visitor's email address with an online subscription form. Marketers should always provide the opportunity for users to give their email addresses, but teams should make it worth their while. Some enticing offers include a discount code for their first purchase when they sign up, free shipping or letting them know they will get future discounts and offers by signing up.
As an organization's database grows, marketers should segment those members into categories that align with purchase history or page visits. To segment audiences, marketers should collect important information about customers, such as demographic data from forms or through purchase behavior, areas of interest and their birthday.
2. Send various types of emails
Marketers have many different types of emails they can send to increase click-through rates (CTRs) and customer engagement. Emails should be compelling, including a mix of text and photos with a call to action (CTA) that grabs the reader's attention.
Some types of emails that can strengthen customer relationships and increase revenue are the following:
Welcome email. When a user subscribes, an online retailer should start off on a positive note with a welcome email. These messages should include an incentive to return to the website or make a purchase, such as a discount code.
Cart abandonment email. Shoppers often browse through websites, find something they like and add it to their carts, but they can become distracted and not complete the purchase. The cart abandonment email reminds users that their cart is active and encourages them to complete the purchase. Marketers can also use this opportunity to add incentives, such as discount codes or free shipping to push customers over the purchasing edge.
Birthday email. Birthday emails create personal experiences with customers and provide an opportunity to gift them something, like a free item after a certain purchase size or a discount.
Promotional offer or discount email. Discounting has long been a strategy to encourage sales -- both online and offline.
Order confirmation or thank-you email. To keep engagement high and relationships strong, organizations should always send follow-up emails to confirm orders. These messages can set expectations with the customer about delivery time frames and shipping details or cross-sell additional items. A thank-you email is similar in nature but shows recipients that the brand appreciates their business.
3. Retain existing customers for repeat purchases
Marketers can most easily engage with people who have already purchased from an online store. Teams can engage this audience in several ways, including the following:
Upsell existing customers. Upselling can add to the customer lifetime value and could increase the average order size. If brands encourage customers to bundle products for potential savings or suggest a related item in an order confirmation email, they can better retain customers.
Encourage repeat purchases. If marketers send frequent offers to existing customers, they can tailor emails based on previous purchase behaviors and recommend related products. This approach is similar to an upsell.
Win back former customers. Sometimes, a customer buys something once from a store and never comes back. To win them back, organizations can use an aggressive discount strategy to encourage additional purchases. They might also offer gift cards within these emails to people who have not purchased anything within the past 12 months.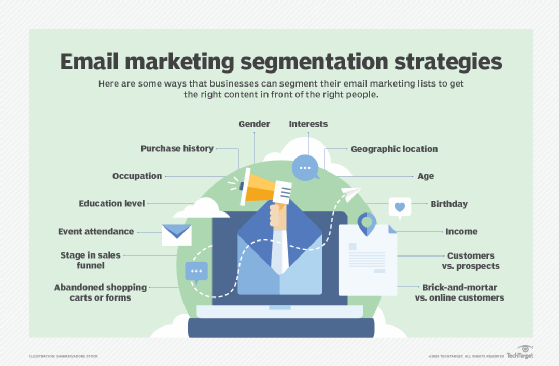 4. Use software to assist with e-commerce email marketing
An email marketing strategy won't reach success without the right software and technology to help. Organizations may struggle to choose between a variety of platforms -- including Campaign Monitor, Constant Contact and CM Commerce -- to support e-commerce email marketing initiatives.
However, key features can help yield the highest return, including the following:
Email marketing automation. All email marketing platforms can send a one-off newsletter, but organizations should be able to automate more than that. Automating thank-you, birthday and cart abandonment emails, as well as more complex campaigns, can ensure businesses deliver content without manual intervention after setup.
List segmentation. While most email service providers enable organizations to create multiple mailing lists, advanced segmentation offers the most value. Segments based on activity or engagement can enable automation to send follow-up emails. For example, creating a list of people who opened an email but did not click the CTA tells organizations to send a new email to that audience, unique to their scenario.
A/B testing. A/B testing enables marketers to send two versions of the same email with slight differences to test customer engagement. Good service providers enable marketers to send this test to a subset of the larger list and, based on performance, send the highest-performing version to the rest of the list. This tactic helps test various subject lines and CTAs for open rates and CTRs.
Reporting. An email marketing platform with extensive reporting features offers marketers insight to adjust future campaigns. Metrics such as open rate, CTR, deliverability, bounce rate and unsubscribe rate reveal how customers react to an email. Marketers can use this data to inform potential follow-ups or future campaigns, as well as further optimize their email marketing efforts.
Integration. Organizations need an email service provider that integrates with their shopping cart systems -- such as Shopify and Square -- so marketers can share information about purchases between tools.
5. Personalize emails
Personalization in email marketing can increase open rates and show the audience that a business acknowledged their needs and wants. Personalization in emails enables an email to go to a wide audience and still make it feel unique for each reader.
If organizations integrate a personalized email marketing strategy into existing programs, they may get more engaged leads. Personalization works as a nurturing strategy for prospects and customers looking to make their first or repeat purchase.
Some ways to incorporate personalization into an email marketing strategy are the following:
Make the content relevant. List segmentation enables marketers to ensure their emails are relevant to readers. Capturing someone's attention with relevant content makes it more likely that email won't end up in the trash.
Make the email timely. Sending emails at the right time can build off data being collected early in the customer journey. These messages can include welcome emails, birthday emails, messages with content related to past purchases, timely sales or offers for related or interesting products, the rollout of new products the customer may like and new offers to rewards members.
Personalized subject lines. Personalization in a subject line can quickly capture someone's attention and speaks directly to that individual. Customers are more likely to open emails with subject lines that include their name.
Calls to action. Personalized CTAs can target individuals instead of a broad audience. Marketers can use smart CTAs, which lets them use different CTAs in one email based on a person's segment. For example, when an organization announces new products, it can use a smart CTA to drive someone to new products related to their interests or past purchases, all from a one-to-many email program.
6. Incorporate videos into emails
Videos are increasingly popular in e-commerce email marketing strategies, as they can maximize results from email programs. Because marketers can use email as a personal channel to reach an audience and video is an easily digestible content form, including video into emails can add more substance to the message and enable higher engagement.
Other benefits to using video in email marketing include the following:
Increases CTRs. Emails with video see a higher CTR because the emails become more appealing, as users want to engage with that content.
Creates trust and a strong bond from customers. To enable a personalized and human-to-human approach to emails, videos can help brands put a human face in front of the readers. Customer testimonials or internal company excitement about how to use a product can make the brand feel more approachable and increase loyalty.
Influences buying decisions. If recipients watch product videos or customer testimonials, this content can sway them to make a purchase, as videos can showcase stories and explain products in more detail.
Provides visual learning experiences. Video can showcase product demos to more visual learners, which can illuminate the product's value in real-world examples. Videos can also share advice and best practices and lead users to more detailed content, like product updates or blog posts about the product.
Editor's note: This article was updated to reflect changes in the best practices for e-commerce email marketing.
Dig Deeper on Marketing and sales