natali_mis - stock.adobe.com
4 e-commerce email marketing strategies to heed
Building a database, nurturing existing customers and using an email service provider are some e-commerce email marketing strategies to help businesses increase revenue.
Online retailers today are constantly seeking more ways to increase revenue, attract repeat buyers and increase their market share in a competitive digital shopping space.
As COVID-19 continues its assault, there has been a natural drop-off of in-person purchases at traditional brick-and-mortar stores. More businesses are turning to online stores and developing e-commerce email marketing strategies for their brands.
An e-commerce email marketing strategy isn't just about sending promotional emails to a list of contacts; it's also about sequencing. Organizations need to ensure they are sending the right message to the right audience at the right time. Otherwise, they may lose credibility and customers. When done correctly, brands won't only benefit from lifelong customers, but also brand evangelists.
What is e-commerce email marketing?
In its most definitive form, e-commerce email marketing is the art and science of using email campaigns to generate sales for an online store. Welcome emails, cart abandonment emails and other email campaigns designed to nurture subscriber lists are all about building customer relationships.
Organizations send these marketing messages with the intent to educate, build loyalty or sell products at various stages of the customer journey. An email marketing channel is an "owned" marketing activity, meaning the sender has complete control over the content and distribution to various audience segments.
Capturing a visitor's email address using an online subscription form is a great first step in an e-commerce email marketing strategy.
Here are four e-commerce email marketing strategies that will help businesses on their way to success.
1. Build an email marketing database
One common metric that marketers look at is the amount of traffic websites get from new and returning visitors. However, the reality is that, even with highly targeted traffic, most new visitors to a website will not return -- unless businesses give them a reason, such as an enticing offer to get them to subscribe to marketing emails.
Capturing a visitor's email address using an online subscription form is a great first step in an e-commerce email marketing strategy. Businesses should always provide the opportunity for users to give their email addresses, but they need to make it worth their while. Some enticing offers might include a code for 15% off their first purchase when they sign up, giving away free shipping or just letting them know they will get future discounts and offers by just signing up.
As an organization's database grows, it's best to segment it. This can be done by collecting important information about customers, such as simple demographics data from form fields or through their purchase behavior, areas of interest to promote certain products in subsequent e-blasts and even their birthday.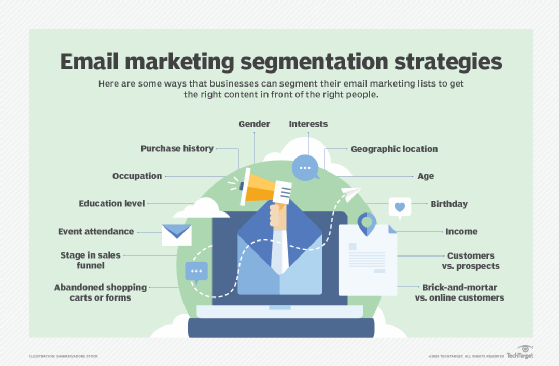 2. Send various types of emails
There are many different types of emails to send to increase click-through rates and customer engagement. Emails should be compelling, including a mix of text and photos with a call to action that will grab the reader's attention. Here are some key emails to send that can strengthen customer relationships and increase revenue:
Welcome email.

When a user subscribes, the best thing an online retailer can do is start off on a positive note with a welcome email. These come in many shapes and sizes but should include an incentive to return to the website or make a purchase, such as a discount code.

Cart abandonment email.

It's common for shoppers to browse through a website, find something they're interested in and add it to their carts, but it's easy for them to become distracted and not complete the purchase. The cart abandonment email is a great way to remind a user that their cart is still active and encourage them to complete the purchase. Despite the reasons why someone may not make their purchase, this is a good opportunity to also add some incentive into the mix, such as discount codes or free shipping to push them over the purchasing edge.

Birthday email.

Everyone loves getting well wishes on their birthday, and they may also want to treat themselves to something nice in honor of their special day. These emails create personal experiences with customers, while also providing an opportunity to gift them something in the form of a free item after a certain purchase size or a sizable discount that doesn't cut into profit margins.

Promotional offer or discount email.

Discounting has long been a strategy to encourage sales -- both online and offline. Studies showed that 72% of millennials are open to retargeting via discounts, and conversion rates can be as high as 5%.

Order confirmation or thank-you emails.

To keep engagement high and relationships strong, businesses should always send a follow-up email confirming the order. This is a great way to set expectations with the customer about delivery time frames and shipping details. It is also a means to cross-sell additional items. A thank-you email is similar in nature but shows the recipient how much their business is appreciated.
3. Nurture existing customers for repeat purchases
The easiest people to engage with online are those who have already made a purchase from an online store. The average repeat customer spends 67% more in months 31 to 36 of the shopping relationship than in the beginning, so it makes sense to regularly target this audience. There are several ways to engage this audience type:
Upsell existing customers.

Upselling an existing customer not only adds to the customer lifetime value, but also has the potential to increase the average order size. Encouraging the bundling of products at a potential savings or suggesting a related item in an order confirmation email makes customers stickier with a brand.

Encourage repeat purchases.

By sending out frequent offers to existing customers, businesses can tailor emails based on previous purchase behaviors and recommend related products. This is similar to an upsell, but many products are rife for repurchase.

Win back former customers.

Sometimes, a customer just buys something once from a store and never comes back. For a win-back email, instead of offering a standard 10% to 15% off, businesses can use a more aggressive discount strategy that doesn't cut into profits to encourage an additional purchase. Businesses might also consider offering gift cards within these emails to those who have not purchased anything within the past 12 months.
4. Use software to assist with e-commerce email marketing
The best email marketing strategy will not be successful without the right software and technology to help. With a variety of platforms -- including Campaign Monitor, Constant Contact and CM Commerce -- to support e-commerce email marketing initiatives, making the selection can be difficult. But here are a few key features that will help yield the highest return:
Email marketing automation.

All email marketing platforms can send the one-off newsletter, but businesses need to be able to automate more than that. Automating thank-you emails, birthday emails, cart abandonment emails and complex, nurture-based campaigns will ensure that businesses are delivering that content at the right time without manual intervention after setup.

Personalization.

The ability to have one email go out to many but still have it personalized for a single user is key to some email performance metrics. Personalized subject lines, greetings and even related product offers ensure that emails create a human-to-human relationship with the recipient.

List segmentation.

While the majority of email service providers enable businesses to create multiple mailing lists, it's advanced segmentation that provides the most value. Being able to segment based on activity or engagement adds a new layer of how businesses can use automation to send follow-up emails. For example, creating a list of people who opened an email but did not click on the call to action enables businesses to send a new email to that audience, unique to their scenario.

A/B testing.

A/B testing -- or multivariate testing -- enables marketers to send two versions of the same email with a slight change, testing the customer engagement between the two. Good service providers offer the ability to send this A/B test to a subset of the larger list and, based on performance, send the highest-performing version to the rest of the mailing list. This is a great tactic for testing out various subject lines for open rates or changing the call to action to see higher click-through rates.

Reporting. Selecting an email marketing platform with extensive reporting features provides marketers with insight to adjust future campaigns. Metrics such as open rate, click-through rate, deliverability, bounce rate and unsubscribe rate can all provide insight into how customers reacted to an email. Using data to inform potential follow-ups or future campaigns to audiences enables marketers to continue optimizing their email marketing efforts.

Integration. Businesses should find an email service provider that integrates with their shopping cart systems -- such as Shopify and Square -- so information about purchases can be shared between tools.