Getty Images/iStockphoto
5 examples of e-commerce content marketing strategies
Content marketing strategies with personalization, thought leadership research, SEO and diverse content types can help e-commerce companies reach and engage more customers.
Good content conveys information about a product or brand, cultivates interest and builds long-term connections with customers. Content has many aspects to consider, including its relevance to consumers, the keywords it uses and its overall effect.
Sharing meaningful and relevant stories can help build organic traffic. Additionally, good infographics can summarize important topics, and customers are more likely to share them across social media. On the back end, content marketing teams must also consider where to focus their e-commerce content strategy. They might also want to experiment with new media, such as video or user-generated content.
Below, explore five examples of e-commerce content marketing strategies to consider.
1. A personalized blog
Many independent e-commerce players have shifted from conversion-focused dropshipping sites to direct-to-consumer (D2C) websites, said Elaine Hu, head of business development for global business at Baidu, a technology, internet search and internet services company. D2C websites aim to tell brand stories that resonate with customers and create experiences that deepen relationships.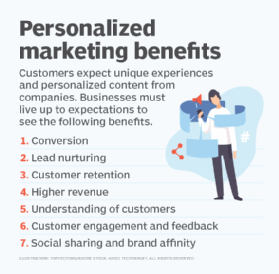 "Hosting and building a personalized blog tailored to your users' interests can help set you apart from competing services in many ways," Hu said. The benefits of personalized blogs include the following:
drives organic traffic to the website through search engine optimization (SEO);
can be repurposed for social media to amplify the brand's voice; and
helps a brand become a thought leader on a particular topic.
2. Research reports
Ian Televik, former vice president of marketing and CX at Fabric, an on-demand retail platform, found it helpful to publish thorough, relevant research reports that tackle topics audiences care about. His team researched target customer personas and content relevant to them. This research helped guide efforts to create specific, long-form reports on those subjects.
"If we're thoughtful about it, we'll find unique key takeaways that are valuable to our audience and will pique their interest enough to engage more with our brand," Televik said.
Televik said his team also had to be creative in how they distributed content. They had success in transforming a report into smaller nuggets distributed through email, social media, press releases and outbound sales communications. They often reached the same audience multiple times with different pieces, which increased the likelihood that people might want the entire report.
3. Optimization beyond the homepage
If we're thoughtful about it, we'll find unique key takeaways that are valuable to our audience and will pique their interest enough to engage more with our brand.

Ian TelevikFormer vice president of marketing and CX, Fabric
Organizations should make their websites inviting across the entire site, not just the homepage, said Diane Burley, senior director of content and communications at Coveo, an enterprise search platform provider.
Marketing teams sometimes forget that most traffic comes from organic search that links to a specific page rather than the organization's homepage. Websites should clearly indicate on each page what you expect them to do with calls to action, like the following:
Learn more about AI;
Contact us; or
Have a problem? Solve it with this!
4. SEO best practices
To increase organic traffic from search engines, marketing teams might need to jump through hoops to optimize the site. Tools like Ubersuggest or Semrush can help reveal potential missed opportunities, Burley said.
Marketing teams should also consider and address digital accessibility guidelines, like adding alt text to images, supporting screen reader technology and using high-contrast colors to design for color blindness. Design teams should look at pages in grayscale to reveal if they offer enough contrast.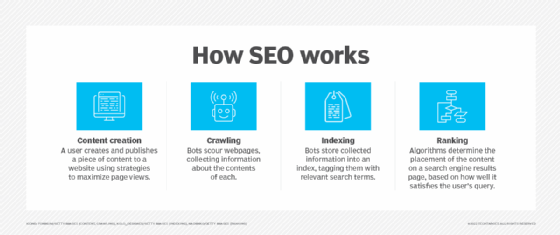 5. New content types
Content marketing teams always have new types of content and distribution media to consider, like videos, podcasts, animation, explainers, surveys, white papers and the metaverse. However, they should focus their efforts to see what really works rather than what looks cool.
"Organizations are always 'chasing the shiny,' resulting in pressure to try out new content formats," Burley said.
Organizations likely can't experiment with more than one new content type or medium without a good sized staff and agency budget. Burley recommended tackling one format with no fewer than five assets. If the marketing team can only make one asset, they won't get enough data to learn the differences between how audiences respond to the asset type and the content itself.