Businesses use AI to improve customer experience
Chatbots, virtual agents, computer vision and other AI-related technologies on display at a recent tech conference are being used to improve customer experience.
CX was front and center at the recent VentureBeat Transform 2019 conference, as several different companies showcased how they are using AI to improve customer experience.
AI Foundry uses AI and computer vision to speed the mortgage approval process from several weeks to a few days. Steve Butler, president and founder of AI Foundry, a Kodak Alaris business unit, said its intelligent process automation platform can be applied to many different industries, but it's going after mortgages first.
"In the mortgage industry, there is a mass labor pool that classifies and extracts hundreds of different document types, extracts thousands of fields of data from those documents and then performs hundreds of business rules to verify quality and compliance of those documents," Butler said.
The company uses AI to improve customer experience by integrating deep learning machine vision with virtual robots into the intelligent process platform to identify, retrieve and organize relevant information. AI Foundry showcased a new cloud service that any lender can use to upload, analyze and index loan documents from a prospective customer in a matter of seconds.
Butler said the accuracy is around 95%, which is close to human accuracy over a much longer time period. It also covers 300 different document types and more than 2,000 field extractions.
In a demo, the company showed how the system flagged an appraisal estimate that was too low for the loan amount. Behind the scenes, AI Foundry uses computer vision to identify key elements of a document and what needs to be extracted to advance the mortgage application. The company uses the same visual techniques that Google Photo does to identify a cat or dog in a photograph.
Augmented reality helps contact centers
During the San Francisco conference, TechSee Augmented Vision Ltd. showcased TechSee Smart -- its computer vision software for contact center aimed at improving CX.
"Customer service can be a long, frustrating experience. That's why it's the leading area of investment in AI," said Tom Tseki, vice president of sales at TechSee.
Tseki said a big issue is that with voice or text-based chats contact centers are flying blind because they can't see what the customer is calling about.
Customer service can be a long, frustrating experience. That's why it's the leading area of investment in AI.

Tom TsekiVice president of sales, TechSee
When a customer calls a contact center that uses TechSee Smart, they are asked to connect to the software via their smartphone's browser, since there is no app or download. This lets the agent see what the customer is calling about -- such as an appliance or Wi-Fi router that isn't working -- using the smartphone camera. Then, using augmented reality, the agent can circle or mark a trouble spot and write in next steps for the customer to see, such as "reinsert this plug."
Tseki compared the advance to today's smart cars that can "see" the cars around them and what's happening in the other traffic lanes.
"We are talking about the same idea, but applying it to customer service situations," Tseki said.
In addition to augmented reality, the system uses computer vision and AI to make a visual inspection, recognize issues such as a broken part or a plug not inserted correctly and suggest a remedy.
Talk to an agent
Another company that uses AI to improve customer experience is Inference Solutions, with its range of virtual agent tasks. The company has hundreds of enterprise deployments using its Intelligent Virtual Agent platform, including Toshiba, Marriott hotels and the state of Florida. Thirty-five different carriers worldwide also use its virtual agents for customer service.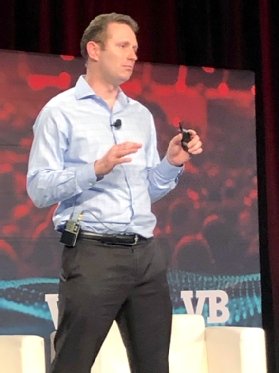 Callan Schebella, Inference Solutions' CEO, said his company works like a broker, picking companies and technologies to integrate with its platform. For example, companies already invested in IBM's Watson or Google's technology can connect to the Inference system. Schebella said features include simple touch-tone interactions and true natural language interactions to carry out transactions such as booking a plane ticket.
"Our typical customer is not a tech company, but business and marketing managers in hospitality and other industries that need help with customer service," Schebella said.
Virtual agents act like contract labor because businesses license them on a monthly basis. A company may want 10 virtual agents one month, but double the number during another month that it expects to be busier.
Schebella said he sees the technology advancing in the next few years to be more proactive.
"Two people might be talking on the phone and realize they need to do an in-person meeting, and one will say to the other, 'I'll have my virtual agent contact yours to set up the meeting,'" he said.
Dig Deeper on Customer experience management