ra2 studio - Fotolia
Salesforce Boston World Tour show highlights customers, philanthropy
From the dais and halls at Salesforce World Tour's Boston stop, talk focused on automating employee volunteerism, marketing best practices and developer reaction to MuleSoft deal.
BOSTON -- MuleSoft might be a Salesforce property now, but other integration developers aren't yet worried about...
Continue Reading This Article
Enjoy this article as well as all of our content, including E-Guides, news, tips and more.
the CRM giant cannibalizing their business. That was the biggest takeaway from the annual Salesforce Boston World Tour roadshow stop at the Hynes Convention Center last week.
There was the typical rehashing of news (and, in some cases, video presentations) from Dreamforce four months ago. Veteran customers and independent Salesforce-certified experts also loaded their breakout-session presentations with best practices for managing the expansive CRM platform's many possible features.
The Salesforce Boston World Tour event also offered a sneak preview of the to-be-released Philanthropy Cloud. It promises to vet fundraising and volunteering opportunities and put them in front of the employees of Salesforce customers -- adding analytics insights to localize and personalize those opportunities to drive participation.
Nick Bailey, Salesforce.org vice president of innovation and products, said employees will be able to create a LinkedIn-like profile of their giving preferences and past service record that can follow them from job to job. He hopes Salesforce customers will see Philanthropy Cloud as a recruitment and retention tool for members of the millennial generation, who he said typically respond well to automation and personalization tools in other aspects of their life. At the end of February, Salesforce said Philanthropy Cloud, which will be enabled by Einstein AI, will be available this summer.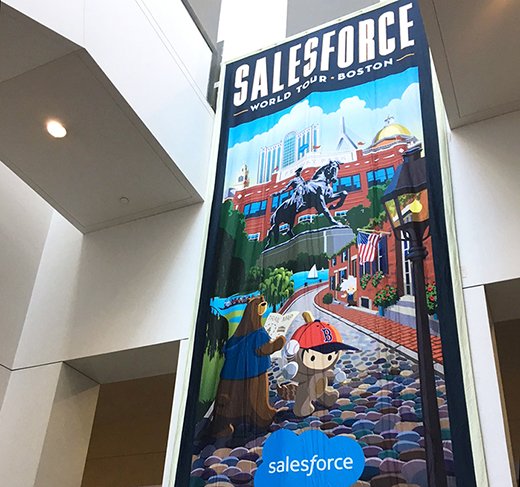 MuleSoft deal casts shadow on SFDC partners
On the Salesforce Boston World Tour exhibit hall floor, however, the buzz was about the recent Salesforce purchase of MuleSoft, its biggest-ever acquisition. Exhibitors typically include third-party software integrators, who help Salesforce customers merge on-premises applications into the Salesforce cloud via apps, APIs and data migration.
The MuleSoft buy shows that the real world still has one foot in the cloud and the other in their own data centers.
One vendor rep, Zachary Svendsen of Jitterbit, was circumspect. While the MuleSoft deal and impending Salesforce Integration Cloud has the potential to cannibalize some of Jitterbit's business, he said he sees the MuleSoft purchase more as validation for the need of on-premises or cloud integrations. Salesforce has always prided itself on being a cloud-only platform without the need for maintaining out-of-the-box applications -- but the MuleSoft buy shows that the real world still has one foot in the cloud and the other in their own data centers.
Besides, "if anything bad happens," said Svendsen, JitterBit's senior manager of alliances, "it won't be for at least two years," because that's how long it will likely take Salesforce to roll out its Integration Cloud and potentially start poaching customers.
Overall though, Svendsen explained at the Salesforce Boston World Tour stop that he isn't very worried about a competitive threat from the coming Integration Cloud. He explained that he sees it as helping shine a spotlight on the need for services from Salesforce partners like Jitterbit and its competitors.
Integrated surveys boost AthenaHealth
One session focused on another kind of integration: mashing up survey data with Salesforce customer records. Up to this point, the majority of marketing leaders conducted retrospective customer surveys to look for opportunities to improve customer experience and research why customers come to their companies -- and leave them.
In recent years, tools like GetFeedback can take survey responses, pipe them straight into individual Salesforce account records and send alerts to salespeople's mobile devices or web browser screens. This immediate flow of data enables salespeople to act on customer dissatisfaction and solve problems before potentially losing an account.
Such was the case for Watertown, Mass., company AthenaHealth, a cloud-based electronic medical records provider for small- to medium-sized hospitals and healthcare systems, whose representatives spoke at the Salesforce Boston World Tour. While the company was alone at first as a cloud health data system, more and more cloud vendors began crowding the market a few years ago; in 2015, the company developed its Voice of the Customer internal program to integrate more proactive survey-data tools to compete with these newcomers. While the program includes several sources of data outside of GetFeedback, it's become foundational to the program.
Macy Howarth, who directs the program, said that integrating online surveys to Salesforce records reduces admin time because service reps no longer have to make phone calls. Customer participation in surveys is up, too; they don't have to re-enter data into survey fields because they've already signed into their AthenaHealth account and the tool automatically populates the survey with their information.
The program has made surveying customers and using immediate feedback in Salesforce straightforward enough that AthenaHealth expanded the data collection effort beyond current customers.
"We're also now pulling in our prospect data," Howarth said. "So we're not only looking at current customers but looking at where the growth opportunities are as well."
Oldie but goodie: Email marketing tips
There are a couple good reasons Salesforce customers' most-frequently requested session is on email marketing best practices, and that it was reprised at the Salesforce Boston World Tour event: One, despite the existence of many other online marketing channels from webpages to text to social media to chat, a majority of companies still use email as a major marketing channel; two, because everyone's doing it, it's hard to do it well and not alienate customers because of off-topic or over communication.
Kelsey Jones, Salesforce product marketing manager, said that data is the new differentiator between old-school, everything-to-everybody email blasts that land sellers of goods and services into spam boxes and new email marketing automation programs that render personalized emails. Data, she said, is where better, more effective email marketing campaigns begin.
Still, for many companies regardless of size, it's hard to figure out where to start with data. It's understandable that a marketing leader at a company -- especially a large one -- might want to "boil the ocean" and use every bit of customer data at the launch of a new initiative, which is intimidating and perhaps impossible. Start small, she advised.
"I think with data, it's how do we consume it? How do we understand it? We talk about artificial intelligence, and it's [overwhelming]," Jones said. "Pick one thing you really want to focus on and do really well," for your initial data-driven email marketing campaigns.
Dig Deeper on Customer experience management