Act-On launches Adaptive Web, AI-based personalization tool
Adaptive Web, an AI marketing software tool by Act-On, makes real-time content suggestions to increase user web engagement without the direct aid of a marketer.
Act-On Software launched Adaptive Web, its AI-based inbound marketing software that makes content recommendations to an end user in real time. The Act-On offering is intended to engage web visitors with relevant content without the direct aid of a marketer.
Act-On, an adaptive marketing platform, developed Adaptive Web with the idea that personal marketing increases engagement. The vendor claimed Adaptive Web enables small marketing teams or agencies to personalize engagements.
According to a marketing insights study by Adobe, 77% of marketers said real-time personalization is highly important, but over half said they have trouble implementing personalization across channels.
Adaptive Web uses machine learning that tracks omnichannel website visitor behavior, and then launches digital content recommendations, such as blogs, press releases, e-books, data sheets or videos. These suggestions appear in an Intelligent Recommendations tray, which is available to the user on every page for websites that use the tool.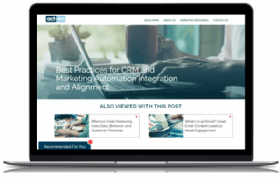 Users that visit a website repeatedly will have a personalized page, called My Library, which automatically updates with more recommendations based on website engagement.
Additionally, Adaptive Web provides full access to the key performance indicator (KPI) reporting, allowing marketers to draw insights about the impact of the AI marketing software. KPIs include trending content reports, time spent on site and average pages viewed for visitors who have interacted with Adaptive Web's recommendations versus those who have not.
This release comes on the tail of other AI marketing software releases from Act-On, such as Adaptive Sending, which gleans the best time to send email messages to individual clients.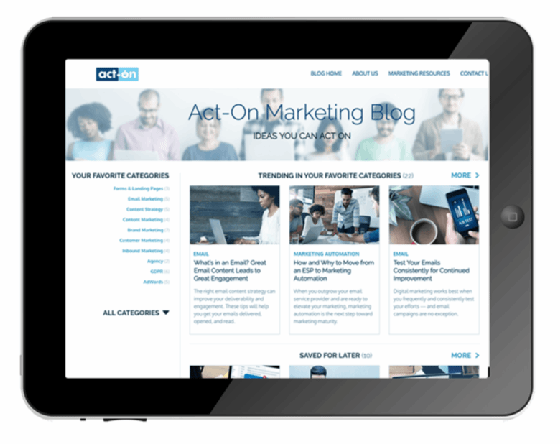 Adaptive Web integrates with Act-On's platform, but can also be used as a stand-alone software. Adaptive Web is $20,000 per year.
Gartner named Act-On a visionary in its 2018 Magic Quadrant for CRM Lead Management and competitor HubSpot a niche player. Act-On's Adaptive Web joins the ranks of content recommendation engines such as IBM Watson, Oracle Eloqua, Dynamic Yield, and BlueConic.
Dig Deeper on Marketing and sales