itestro - Fotolia
SAP launches Qualtrics CoreXM customer research tools
SAP renames Qualtrics Research Core Qualtrics CoreXM and adds AI, enterprise analytics, dashboard tools and admin controls for data access.
SAP has renamed Qualtrics Research Core, Qualtrics CoreXM, and has added to the survey software AI, a new interface and data scrubbing automation features. The improvements will let marketing and HR managers perform research on customer, brand and employee behavior formerly done by data specialists, the company said.
The latest enhancements, introduced this month, include conjoint analysis, which recommends product features, packaging and pricing based on customer feedback; automated data cleansing of poor-quality results from surveys; and tools that enable administrators to monitor Qualtrics' customer survey and feedback data across an enterprise.
"This is not just for use by researchers," a Qualtrics spokesperson said. "This can be used by any knowledge worker, any business professional who is trying to manage an experience."
SAP keeps Qualtrics stand-alone
Qualtrics, a popular voice of the customer (VOC) research tool, measures sentiment to make recommendations for managers to improve their company's product or brand, as well as workplace culture.
SAP, which bought Qualtrics International last year for $8 billion, has continued molding the company's namesake software into an experience management tool, a process Qualtrics had begun before SAP acquired it. Qualtrics remains a stand-alone product, as SAP integrates it with the C/4HANA CX platform.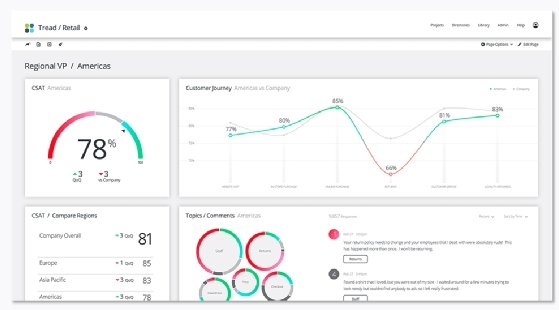 There are no one-size-fits-all VOC tools
Despite the new CoreXM features in Qualtrics, many companies will likely continue to use more than one vendor to measure customer and employee sentiment, Forrester Research analyst Faith Adams said. There is no single product today with all the features needed for customer research.
"There is no jack of all trades," Adams said. Customers have to either weave together several VOC/CX tools or use several of them separately.
In a blog post, Adams' Forrester colleague Liz Herbert advised SAP customers to monitor which Qualtrics and SAP C/4HANA executives stay or depart the company in the wake of last week's resignation of CEO Bill McDermott. Departures could signal an erosion in CX platform development, which had been a priority in McDermott's nine-year tenure.
McDermott was mostly responsible for the Qualtrics acquisition, so his departure may portend "big changes to come," Adams said.