James Thew - Fotolia
Qualtrics XM/OS ties together experience data for users
Qualtrics releases an 'operating system' to manage and analyze customer and employee feedback data, and AI tools expanded to cover sentiment data and industry-specific scenarios.
Qualtrics, newly independent of SAP, continues rapid-fire feature releases with Qualtrics XM/OS, what the company is calling an "operating system" for customer and employee experience data, as well as new AI and integration tools.
The Qualtrics XM/OS connects existing XM Directory, iQ and xFlow features together in one cloud. XM Directory manages employee and customer profiles and each one's associated data. IQ, Qualtrics' analytics suite, adds an updated sentiment analysis algorithm to better measure respondents' beliefs and emotions. XFlow is a low-code actions engine that enables Qualtrics users to automate response actions based on customer feedback in 130 applications including Slack, Teams, Zendesk and ServiceNow.
On top of reconfiguring these services as one operating system, Qualtrics adds new prebuilt AI tools for customers in different verticals to measure customer feedback. Also new are preconfigured xFlow actions and integrations to address customer problems when they arise.
This batch of Qualtrics features is the third since the company was spun off from SAP and then offered a stock IPO in late January. Earlier this month, Qualtrics generalized its one-to-one experience data tools for B2B use, which typically uses a many-to-many model as selling teams interact with customer buying teams. Just a few weeks after the IPO, Qualtrics entered the vaccine management market with its own appointment booking tool, competing with the likes of Salesforce, Microsoft and ServiceNow.
Qualtrics' association with SAP probably helped move its product roadmap along; now that the pre-IPO quiet period is over, it's all coming out, said Alan Webber, an analyst at IDC. The company also recently announced a strategic partnership with SAP competitor ServiceNow, and more of those are likely to come as it asserts its independence.
This is establishing Qualtrics as a separate brand.

Alan WebberAnalyst, IDC
"This is establishing Qualtrics as a separate brand that is still connected to SAP, but this is the direction they're heading," Webber said. "It also signals to the market they're open to partnerships other than SAP as they go forward."
The CX connection
Qualtrics settled on the operating system idea to articulate how its features can work together to design customer experiences by harvesting feedback, analyzing it and driving actions to improve it, said Brad Anderson, president of products and services at Qualtrics.
XM Directory's new features include Experience Journeys, which monitors customer interactions along different touchpoints in the customer journey, so different teams such as marketing and customer service can take actions to improve experiences.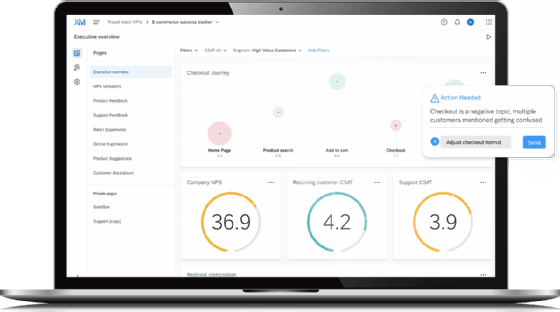 AI tools called iQ Topics, with baselines and benchmarks derived from the whole of Qualtrics' user universe, offer recommended actions for individual users based on dashboards that show what customers are talking about and measure their feelings about those topics. Those can be turned into xFlow actions, such as generating a service ticket in Salesforce or Zendesk when a customer posts a negative Tweet.
"Organizations really want to get into the hearts and minds of their consumers," Anderson said. "IQ enables us -- using AI models -- to take a look at text and ... learn what is really important in regards to customer sentiment and feelings."
Users can identify their own topics to monitor with iQ. Qualtrics also added 50 new preconfigured topic libraries tailored to common things discussed by customers in 25 different verticals, to tackle the issue of different meanings for the same words.
One example of a word within an iQ Topic that differs from industry to industry is outstanding, Anderson pointed out. For a B2C customer service team, outstanding can signal a positive reaction to an interaction; in financial services, outstanding can signal negative sentiment, referring to an overdue balance.
IDC's Webber said that Qualtrics' XM/OS Experience Journeys is a promising feature, as many users probably don't have one consistent platform to dashboard customer experience data from sales, service and marketing, because their platforms aren't integrated tightly. Gathering insights from all to improve overall customer experience isn't necessarily straightforward.
"Everyone keeps their own data sets, whether it's customer support, sales or marketing," Webber said. "CRM was originally a sales enablement tool, and that information didn't get transferred to customer support or marketing. For a lot of companies, that's still the case. To gather information from the customer across the totality of the customer journey is a big, big change."