Fotolia
Salesforce Field Service features added to Winter '21 Release
Salesforce Field Service users can better pinpoint arrival times for their customers as well as other new capabilities coming in the Winter '21 Release.
Users of Salesforce Field Service -- formerly Field Service Lightning -- will see new features roll out between now and the end of the year as part of the Winter '21 platform upgrade.
Dynamic Priority, which helps dispatchers determine which jobs are most pressing, will be generally available in October. Einstein Recommendation Builder, which offers suggestions for parts a job may require, such as N95 masks based on company and customer data, will be in beta. Appointment Assistant, which gives customers a view of where the technician is en route, will be in pilot for U.S. customers.
Some of the features for Salesforce Field Service platform are homegrown; some came from the $1.35 billion ClickSoftware acquisition last year, said Eric Jacobson, Salesforce VP of Field Service Product Management. ClickSoftware had been a close Salesforce development partner since it released the original Field Service Lightning in 2016, so folding ClickSoftware features into the Salesforce platform didn't pose the challenges the typical tech company merger might, he said.
The COVID-19 pandemic affected field service as a whole, as it did in sectors such as retail; Salesforce platform field service activity fell off in April as offices and commercial facilities shut down, and consumers delayed service calls that involved strangers visiting their homes, Jacobson said. By June, it was up 20% over June 2019 as Salesforce Field Service users saw their customers defer services and new upgrades.
"We weren't going into our offices, but guess what? Equipment at hospitals still needed to be maintained, and equipment providing infrastructure needs to be maintained," Jacobson said. "If the washing machine breaks at home, we're not going to do laundry in the sink. Somebody's going to repair or replace the washing machine."
Expectations have changed significantly. If you're going to come into my workplace or home, make sure you fix it.

Nicole FranceAnalyst, Constellation Research
Field service as a whole will be change because of COVID-19, said Nicole France, Constellation analyst. Technology will have to support the process of booking and dispatching technician calls to ensure that things are installed or fixed right, the first time. This year, it might be a way to help minimize the spread of coronavirus, but consumer and business expectations have been permanently reset.
Judging from the new Salesforce Field Service features, she said, Salesforce gets this and is pushing a long-overdue digital transformation that will bring these professional services in line with their consumer counterparts such as food delivery and retail curbside pickup.
"There's less margin for screwing up and having to come back more than one time," France said. "Expectations have changed significantly. If you're going to come into my workplace or home, make sure you fix it."
Jacobson acknowledged this, too, as he said customers need to know more precisely when a technician or installer will arrive, instead of the customary four-hour window many companies still give. With students and remote workers all at home, they need an opportunity to leave if they want to avoid contact. But staying away for hours is probably too much to ask.
The new Salesforce Field Service features aim to make arrival estimates more precise, as well as equip service workers with the right parts and a prioritized list that sends them to the most-needed stops first.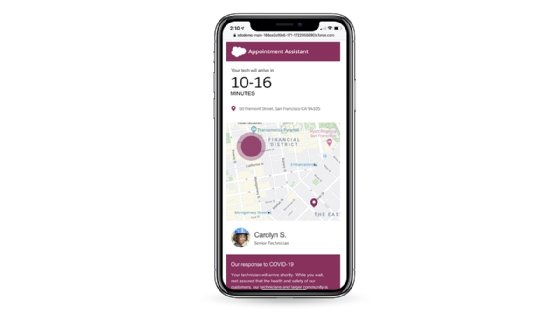 Asset 360 developed with ServiceMax
Another feature set, Asset 360, a custom instance of ServiceMax's IoT-heavy service contract and maintenance program platform developed for Salesforce, is slated to be generally available in November. Companies in industries such manufacturing or healthcare that manage uptime and maintenance for large machinery can run their maintenance programs through Salesforce.
Interestingly, Salesforce acquired ClickSoftware after working several years as a partner to develop Salesforce-friendly features and integrations. Could that make ServiceMax a potential Salesforce acquisition target down the road? Salesforce CEO Marc Benioff remarked in earnings calls several times in the last two years that Salesforce's field-service products are among the fastest-growing in his company's portfolio.
"Now that ServiceMax is built natively in Salesforce, they don't have to acquire them to have a strong relationship," France said. "Could this be a step on that path in the future? Yeah, it certainly could, but we don't know if that's going to happen."