adimas - Fotolia
ServiceNow Customer Service Management grows in Quebec
ServiceNow telecom and financial services users targeted for growth as the company expands customer service offering in Quebec, its latest platform release.
ServiceNow Customer Service Management users get a bag of new workflow automation features in the company's twice-yearly platform update, which launched today.
The release, titled Quebec, includes mobile messaging support for popular social media channels, including Facebook, WhatsApp and Line, following suit with competitors such as Zendesk. Also front and center is Engagement Messenger, which enables users to embed customer self-service actions on webpages or mobile apps such as chatbots, intelligent AI search, knowledge base content, a service catalog, case management and appointment booking.
Also of interest to customer service teams is Process Optimization, a feature ServiceNow is introducing across its platform popular with ITSM users, not just for customer-facing agents. The low-code flowchart-style workflow tool can take customer service processes and log data, and peg them to performance metrics so managers can see how their service organizations are performing and where bottlenecks need to be addressed.
The new features follow last year's introduction of ServiceNow's contact center as a Service (CCaaS), and new hooks into Adobe Experience Manager, as well as Salesforce, which enabled customer service agents to work remotely during the pandemic. The CCaaS married ServiceNow's back-end platform with Amazon Connect.
ServiceNow's position in the contact center market is relatively new, Gartner analyst Thomas Murphy said. It will, however, grow as these features and others from recent acquisitions such as Loom and Attivio roll into ServiceNow Customer Service Management, he predicted.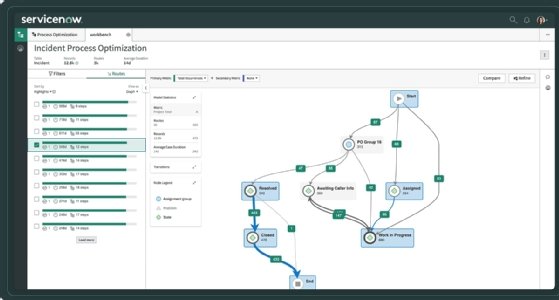 Pandemic drives some Quebec CX features
During the pandemic, customer service users asked for what amounted to "bespoke workflows" to enable remote work during social distancing and then for return-to-work protocols, said Dave Wright, chief innovation officer at ServiceNow. Examples of those included emergency payment processes for customers, as well as health checks and tracking COVID-19 testing for employees. Features in Quebec expand those capabilities and give users more of a hand in customizing processes to their organizations.
The Quebec release also expands self-service capabilities with AI tools for search and content recommendations. Bots have advanced over the last few years and definitely help companies cope with the influx of customer issues by solving basic problems -- especially during the pandemic, when many more in-person interactions went digital. But they still have their limits, Wright said.
Customers are also adjusting, but chatbots aren't fooling anybody -- at least not yet.
"People interact with them a lot better when they know they're virtual agents," Wright said. "There used to be a tendency to 'fake human,' and people get really annoyed when they spend two minutes talking to something and then find out it wasn't even a person."
Also added to ServiceNow Customer Service Management are common workflows for telecommunications order management and financial services loan operations. Reaching into verticals for sales growth has been a hallmark of CEO Bill McDermott, who left SAP to take the helm of ServiceNow in 2019, and it's been made a priority during his tenure so far.
"That's definitely a key element for him," Murphy said. "Another has been simplifying the story -- the focus on digital experiences and the statement to the effect of, 'behind every experience is a great workflow.'"
Dig Deeper on Customer service and contact center