Getty Images
Oracle plugs customer data platform into customer service
Oracle Service adds Unity CDP integration to afford contact center agents a historical view of customer interactions and new features.
Oracle Unity Customer Data Platform now connects to Fusion Cloud Service to give contact center agents a more holistic view of a customer's interactions.
While many customer data platforms (CDPs) are marketing-focused, other vendors have already extended them to service apps and CRM. Oracle first hooked the Unity CDP up to its marketing cloud, and then to CRM. Customer service is the next logical part of the CX to move into, said Forrester analyst Kate Leggett.
"A CDP isn't only applicable to the marketing phase of the customer journey," Leggett said. "Oracle's whole vision was to [combine] customer profiling with first-, second- and third-party data to be able to enrich the view of a customer throughout their journey."
Oracle Unity CDP had been able to ingest data from Oracle Service all along, said David Raab, founder of the CDP Institute, but the new features make it more of a two-way pipe. It gives agents a window into CDP data for an individual customer from other parts of the business, such as marketing and sales.
Despite getting reskinned with the Redwood interface, Oracle Service is still "looking a little long in the tooth," Leggett said, having been built from the 2011 acquisition of RightNow Technologies.
Oracle is playing catch-up with competitors such as Salesforce, which had integrated its CDP with Service Cloud early on, Raab said.
"It's pretty basic stuff that they should have had available all along," Raab said. "It's nice, but nothing terribly magical."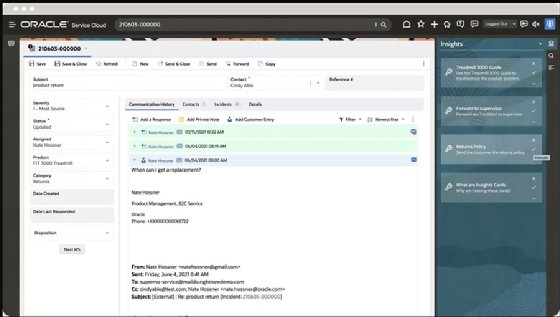 CDP integration unlocks new features
This new integration opens up capabilities including intelligent routing, which can connect a customer with an agent based on business rules and the ability to add customers to a marketing campaign with one click. It also adds proactive service. With that feature, if a television manufacturer has a cluster of customers calling in with the same setup problem, the CDP could identify all the other owners and email them about the fix in case they were having the same problem, said Jeff Wartgow, vice president of product management for Oracle Advertising and Customer Experience.
"Marketing was where we started [with the CDP implementation] because the use case was so compelling, and so easy to understand," Wartgow said. "You're going in there and you're identifying audiences -- based on your data -- that you didn't know you have. Service was the next frontier because if people want a personalized service experience, you've got to use all the data you have, and you've got to use it early."
The integration also paves the way for users to tap into Intelligent Recommendations, a feature in which customer service agents can view upsell opportunities and suggest them in conversation. Other vendors such as Nice also have tools to accomplish this.
Sometimes, when contact centers try to embed upsell strategies into customer service interactions, it results in frustration for both agent and customer, Leggett said. That said, she added, upsell strategies can be a fit in industries such as telecommunications, insurance and financial services.
Upselling customers using Intelligent Recommendations is in early days, but it will be more common in the near future, Wartgow said. As companies further automate ordering and service processes and mature in their digital transformations, the upsell suggestions will be handled less by humans and more by applications governed by business rules.
As for agents, they are transforming as well, into brand advocates, trainers and marketers as they converse with customers. Both humans and their digital proxies need the CDP to personalize their interactions with customers.
"If you don't have that solid data layer, any automation fabric you build on top of that is not going to work," Wartgow said. "It's not enough. It doesn't matter how good the algorithms are, and how good the rules are."
Don Fluckinger covers enterprise content management, CRM, marketing automation, e-commerce, customer service and enabling technologies for TechTarget.