Getty Images
Salesforce offers tighter Slack integration with Sales Cloud
The CRM giant released tools that bring customer data and insights to the collaboration platform, such as instant account updates sent directly to channels for review.
Salesforce is tightening the bond between Slack and Sales Cloud.
The CRM giant on Wednesday released new tools to help sales teams respond faster to customer behavior with closer integrations with the collaboration platform, which Salesforce acquired for $27.7 billion in 2021.
The new bundle of offerings, named Slack Sales Elevate, includes a place for sales teams to view customer data insights and deal progress reminders in Slack as well as configurable account update notifications that get sent to a Slack channel in real time.
The new tools are generally available now and cost $60 per user per month in addition to Slack and Salesforce subscription costs, according to Salesforce.
Notifications save time
Receiving customer-related notifications about deals and partnerships on a collaboration platform is a useful tool, according to Valoir CEO and analyst Rebecca Wettemann.
"The real 'gold' here is automated notification," she said. "For sales managers that live in Slack, they can know not just when an account or opportunity has been updated but when it hasn't been updated as expected, helping them identify opportunities for coaching and intervention earlier."
While other CRM vendors have also been integrating similar automation tools with collaboration platforms, the new tools in Slack Sales Elevate enable more scalability, Wettemann said.
"The automation of updates at scale that Elevate enables is ahead of what I've seen from others," she said.
Giving end users greater control
The configurable notifications also benefit sales teams because they can set up the reminders themselves rather than coordinating with an administrator to schedule a meeting and run reports, according to Rob Seaman, Slack senior vice president of enterprise product.
"It puts the notification definition in the hands of the end user and the automation in the hands of the end user," he said.
In addition, these notifications may reveal a pattern in customer behavior that sales teams might not have observed before.
"It often shows them information they didn't know about," Seaman added.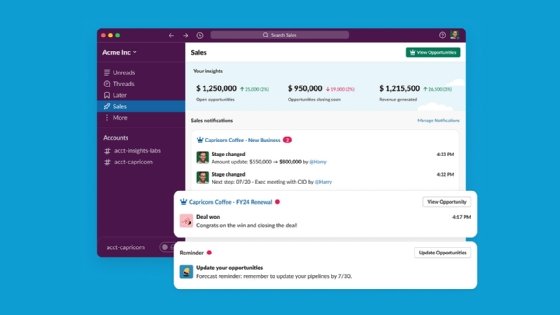 AI features to come
Salesforce also revealed an upcoming capability that will allow teams to construct AI-supported no-code workflows without assistance from tech support.
Salesforce did not provide a specific release date for this tool.
The real 'gold' here is automated notification.

Rebecca WettemannCEO, Valoir
The AI-backed workflows will save time because they will be triggered by actions in Salesforce, such as support requests and deal approvals, the vendor said.
For example, a workflow spurred by a Sales Cloud update in Slack could use that update-related data to generate and send a note into a Slack channel to encourage teams to follow up with the client.
"It starts from a link in Slack. It opens up a form, it creates a case in Salesforce based upon what's put into the form and then it sends a message back to the channel," Seaman said. "This is a lightweight automation that makes sales teams much more productive."
For those looking to use generative AI, many such apps have been built on the Slack platform. These apps can be accessed through third party steps, Seaman said.
Salesforce plans to release native generative AI features that are domain specific to sales next month at Dreamforce, the vendor's annual user conference, Seaman added.
Mary Reines is a news writer covering customer experience and unified communications for TechTarget Editorial. Before TechTarget, Reines was arts editor at the Marblehead Reporter.