Getty Images/iStockphoto
Adobe unveils Firefly AI models to quickly make vivid images
The CX and multimedia vendor amps up its generative AI image creation offerings with Prompt Guidance, vector graphic production, template generation and photo-style image tweaks.
Adobe is punching up its offerings for AI-generated images.
The CX and multimedia software vendor unveiled three new generative AI foundation models for Firefly, its generative AI-supported web application for creating visuals.
The models include the Firefly Image 2 Model, which gives users finer control over prompting and Firefly's output; Firefly Vector Model, for creating scalable vector graphics; and Firefly Design Model, for making image templates.
The cost of using Firefly's generative AI features depends on how many of the monthly allocated generative credits the customer uses. There are no price increases for the new Firefly models, according to Adobe.
The vendor unveiled the new Firefly models to audiences on Oct. 10 at Adobe Max 2023, Adobe's annual creativity conference. The models are in beta.
Some Adobe competitors in the digital image creation arena include CorelDraw, Canva, Sketch, Gimp and Affinity.
Adding more control to image creation
Firefly Image 2 Model has a few new features for rendering pictures more specifically. Generative Match lets users specify what style they want for their image. Photo Settings gives users options to tweak the image in a photographic style. Prompt Guidance gives users tips on how to reword prompts for better imagery.
The Adobe Firefly Image 2 Model is a powerful refinement that brings in depth and detail to the generated images created.

Liz MillerAnalyst, Constellation Research
The Image 2 Model is a dramatic quality upgrade for Firefly, according to Constellation Research analyst Liz Miller.
"The Adobe Firefly Image 2 Model is a powerful refinement that brings in depth and detail to the generated images created," Miller said.
"While we've all been taking a crash course in prompt engineering," she added, referring to the written and verbal commands generative AI users provide to models to elicit specific outputs, "Adobe has been tripling down on the Firefly suite of models to truly unleash creativity."
The contrast between images created by the original Firefly model and Firefly Image 2 using the same prompt is stark, Miller said.
"You can immediately notice the differences and enhancements," she said.
Making personalized marketing assets quickly
The new Firefly models support marketers by generating customer-relevant images quickly in a time when marketers must offer various types of content over many channels, according to IDC analyst Marci Maddox.
"The creative team has been under pressure to handle the content velocity that comes with organizational digital transformation and delivering personalized experiences that engage audiences across more mediums than ever before," Maddox said.
What's more, the ability to input specifications for each Firefly-created image gives marketers more control over the brand's identity as it is conveyed with pictures, she said. These images can also help build brand trust while circumventing data privacy concerns, she said.
"Firefly also has the advantage of learning brand styles that help create new imagery that is in line with brand guidelines and derive authentic assets that build brand trust, which is a huge issue in customer engagement today with the data privacy controls in place," Maddox said.
In addition, Firefly's new models give marketing team members who lack artistic expertise the ability to create captivating images for general purposes, while the more art-savvy team members can tackle more complex jobs, she added.
However, a drawback of this ability to give more team members creative power is that the organization must pay more product licensing fees for integrations with other Adobe tools, workflows and enterprise apps, according to Maddox.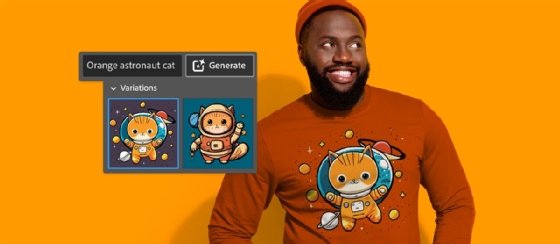 Understanding image ownership
Adobe said it has put guardrails in place to prevent its Firefly models from committing copyright infringement. For example, Adobe used open license content and its own stock content to train Firefly. Adobe is also developing a "Do Not Train" tag for creators to embed in the metadata of their work to prevent it from being used for AI training.
Adobe also on Oct. 10 unveiled Content Credentials, which are details about each AI-generated asset such as the date it was made, its creator's name, edits made and tools used. These details will automatically be attached to each asset, according to Adobe.
However, organizations using Firefly should also be mindful of how the images' ownership will be calculated and how the images will be used and perceived by audiences, Maddox said.
"As with any GenAI foundation model, there is a concern about bias, data usage risk or intellectual property controls," Maddox said. "Adobe has put elements in place to minimize the risk, but it is up to the users on how it gets used."
The conference is being held this year in Los Angeles Oct. 10-12.
Mary Reines is a news writer covering customer experience and unified communications for TechTarget Editorial. Before TechTarget, Reines was arts editor at the Marblehead Reporter.