5 RMM tools MSPs can use to bolster client IT infrastructure
Learn what remote monitoring and management software features and functionality MSPs and internal IT departments should consider to support client IT infrastructure and endpoints.
With so many organizations shifting to a remote work environment since the COVID-19 pandemic began, the time for MSPs and internal IT organizations to consider implementing remote monitoring and management software has never been more compelling.
MSPs and IT professionals can use remote monitoring and management (RMM) tools to deliver managed IT services remotely. RMM software helps MSPs keep clients' businesses running smoothly by providing a platform to troubleshoot, monitor and manage customer IT infrastructure and endpoints. RMM software can also help admins remediate cybersecurity issues, improve operations and reduce costs.
How does RMM software work?
RMM software gathers data from remote endpoints and networks to monitor their health and perform various IT management tasks. MSPs and IT professionals can use RMM platforms to receive alerts for potential issues in real time -- before they become disruptions -- and create automated workflows to handle those alerts. RMM tools help automate routine management functions and a variety of IT tasks, including installing patches and creating and responding to service tickets.
Additionally, RMM software can generate reports to provide visibility into network activity, assess inventory and track compliance. When maintenance is required, MSPs and IT professionals can deploy software, manage updates, run scripts and connect to a user's machine remotely to troubleshoot and fix problems.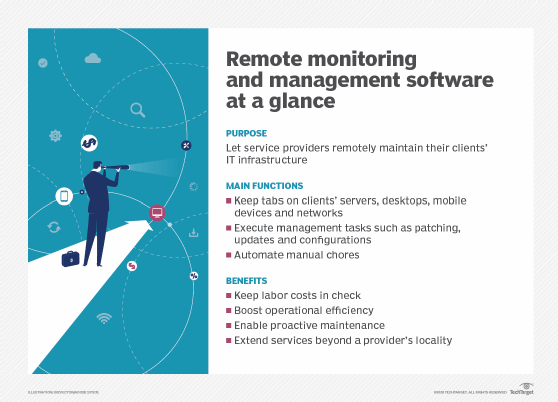 An RMM platform can save organizations and MSPs money because it reduces costly help desk calls and business disruptions. Monitoring software can help avert system failure and reduce the amount of IT support needed, especially for businesses with multiple locations.
The RMM vendor software market
An RMM platform can save organizations and MSPs money because it reduces costly help desk calls and business disruptions.
Numerous vendors offer RMM tools. While most of these products offer similar features and functionality, the real differences are in third-party integrations and user interfaces. Many vendors also offer a vibrant user community where members can share and solve IT problems.
Let's examine the features and functionality of the following five RMM products using information obtained from the vendors.
Atera Networks RMM
The Atera SaaS product bundles RMM with professional services automation (PSA) software and remote support capabilities. Key features include real-time monitoring and alerts, billing and reporting, and integration with business process automation, help desk, customer service tools and business analytics.
Service manager, task manager and program manager features enable MSPs to remotely perform various functions on clients' computers, including starting and stopping services, ending tasks, and viewing and removing programs that are no longer needed.
The Atera platform offers numerous third-party integrations, including online backup, endpoint security and threat detection, automated patching of third-party apps and document management.
Atera's RMM tool supports Windows, Linux via SNMP and OSX OSes, as well as Microsoft Exchange, Hyper-V, SharePoint, SQL Server, MySQL, Oracle and VMware.
Atera offers three fixed pricing models -- Pro, Growth and Power -- starting at $79 per technician, per month for unlimited devices. A free trial is also available.
ConnectWise Automate
ConnectWise said the strengths of Automate are automation of IT tasks, dynamic grouping of machines and integrations, and extensibility. ConnectWise Automate can gather data from Exchange servers or specific workstations, for example, and dynamically group this centralized information together for management.
Technicians can perform tasks specific to those servers or workstations, allowing the level of automation implemented to easily scale as the number of managed endpoints grows. They can also monitor specific automation and deployment tasks to enable efficiency when managing hundreds or even thousands of isolated client networks.
The product offers more than 100 integrations, including those with backup vendors such as StorageCraft, Veeam and Acronis. It has a built-in ticketing system when used as a standalone system.
ConnectWise Control is used for remote access, which is included at no charge. The product's alerting and monitoring system enables technicians to proactively create tickets and incidents.
ConnectWise Automate automatically runs a script when an event occurs. If the script doesn't remediate the issue, the RMM system escalates the ticket for review. The software offers dynamic updates to Windows systems and live dashboards, network discovery and mapping capabilities.
According to the vendor, the software monitors virtually all aspects of a workstation or server by pulling data from network devices to ensure all software and hardware are operating properly. It has a built-in reporting feature and a tool that enables data to be isolated.
Automate supports Windows, Linux and Mac OSes. The product's three levels of pricing -- One, Standard and Premium -- are based on the number of agents an organization buys. ConnectWise offers a free trial.
Datto RMM
This year, Datto RMM is launching an upgraded integration with Datto business continuity and data recovery (BC/DR) products, according to the vendor. This will give partners direct access to their BC/DR devices within the RMM system and a live status of the backups of all protected devices.
Datto RMM integrates with the company's Autotask PSA and ConnectWise's PSA product, providing real-time asset synchronization, ticket round trips and remote support from within the help desk ticketing system. It also integrates with third-party offerings such as ConnectWise for ticket management, Splashtop for remote screen sharing and Webroot Business Endpoint Security for internet threat protection.
The platform offers remote support functionality, providing rapid connection to remote devices through firewalls to enable screen sharing, file transfer, registry editing, an event log viewer and services and process management. Datto recently launched Web Remote, a cross-platform remote control option for all devices, including mobile.
Datto RMM includes policy-based Windows and third-party software patching. Partners can store patch updates on the LAN to reduce bandwidth utilization or download them directly from Microsoft.
An MSP can designate any Datto RMM agent as a Network Node. This provides device discovery on the local network, status and SNMP monitoring. Datto said it is introducing an interactive network topology map later this year, which MSPs can use to visualize dependencies and performance bottlenecks.
The platform has both default and preconfigured monitors for quick setup, and capacity to add custom monitors from Datto's library. Monitor alerts can trigger dashboard updates, emails, create tickets in an integration PSA system or automatically resolve alert conditions through scripted responses.
Windows, macOS, Linux, iOS and Android OSes are supported. Price quotes are available upon request.
Kaseya VSA
Kaseya VSA is integrated with Kaseya's Unitrends Backup and Disaster Recovery (KUB) offering. MSPs can manage endpoints, networks, and backup and DR from a single console. The KUB dashboard in VSA provides visibility into key backup metrics, such as recovery point objective and recovery time objective, as well as alarms from the backup system.
VSA's help desk function integrates with Kaseya BMS and Vorex service desk tools. VSA can automatically create service tickets in response to an alarm from an endpoint. Technicians can use the VSA remote management function to access the endpoint associated with the ticket to start troubleshooting an issue.
Kaseya's RMM tool uses a fully encrypted agent that calls home on a single outbound port, reducing vulnerability and exposure. Remote access functionality provides secure, admin-level access to the endpoint console without the need for techs to manage passwords for the target device. VSA creates credentials for a session and discards them when the session is finished.
IT teams can use VSA's software management module to automate software patch management and vulnerability management. They can patch on- and off-network devices across Windows, macOS, browsers and third-party applications. Admins can review, approve and override policies set up in VSA control patching.
VSA monitors endpoint events and conditions to trigger alarms. Agents automatically respond to alarms by creating service tickets, running scripts to auto-remediate the issue and sending email notifications. The software also generate reports and uses standard and custom dashboards to visualize IT management data.
VSA integrates with IT Glue to provide direct access to IT documentation from within the VSA Live Connect remote management function. VSA also integrates with antivirus/antimalware software, including Bitdefender, Webroot and Kaspersky. The AV/AM dashboard in VSA enables users to manage endpoint security from the same console. The tool also integrates with Kaseya Compliance Manager to manage compliance with several industry regulations, including GDPR, HIPAA, Payment Card Industry and the New York Shield Act.
Tiered pricing is based on the number of agents deployed. VSA is available both on-premises and as a SaaS application on a subscription basis. Kaseya offers a free 14-day trial.
SolarWinds N-central
N-central offers a single integrated dashboard to manage and protect data for enterprises that need to monitor hundreds or thousands of devices.
SolarWinds' RMM software offers remote support and performs back-end fixes without interrupting the user. MSPs can set up rules for automated proactive maintenance.
A patch management wizard shows users how to enable a patch for a device. The RMM software covers third-party patching and patch on demand. It patches devices on secured networks without opening firewall ports to Windows updates, or the need for System Center Configuration Manager or Windows Servers Update Services. It also manages the automatic deployment of servicing stack updates.
N-central's dashboards monitor a range of components across customers and platforms. Alerts help techs focus on high-priority issues. The platform's network discovery feature offers the ability to discover, import and configure new devices automatically.
A network topology mapping feature enables users to see their entire network and quickly troubleshoot connectivity issues. Users can also drill down to get more information on a node or take control of a device.
Multiple built-in security features are offered, including endpoint protection that enables technicians to prevent, detect and respond to ransomware threats and exploits. N-central recently added integration with SolarWinds Endpoint Detection and Response, powered by SentinelOne. EDR is designed to protect customers from ransomware and zero-day attacks using advanced AI engines that can identify and quarantine suspicious activity and roll back to the pre-infected state.
The platform integrates with SolarWinds MSP Manager, ConnectWise and Autotask, as well as with SolarWinds NetPath to trace routes beyond a customer's network to identify trouble spots.
N-central supports Windows, mac OS and Linux OSes on-premises or in the cloud. SolarWinds also offers a mobile app for Android and iOS. Pricing is based on the number of monitored devices. The vendor offers a free 30-day trial.