Cisco DevNet partner community expands
Cisco reported increased partner engagement within its DevNet developer program. The company said it plans to launch an online DevNet marketplace next year; more IT channel news.
Cisco's push for its channel allies to take up coding has led to continuous growth of the Cisco DevNet partner community.
DevNet, Cisco's developer program, has courted partners for years. According to Cisco, nearly 400 partner companies employ personnel with DevNet certifications. In November 2019, Cisco unveiled its DevNet Specialization for partners, which focuses on a company's software development practice as opposed to individual Cisco certified professionals. Thus far, seven partners have obtained DevNet Specializations: Comtec, Miradot, Natilik, NetCloud, Presidio, SoftServe and World Wide Technology.
More DevNet-specialized partners are on the way, said Susie Wee, senior vice president and general manager of Cisco DevNet and CX Ecosystem Success at Cisco. Wee said 200 partners are currently in the DevNet Specialist pipeline.
Wee noted that partners usually begin their DevNet journey by encouraging employees to obtain DevNet certifications. Next, partners will create an automation practice around those certified employees, and then move on to pursue DevNet Specialization as a way to differentiate the business.
In 2021, Cisco DevNet partners that develop software offerings can take the next step: selling the software through the DevNet Marketplace. The DevNet Marketplace is slated to go live in the spring of 2021, with limited availability offered in early 2021, Wee said.
NetApp Insight emphasizes cloud, containers
Cloud and containers received top billing this week at the NetApp Insight digital conference.
NetApp released Spot Storage and Spot Ocean, stemming from its June 2020 acquisition of Spot, a startup focusing on public cloud management and cost optimization. The new products work together to facilitate microservice-based application deployment on Kubernetes.
NetApp Insight also touched on private, public and hybrid clouds and the vendor's role in those environments. The cloud has been a key direction for NetApp for several years. NetApp has looked to involve its partners in its cloud journey, with the company creating incentives around cloud offerings as part of its partner program refresh earlier this year.
The Spot acquisition, in my mind, was absolutely a game changer potentially for NetApp.

Chris NorrisSenior director for cloud and data center transformation, Pivot Technology Solutions
Chris Norris, senior director for cloud and data center transformation at Pivot Technology Solutions, an IT provider and NetApp Cloud First Partner based in Norcross, Ga., said his main interest in NetApp Insight was to learn about NetApp's cloud strategy and how the company plans for evolving its product portfolio. He cited NetApp's Spot purchase as particularly important.
"The Spot acquisition, in my mind, was absolutely a game changer potentially for NetApp," Norris said.
Norris said Spot's serverless and storageless offerings for containers "are really going to be key" for Pivot Technology Solutions. "I see the whole next wave of cloud being focused very heavily on the container space," he added.
Report: Enterprises freeze budgets, mull data analytics
Most Fortune 1000 IT executives said while they have eliminated new IT spending, enterprises still eye investments in areas such as data analytics, process optimization, security and DevOps.
A study released this week from Windward Consulting Group, a Herndon, Va., company that specializes in IT operations and IT service management, sheds light on how the COVID-19 pandemic has affected IT departments. The results are based on a survey of about 300 IT leaders, including CIOs, CTOs and vice presidents/directors of IT. Windward collaborated with research firm Helix Market Research on the study.
The survey found 84% of respondents' IT teams are clamping down spending. But the research also highlighted areas in which enterprises are considering investment. Data analytics and process optimization topped the list, with 38% of the respondents citing each area.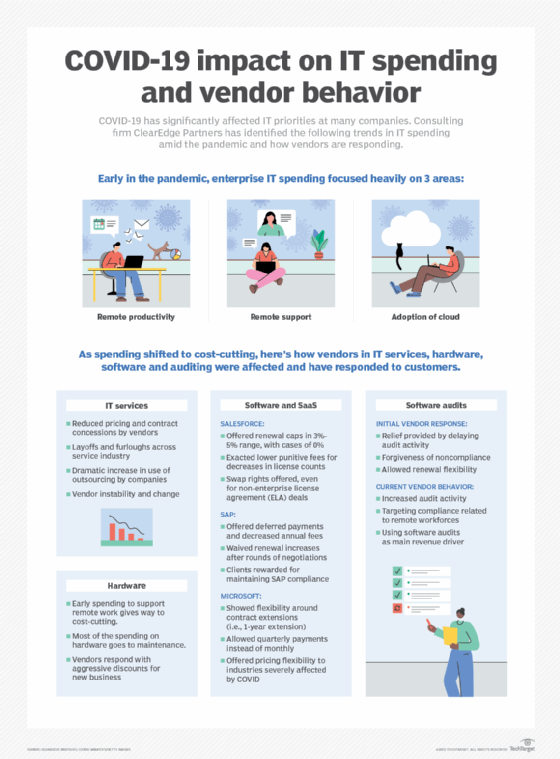 Windward Consulting CEO Sean McDermott said the prioritization of data analytics underscores the recognition that "IT is becoming more and more data-driven."
McDermott suggested organizations may be looking to get more out of their existing data analytics capabilities. "A lot of the data, especially in the operations world, is being collected to do tactical analysis. Part of the problem is it's very expensive to do all of this and process and store the information just for tactical reasons," he said. "We are seeing a big push among our customers to use the data to ... start understanding trends that are happening so they can make better decisions on where to make investments."
He said most of his customers are looking to use their data for more value-driven purposes.
McDermott said he found emphasis on process optimization somewhat surprising but suggested the interest stems from the increase in remote work. Call centers, for example, have had to dramatically change their workflows with their employees now operating remotely. Such organizations need to optimize their processes to improve workflow, pave the way for automation and boost efficiency, he said.
Security was cited as an area for investment by 36% of the respondents, while 30% of those polled identified DevOps.
With budgets tight, enterprises may be reallocating funds to support technology priorities. The use of outside advisors, as opposed to in-house personnel, could be one source of reprogrammed funds. The survey indicated 60% of respondents plan to cut external consultants. IT tool spend is another cost-cutting area, according to the Windward report.
Other news
IT services acquisitions continued this week with Accenture and Anexinet Corp. making deals. Accenture said it has purchased Enimbos, an AWS Premier Consulting Partner based in Madrid. Anexinet, based in Philadelphia, agreed to acquire SereneIT, an engineering and IT solutions provider, MSP and VAR.
Accenture, meanwhile, launched an initiative with MIT to study the convergence of industry and technology. The organizations' research will include exploring how technologies such as cloud, AI, robotics and quantum computing will reshape businesses.
Mission, a managed cloud services provider based in Los Angeles, launched an AWS managed cloud service, Mission Cloud One. The company said its AWS-certified CloudOps engineers will deliver the Mission Cloud One service, which provides continuous monitoring and optimization of AWS environments.
Lemongrass, an MSP and professional services company based in Atlanta, rolled out a managed SAP offering that integrates with AWS Managed Services. Lemongrass said the offering will support SAP systems running on AWS, while AWS provides operations, management and cost optimization for AWS infrastructure.
DLT Solutions, a government technology solutions aggregator and Tech Data subsidiary, won a contract under the U.S. Army's multiple-award Information Technology Enterprise Solutions -- Software 2 program. The contract vehicle will boost the ability of DLT channel partners to supply software to the Army and other federal agency customers, according to DLT.
Telia Carrier expanded its partnership with Telarus, a business cloud infrastructure distributor. Telarus will now offer Telia Carrier's IP Transit, Cloud Connect, DDoS Mitigation and Ethernet services to its agents, VARs and MSPs in Canada and the United Kingdom.
Arcserve, based in Minneapolis, unveiled Universal Licensing for Arcserve Unified Data Protection, which the company said simplifies selling for channel partners. The move consolidates SKUs from hundreds to nine.
Johnson Controls launched a new version of its channel program for the company's Sensormatic Solutions portfolio. Version 3.0 of the Global Partner Edge channel program includes an upgraded partner portal, a deal registration program and a demo purchase program, among other components.
IGEL, a cloud workspace delivery and endpoint management software vendor, teamed up with distributor Arrow Electronics. Under the partnership, Arrow will provide its reseller partners with access to IGEL's software and hardware portfolio, IGEL said.
PCCW Global, a telecommunications provider based in Hong Kong, partnered with Neeco, an information and communications technology provider based in Prague. The partnership lets Neeco use PCCW Global's Console Connect IoT offering to provide expanded coverage and more reliable IoT mobile connectivity for customers in the APAC region, according to the companies.
Axis Security, a cybersecurity company based in San Mateo, Calif., appointed Kimber Garrett as head of channel sales. Garrett will focus on North American partner strategy and programs for VARs, systems integrators, managed security services providers and OEMs.
Market Share is a news roundup published every Friday.