A zombie VM is a virtual machine that is created, often for a particular purpose, and is forgotten when it is no longer needed for that purpose. As a result, the VM continues to consume resources while performing no useful work. The proliferation of zombie VMs in a data center is one of the main causes of virtualization sprawl.
Virtual machines can be created quickly and easily and only use a very small portion of the physical infrastructure's resources to run. When virtual instances are created faster than they are removed, however, the result is virtualization sprawl. The irony of virtualization sprawl is that it can cancel out the benefits that make virtualization attractive and cost-effective in the first place, costing the company money by tying up operating system licenses, servers and database resources without adding any value.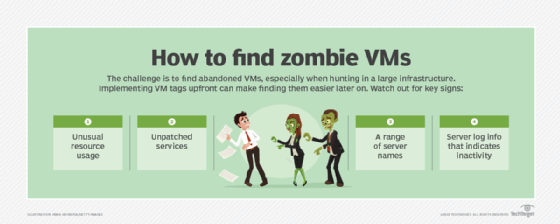 Most zombie VMs are simply temporary virtual servers that have been forgotten due to lax tracking procedures. Ideally, the creation of each VM should be documented, along with its purpose and owner. When a VM is no longer required, it should be removed. Once virtualization sprawl has occurred, it becomes necessary to differentiate zombie VMs from the productive ones. Indications of a zombie VM include an absence of recent support tickets and low CPU, network and disk utilization.
Zombie prevention requires both policies and software tools. Management policies should be put in place to guide the creation and retention of VMs and storage instances. Then software tools can be used to identify VM instance owners, report on recent usage and specify how long resources have been idle. Ideally, VM governance tools will raise an alert when a machine rests unused for a defined period of time and automatically spin down the zombie and recover its licenses.
Watch an introduction to VM sprawl management with Virtualization Manager:
The zombie VM's physical counterpart in the data center is the
zombie server
.
This was last updated in
April 2018
Continue Reading About zombie VM