Gajus - Fotolia
6 customer retention best practices for businesses to heed
Customer retention is essential to an organization's success, so it's important to keep customers educated, engaged and feeling as though they're part of the business family.
Getting sales leads and turning those prospective buyers into customers isn't where the customer journey ends. Reducing churn and retaining customers is the next step.
Customer churn is when paying customers fail to become repeat customers, which can be costly to businesses. As the saying goes, it costs less to retain existing customers than it does to acquire new ones.
Here are six customer retention best practices for businesses to consider.
Create a knowledge base/FAQ
Customers will inevitably have questions after they make a purchase, usually about how to use the product or service they just acquired.
That's why creating an FAQ -- or knowledge base -- is so important. Knowledge bases are libraries of articles about specific subjects, designed to answer common questions. And if customers have easy access to the product and service materials they need, there's a better likelihood for customer retention.
Availability of a knowledge base or FAQ has a two-fold effect:
A lack of -- or inaccurate -- information often leaves customers frustrated and dissatisfied with a business; however, knowledge empowers people and provides them with a better overall customer experience with a brand, increasing customer satisfaction and the likelihood of becoming a repeat customer.
Collect customer feedback
There is always something that a business can improve upon. Businesses should collect both positive feedback and negative feedback from customers to identify pain points with the goal of improving the customer experience.
Customer surveys are one way to collect feedback, but it's not enough for organizations to simply collect that information. Businesses must also act on it, making some changes to show customers they hear their concerns and value their feedback. Whether or not a business responds to customer concerns can greatly affect a business's customer retention rate.
If customers have easy access to the product and service materials they need, there's a better likelihood for customer retention.
For example, perhaps a customer visits a restaurant and the business asks a question on its satisfaction survey about the cleanliness of the dining room. In the survey response, the customer notes the windows were dirty, the tables were sticky and crumbs were scattered all over the floor. The business now knows it needs to pay more attention to cleanliness within the dining room.
If the restaurant does not address this customer complaint and the customer returns and sees the same problems, the company may lose this person's business. However, if the restaurant acts on that initial customer complaint and cleans the dining room more thoroughly, that customer has a better chance of returning.
Surveys aren't the only way to collect feedback. Additional methods include:
monitoring social media for business mentions;
listening to recorded calls from customer service call centers; and
involving customers in product creation and testing phases.
Personalize content
A customer doesn't want to be another face in the crowd. Customers want to feel that a business values and understands them, which is why it's important to create a content strategy.
A big part of this strategy is creating personalized content, which businesses can do with the help of a personalization engine. Some examples of personalization software include Acquia Lift, Evergage 1 Platform and Episerver Personalization Suite. A personalization engine analyzes customer behavior and data to deliver customized experiences to customers in an e-commerce setting. This software can also define customer segments, enabling email marketing teams to send tailored communications to a target audience based on demographics and other preferences.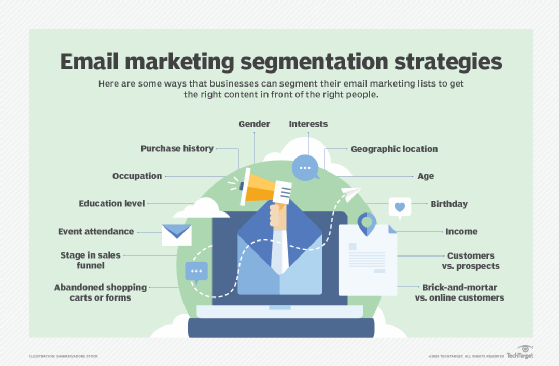 Personalized content can include customized upsells, birthday correspondence, promotional offers and product recommendations. Sometimes, personalization can be as simple as addressing the customer personally -- and correctly -- in marketing communications. All of this demonstrates to customers that businesses know and understand their needs.
Promote customer success
Another customer retention best practice is to promote customer success. This is a strategy that organizations use to ensure that customers understand and know how to use a business's products and services. Customer success differs from customer support in that it is proactive, while customer support is reactive.
One way for businesses to ensure customer success is by creating a customer success team. This team is responsible for making sure customers know how to use a product or service, and that it works properly. If a business doesn't have a customer success team, account managers can proactively reach out to customers to provide the same services.
There are three key steps for customer success, which a customer success team can assist with:
installing a product;
training customers how to use a product; and
ongoing account management to ensure the product or service continues to function properly and identify opportunities for add-ons.
Some businesses such as Salesforce, choose to go beyond a simple customer success team. Salesforce has an entire Success Cloud, with tools and educational resources to help B2B customers further their knowledge of Salesforce products, and help users further their careers. These tools include interactive webinars, guided learning modules, a user group where people can meet and bounce ideas off each other and a self-service help portal.
Create a loyalty program
Customer engagement is essential component of customer retention. Because consumers have so many options, it's important for businesses to rise above all the noise and distinguish themselves from everyone else.
One customer engagement strategy is to create a customer loyalty program. Loyalty programs show customers that companies value their business and can improve the customer experience. Loyalty programs track a customer's purchase history, enabling businesses to provide people with more customized content.
Customer loyalty programs often provide people with loyalty cards to keep in their wallets and use when making a purchase to rack up points for freebies, mobile apps customized for individual users with products and discounts, and emails with special promotions. Sometimes businesses even offer customers referral incentives.
Use social media platforms effectively
Businesses can also engage customers via social media sites such as Facebook, Twitter, LinkedIn, YouTube and Instagram. It's important for businesses to meet customers where they spend their time, and social media serves a number of purposes.
Businesses can advertise on these platforms, interact with customers, play games, post giveaways and even collect customer feedback -- all effective customer retention strategies.
Some social media marketing platforms include Sprout Social, Hootsuite and Canva.