James Thew - Fotolia
Educate, empathize in social media strategy during coronavirus
Social media offers an opportunity to connect during a period of isolation, but brands should be careful when adjusting social media strategies. Here are some words of advice.
As the coronavirus pandemic forces people to stay at home, social media platforms have become even more crucial resources that enable businesses to connect with current and prospective customers.
During the coronavirus pandemic, consumers' social media usage has increased by 62%, according to a study from Influence Central, a marketing company in Boston. Social media provides a way for businesses to connect directly to their customers, but now is not the time to bombard customers with advertising campaigns or calls-to-action.
"We're in a time period where you would assume, because everyone is flocking to Twitter and Facebook, advertising will be going up," said Liz Miller, vice president and principal analyst at Constellation Research, an analyst firm in Monte Vista, Calif. "In reality, advertising is going down and so is engagement across advertising because [businesses] are losing sight of why people are going to social networks."
Businesses should thoughtfully adjust their social media marketing strategies during the coronavirus pandemic.
Education and entertainment perform well
People are using social media heavily right now, but they're not necessarily going to social platforms to engage with brands, Miller said. Instead, they're trying to connect with other people during a time when social distancing guidelines prohibit people from connecting in person.
During the coronavirus pandemic, companies should act as a resource rather than try to sell a service or products, said Greg Sherwin, founder of Sherwin Web Solutions, an internet marketing company in New Boston, N.H.
Social media platforms are typically good places to share information about products and services, but when adjusting a social media strategy for coronavirus, organizations should look for other use cases, said Amanda Pressner Kreuser, co-founder and managing partner of Masthead Media Company, a content marketing agency in New York City.
"Social is all about engagement when your customer isn't necessarily thinking about purchasing," she said.
Social is all about engagement when your customer isn't necessarily thinking about purchasing.

Amanda Pressner KreuserCo-founder and managing partner, Masthead Media Company
Masthead Media Company works with several travel-related companies that are extremely limited in the products they can provide right now, Pressner Kreuser said. Instead, those companies should create social media posts with images and stories that allow people to "escape."
"Right now, people are really engaged with learning new things," Sherwin said. "They have so much time on their hands, so they're trying to do things like learn a new skill or a recipe."
A good social media strategy should focus on staying informative and providing value to followers through tips, blogs and how-to videos, said Jen Mathews, global lead of external communications at LogMeIn, a remote software company in Boston.
Marketers should understand what their customers want to learn about during the coronavirus pandemic and respond accordingly in social media campaigns. For example, the social media team at LogMeIn quickly realized that most of its social audience was new to full-time remote work, according to Mathews.
"Rather than publish advanced tips, we saw that we needed to go back to basics and make sure that users knew how to do everything, from starting a meeting to inviting others to attend a video conference," Mathews said.
To respond to that need, the team quickly spun up a playlist of YouTube videos to walk new users through some of their customers' most commonly asked questions.
Focus on tone
Empathy and compassion are essential qualities to display through social media content during the pandemic, said David Hamilton, the associate director of content strategy at Saxum, a communications agency in Oklahoma City.
Companies should carefully evaluate the tone of social media content, he said.
"Do you sound like a cold call, or are you communicating with empathy and clarity?" he added.
These are unprecedented times, and social media messaging must reflect that times are different -- otherwise a brand risks sounding tone-deaf, Mathews said.
Not every post needs to relate to COVID-19, however.
"It's become a go-to tactic to begin every marketing memo or social post with 'in this time of crisis,' and consumers are getting tired of it," Hamilton said. "We've been in this new normal for a month or more now, and at that point, you're stating the obvious to the point that you're going to be ignored."
Instead, marketers shouldn't be afraid to connect with social media followers on an emotional level, Hamilton said.
"What I'm hoping to see after [the coronavirus] is more people behind the brands," he said. "Just using a logo or the tagline isn't going to be successful anymore, nor should it be. Brands need to determine what stories they can tell that are personal to people."
The social media team at LogMeIn, for example, posted photos of employees with their dogs on Twitter for National Puppy Day.
Use the right social media platform
When so many people are stuck at home, it makes sense for companies to reevaluate where they find the most engagement from their customers.
Many businesses tend to avoid certain tools within a social media platform, such as Facebook Live or Instagram TV, said Sherwin. Live video, however, can be a relevant and effective way to engage with social media followers. Live video lends itself well to creating "behind the scenes" content that is less scripted and more authentic.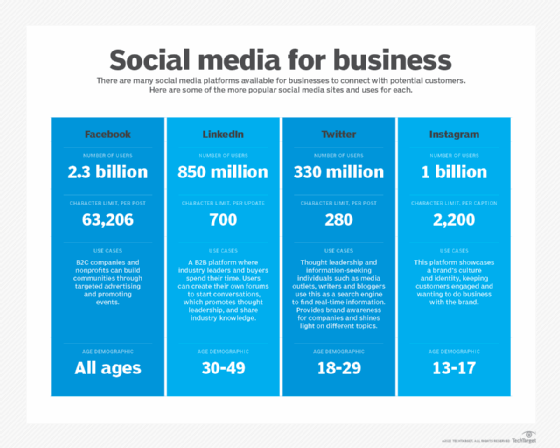 Marketers shouldn't use these tools just for the sake of it, however. It's important for companies to use the platform where their customers are most active, Pressner Kreuser said.
"Meet [customers] in the places they already are, not just where you're most comfortable creating content," she said.
If a message is more visual in nature, marketers should put their energy and resources into Instagram and Facebook. If a company's founders have a strong perspective to share, they can turn to LinkedIn, where they can create longer, more in-depth content and speak directly to other businesses in the industry, Pressner Kreuser said.
Twitter has experienced an influx of users during the pandemic, with its daily users spiking by 23% this quarter, according to the company.
Twitter outreach is particularly successful for those with handles that display a verified blue checkmark that denotes an account's authenticity, but businesses shouldn't hesitate to post on the platform as more users flock to the site for news and updates, Hamilton said.
"I think brands should feel a strong urge to tell longer stories that people want to engage with on Twitter," Hamilton said.
Dig Deeper on Customer experience management