thodonal - stock.adobe.com
Google Cloud retail strategy provides search, hosting, AI for stores
With new Google Cloud Platform tools for retailers, the search giant takes on Microsoft and AWS with its own flavor of AI and promises of better uptime.
NEW YORK -- Google made a pitch to chain-store brands this week, taking on Microsoft Azure and AWS with a bundle of fresh Google Cloud retail hosting and services, backing it up with blue-chip customers.
In sessions at NRF 2020 Vision: Retail's Big Show, Google Cloud CEO Thomas Kurian and Carrie Tharp, retail and consumer vice president, wooed retailers with promises of AI, uptime and search expertise -- including voice and video, in addition to traditional text content -- as well as store employee collaboration tools.
Home improvement chain Lowe's said it will embark on a multiyear plan to rebuild its customer experience, both in-store and online, with Google Cloud at its center. Lowe's plans to spend $500 million per year through 2021 on the project.
Kohl's, Ulta Beauty's business drivers
"Customers expect retailers to be as good with their tech as they are with their physical stores," said Paul Gaffney, CTO of Kohl's. The 1,060-store chain launched a major overhaul of its digital customer experience and IT infrastructure in 2018 with Google Cloud retail services, and plans to migrate 70% of its apps into Google Anthos.
Retailers need cloud services that create value for their brands among its customers, Gaffney said, but uptime and scalability is also a major consideration during peak selling times.
"The big rush of business used to be Black Friday, last year was the Cyber Five [Thanksgiving until the following Monday], and now seems like the months of November and December," Gaffney said in a session with Kurian. "Folks who have been doing this a long time know that we all used to provision a lot of gear that lay idle other than during that period."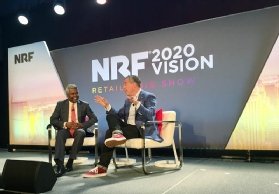 Ulta Beauty, which operates 1,241 stores, chose the Google Cloud Platform to support its personalization engine, said Michelle Pacynski, vice president of digital innovation at Ulta. The company's Ulta Rewards program, a homegrown system, is one of Ulta's applications tapping Google's cloud infrastructure. It has 33.9 million members and drives 95% of Ulta's sales, she added.
Ulta chose Google in part for its data as well as its open and flexible technology stack, Pacynski said. But data ownership also weighed heavily in the decision.
"We looked at the usual subjects, who you would think we would look at," Pacynski said. "Ultimately for us, we wanted to own our data, we wanted to have power over our data. We evaluated everybody and looked at how we could remain more autonomous with our data."
Google Cloud retail taking on Azure, AWS
Google's charge into the retail space started last year with the introduction of retail-specific services to manage customer loyalty, store operations, inventory and product lifecycle management. At NRF 2020, Google added search, AI and hosting services to that stack. It's part of Google's bigger push into verticals, Tharp said.
Really, where we see the future of cloud capabilities is in industry-specific solutions.

Carrie TharpRetail and consumer vice president, Google Cloud
"[Google] Cloud started as an infrastructure-as-a-service play," Tharp said. "Really, where we see the future of cloud capabilities is in industry-specific solutions -- having a deep understanding of the industry and building products specific to that. We're constructing our entire organization around these industry-specific solutions."
Tharp and some industry experts at NRF said that some retailers harbor resentment toward Amazon as a competitor and are looking for cloud partners other than AWS for future projects. But that is changing, as stores realize that offering Amazon-like speed of delivery and customer service in general is a more important business priority than beating Amazon.
Still, there's enough anti-Amazon sentiment among retailers that Google has an opportunity to expand its foothold, said Sheryl Kingstone, 451 Research analyst.
"We're seeing Google Cloud Platform pop up as one of the strategic vendors retailers are looking for in their digital transformations," Kingstone said. "Azure is up there, and AWS is the 800-pound gorilla. But in the retail space, there's that opportunity of stealing away someone who is very concerned about being on AWS."