Getty Images/iStockphoto
Event analytics tool answers CX data queries using ChatGPT
Mixpanel aims to improve users' CX strategy with its new generative AI-supported data query tool, which lets users type CX data-related questions and get answers in chart format.
Event analytics vendor Mixpanel on Thursday released in private beta its new GPT-3.5-turbo integration to simplify data processing with the goal of improving the customer experience. It will be released in open beta on July 15.
ChatGPT's GPT-3.5-turbo is the latest update of its large language model.
The integration lets users type customer data-related questions -- such as, "What campaign contributed most to revenue?" -- and receive answers in a visual format that graphically breaks down the data with charts and numbers.
This method is an upgrade from the previous format in which users were restricted to an aggregate list of categories to choose from to see the related data. With generative AI, users can ask specific questions and receive analytics-based answers in the form of simple visuals.
Google Analytics and Adobe Analytics are other competitors in the events analytics market. The technology helps enterprises analyze customer data.
Asking data incisive questions
Generative AI lets users communicate colloquially with data, humanizing the communication between man and machine, Futurum Research analyst Daniel Newman said.
"I expect we will see more and more prompt-based data interactions to help users talk to their data the way we talk to one another -- a wonderful application of [generative AI]," he said.
By reducing the expertise needed to extract and analyze data, Mixpanel makes it possible for a wide range of professionals to use it as needed for various purposes, according to Constellation Research analyst Liz Miller.
In addition, the new feature lets users ask more specific questions related to customer behavior, thereby illuminating important unseen nuances of the customer experience, she added.
"We are talking about more complex questions delivering more precise and defendable answers. And that makes analytics accessible to anyone ready to ask new questions," Miller said.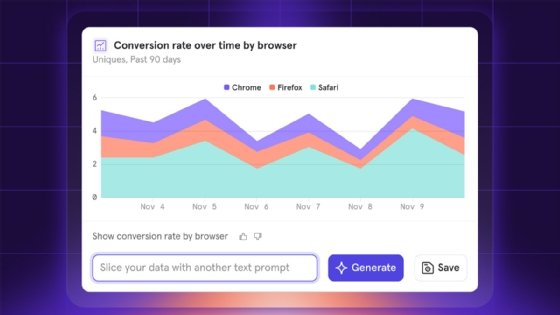 Going beyond prescribed insight cycles
With the capacity to understand human speech and synthesize data quickly, the generative AI-backed tool lets users inquire about and observe a data pattern spontaneously as their curiosity flickers rather than the usual tracking of prescribed insight cycles.
We are talking about more complex questions delivering more precise and defendable answers.

Liz MillerAnalyst, Constellation Research
"What we are seeing across numerous AI-empowered analytics offerings is the opportunity to explore without lasting consequences," Miller said. "We are seeing this in almost every space in CX where a corpus of data can be aggregated in new and powerful ways."
In the future, Mixpanel said it hopes to expand the generative AI tool's conversational capabilities to offer answers based on a longer line of discrete questioning, letting users carve ever deeper into the data insights.
"[Upon release] it will be at 20% of what's possible in terms of leveraging generative AI for this kind of data interactivity exploration," Mixpanel CEO Amir Movafaghi said. "Getting to some 50% or 60% is going to be mind-blowing in terms of how unbelievably simple it's going to be for you to do this type of analysis."
As enterprises rush to implement generative AI-supported tools, many are tempering their excitement with a dose of caution due to persisting generative AI problems, such as "hallucinations," or non-factual responses to prompts.
"The actual outputs and accuracy, without model drift and hallucinations, will be the demarcations between the best execution of this opportunity and the hype of what is possible," Newman said.
Mary Reines is a news writer covering customer experience and unified communications for TechTarget Editorial. Before TechTarget, Reines was arts editor at the Marblehead Reporter.