4 customer data collection best practices to follow
Building a good customer data collection strategy can be difficult. These tips explain how to collect data and how to use it to improve customer experience.
Following customer data collection best practices can help companies focus on what is meaningful and important to customers. But trying to get customers to share more data can be difficult and sometimes risks turning them against a brand.
However, when customers believe sharing more of their data will improve their experience and affect how the company does business, they are more willing to share.
A key goal of a data collection strategy is to personalize a customer's experience at scale, said Will Wilson, CEO at Bloom Intelligence, a Wi-Fi marketing and customer analytics platform in St. Petersburg, Fla. Other goals can include optimizing existing operations and tools to drive down expenses. It is also valuable to measure the performance of every campaign down to the individual's engagement level and track the ROI of that transaction.
Here are some best practices for collecting customer data.
1. Collect data in two ways
There are two ways to collect data: "knowingly" and "unknowingly," said Krzysztof Surowiecki, managing partner at Hexe Data, a data analytics company. These two approaches vary widely in the scope and management of data collected.
Applications or services often knowingly ask users for data through site registrations, loyalty programs and surveys. It is also effective to buy data from the user in exchange for certain advantages, Surowiecki said. In the financial technology industry, this may be the offer of the first loan without interest. The customer gets the benefit of not paying interest on a loan, and the company gains data about the financial condition of the user.
When users give data unknowingly, they are not aware companies are collecting it. However, under GDPR guidelines, businesses are required to disclose information about data collection in a privacy policy.
Brands often use analytical tools to collect data behind a user's back. This data can include anonymized information on the source and frequency of visits, actions performed and the device used.
The knowledge data scientists glean from data collection translates into tips on how to better meet user needs, how to better communicate about a product and how to better sell it.
2. Ask, but act, too
Asking customers for information directly can provide solid qualitative data, but companies often pose irrelevant questions that customers don't think will have any meaningful impact on their experience, said Paul Hagen, a senior principal at West Monroe Partners, a tech consultancy based in Chicago.
"With so many companies establishing voice-of-the-customer programs, terrible surveys have proliferated and trained people to ignore requests from companies," Hagen said.
With so many companies establishing voice-of-the-customer programs, terrible surveys have proliferated and trained people to ignore requests from companies.

Paul HagenSenior principal, West Monroe Partners
It's not that voice-of-the-customer programs are bad; they're a cornerstone of any disciplined effort to improve customer experience. However, the abundance of poorly run survey programs has made meaningful insight collection harder. Firms must build trust with a customer base in order for customers to opt into giving feedback.
Best practices for effective customer data collection include the following:
picking the right research techniques for the research goals;
making the research meaningful to customers; and
focusing on customer needs over what the staff believes they need to do their jobs.
If the response rate to a question is low, companies can usually trace the problem back to not following these practices, Hagen said.
For example, airlines often ask customers a ridiculous number of questions about their experiences onboard a flight; however, the flight might not be the biggest factor affecting a customer's overall opinion of the airline. When collecting data, it is important to focus on what's meaningful and important to the customers, not the company.
3. Keep it simple
Smart brands often try to progressively profile their audience as customer wants, needs and life stages change.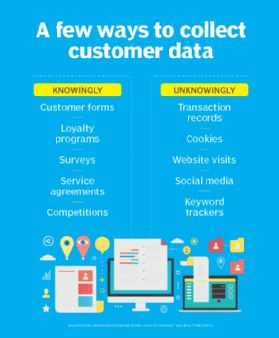 "Some brands do give points or awards for information, but most brands we work with do not find this necessary," said Pam Erlichman, chief marketing officer at Jebbit, a mobile marketing platform based in Boston.
Brands use data to provide customers with personalized interactions customers actually want, including faster navigation to what they are looking for, perfect product matches, enjoyable content and engaging quizzes.
Tracking these tailored interactions can validate existing customer data to see if it is accurate. The ultimate goal of following customer data collection best practices is to drive lifetime value by understanding each customer's wants and needs, Erlichman said.
4. Consider new data
Most brands are likely to collect quantitative data about customer engagement, conversion rates and customer satisfaction scores. This data is very black-and-white.
"Some data points that brands may not be thinking of collecting are more related to the why behind these numbers, which helps teams truly understand and empathize with their customers to make better decisions," said Janelle Estes, chief insights officer at UserTesting, a CX research platform based in San Francisco.
Here are some ways organizations can collect this type of data:
Look for trends in the wording of surveys and call center or chat logs.
Assess ease of use and overall delight for mission-critical customer flows. This can be done by watching customers for more in-depth analysis or by analyzing CX journey data.
Try to understand the emotions the organization evokes in their customer. This can be done by asking customers or analyzing the sentiment in user surveys, feedback or on social media.
Brands can also benefit from using emotional data gleaned from customer interactions with call centers, apps, websites and brick-and-mortar stores. This information refers to the feeling a customer has after interacting with a brand. Large quantities of emotional data help companies find weak points and critical cases that remain poorly handled or unresolved, said George Pliev, founder and CEO of Neurodata Lab, an emotion analytics platform.
Some contact centers are concentrating their efforts on analyzing voice patterns using AI to improve customer retention and satisfaction. This would enable organizations to obtain a baseline about how changes to an offering, support or individual agents affect a customer's emotional state.
Conventional methods to collect customer data -- such as surveys -- provide only partial feedback and a mere estimate of the customer's experience, leaving out cause-and-effect dependencies. It is important to use a number of channels to get a well-rounded view of the customer.
Dig Deeper on Customer data management