voyager624 - Fotolia
How to use live chat for lead generation
Live chat can successfully generate sales leads -- if done right. Here are four steps organizations can take to boost brand loyalty and close the deal.
An individual "window shopping" on a company's website is a potential sales lead for that organization. And when that customer pivots from conducting research on the web to chatting with a sales agent, they become a more valuable lead.
As a result, it is critical for organizations to use live chat for lead generation. A customer service agent initiates the chat when a "trigger" is hit, to keep the customer engaged and interaction moving forward. During the live chat process, customers ask questions in a written format, and the agent handling the interaction for the company responds immediately in the same manner. Live chat is equivalent to an interaction between a customer and a sales representative in a retail store, the difference being that the website is the storefront and the customer service agent is the sales representative.
There may be opportunities to use technology such as chatbots to replace service agents, but for certain types of interactions -- specifically closing a sale -- a live customer service agent is often more effective than a bot.
In order for live chat to successfully support the sales process, organizations should address four key items.
1. Invite the right customers to chat sessions
Many individuals may browse a company's website, but not all of those customers are realistic leads.
A major focus should be on selecting the appropriate customers to invite to a chat session.
Many individuals may browse a company's website, but not all of those customers are realistic leads. It is important to have analytics running in the background to help determine which customers are high potential leads to invite to a chat session. Historical data can show what webpages previous customers visited prior to making a purchase decision and can be used as a model.
Moreover, if an individual enters identifying information during a web search, the organization can analyze that customer's historical behavior to determine if they made previous purchases and whether to initiate a web chat.
2. Determine when to offer web chat
Once a business determines that a lead has a high likelihood of converting into a sale, it can suggest a web chat session to the person browsing the website. The offer should avoid being intrusive, enabling the customer to remain on the site. Again, analyzing the behavior of previous consumers on the website will provide insight on the best time to offer a chat session.
Web chat isn't an efficient means of communication unless an agent handles multiple chats simultaneously -- which could have a potential negative impact on chat effectiveness. Agents should be able to juggle two or three simultaneous chat sessions before losing effectiveness.
3. Support the chat channel effectively
When an organization sets up a web chat function, it often selects telephone customer service agents to handle chats. However, chat interaction requires a different skillset than phone contact (e.g. written vs. oral communications skills), and it is critical to hire the right people for the job.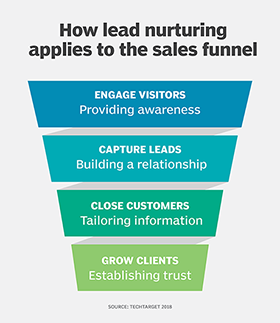 If an organization uses chatbots to handle chat interactions, there must be an understanding that the bots' primary function is to provide information to consumers and that they will not be overly effective in creating a connection and driving customer relationships. There may be a need for a chatbot-to-human handoff to educate customers and/or "close a deal."
Moreover, organizations must establish and monitor adherence to service-level agreements (SLAs) for chat sessions. SLAs include how quickly an agent responds to an initial chat request along with all follow-up interactions.
Finally, reporting of chat interactions must include all types of information included in telephone interactions along with sales metrics.
4. Reduce customer effort when moving to chat session
Minimizing customer effort during a chat interaction is a critical success factor in providing an outstanding customer experience.
There must be a seamless pivot for the customer. The chat agent should have a record of what the individual has researched on the web. The consumer should not have to repeat information. And the agent should build on the research already performed by the customer. Moreover, if the individual has entered an identifier, specific background such as previous purchases should be made available to the agent so they can better connect with the customer.
Using live chat for lead generation can be a very effective sales tool, but the critical element to success is the execution of web chat sessions.
Dig Deeper on Marketing and sales