voyager624 - Fotolia
8 live chat best practices for organizations to consider
Organizations find that live chat can be a means to improve customer experience -- when implemented correctly. Here are some best practices to put into action.
Live chat technology is a popular means of communication between customers and organizations using both live agents and chatbots. However, many organizations struggle to support the chat process and treat it as a lower priority than other means of communication. This gap leads to customer frustration and a lost opportunity to build customer loyalty.
With a few key best practices, live chat can support an outstanding customer experience, become a valuable channel of communication and build customer loyalty.
Here are eight live chat best practices for organizations to consider:
1. Offer live chat at appropriate times
Many organizations offer chat sessions proactively, displaying pop-up bubbles when customers perform product research on a website. This strategy can be very beneficial in raising customer awareness of an alternative way of communicating with the organization if they have specific questions.
But it can also become annoying if the pop-up appears at the incorrect time or occurs too often, such as each time a customer accesses a new webpage.
Organizations should display pop-up chat invitations at appropriate times when a customer is browsing a website.
2. Establish relevant service level goals
Customers browsing a website who decide to initiate live chat should not have to wait an extended period of time to receive an initial response from an agent -- especially if the customer was invited to initiate the session.
Similar to making a phone call to customer service and support, customers expect near-instantaneous responses when they initiate live chat.
Organizations need to establish service level goals for the initial response to a chat session similar to the service level goal for answering inbound phone calls. A reasonable response time might be answering the chat request within 20 seconds.
3. Develop "canned" responses for common questions
There are a number of questions that customers ask repeatedly, and it's a waste of time for agents to create new responses each time someone asks the same question. Some of those questions may include:
How do I return an item?
How do I perform a diagnostic on a piece of equipment?
What are the hours of operation for a specific store?
How can I set up an automated payment process?
Organizations should develop "canned" responses to drive consistency of answers and to drive agent efficiency.
4. Use automated customer reminders to assure continued engagement
Chat sessions can often become an inefficient method of communication for organizations. This frequently occurs when an agent is waiting for a customer to respond while other customers are waiting in queue to initiate live chat.
Customers involved in chat interactions often become distracted by other activities. In some cases, they may abandon a session without notifying the agent while the agent is waiting for a response.
Organizations should reach out to nonresponsive customers at regular intervals to assure they are still engaged in the chat sessions. If no response is received within a reasonable timeframe, organizations should terminate the chat session with reasonable warning.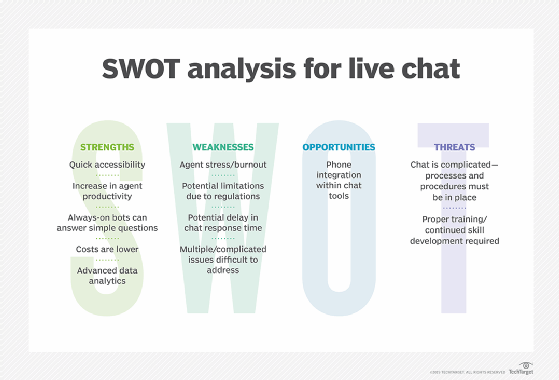 5. Set customer expectations if you need time to research an answer
From a customer perspective, live chat can be challenging. Customers may wonder if an agent received their response and what activity they are performing.
In many cases, the agent is working on a response, but the customer has no understanding of what is happening.
Organizations must set appropriate expectations with customers regarding how long it will take for an agent to respond to a specific inquiry.
6. Align live chat hours of operation with phone center hours of operation
There are times when customers have questions that can't be answered during a chat session and it's easier to speak with an agent over the phone.
With a few key best practices, live chat can support an outstanding customer experience.
However, it is frustrating to customers when they proceed through a chat session just to find out that they cannot complete their interaction because a phone agent is not available, due to the call center being closed.
Organizations need to align live chat hours of operation with the call centers hours of operation.
7. Capture all customer interactions to track customer journeys
Customers usually initiate live chat sessions while browsing on an organization's website. Once a chat session is initiated, customers don't want to repeat the steps they have taken on the web and expect agents to have knowledge of what they've already performed.
Organizations should capture every customer interaction, both human and automated, in a CRM system, in order to capture the customer journey and to support "pivots" across channels.
8. Use chatbots wisely
Chatbots are beginning to play a role in automating the chat process for organizations. And some people believe that chatbots will replace human agents very aggressively in the next few years.
However, chatbots are still in their infancy and are most effective when responding to simple, straightforward inquiries. Their strength is not in building customer loyalty.
Organizations must understand the limitations of chatbots and implement them in an effective manner where they can be successful in providing accurate answers and human intervention is not required.
As live chat continues to grow, these best practices can provide organizations a starting point to ensure outstanding CX and encourage customers to expand their use of this communication method.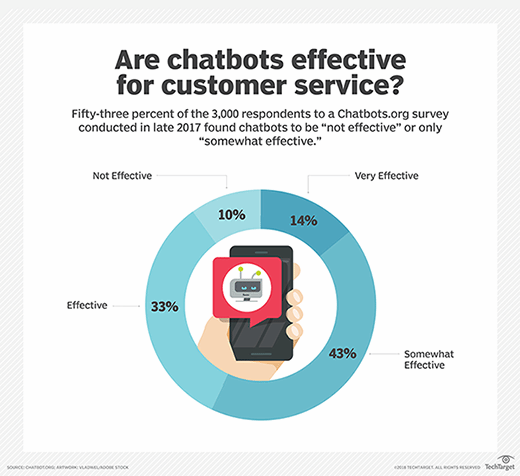 Dig Deeper on Customer service and contact center