Natalia Merzlyakova - Fotolia
What Microsoft Outlook alternatives can IT choose from?
When IT pros are seeking an alternative to Outlook, they should consider the features their users need the most and select an email client that best matches those needs.
Even though Microsoft Outlook is the most common email client in the enterprise, it is not the only option out...
Continue Reading This Article
Enjoy this article as well as all of our content, including E-Guides, news, tips and more.
there.
Outlook 2016 is a feature-rich email client that includes email document merging, Quick Steps automation and email encryption. Even so, some organizations won't need everything Outlook 2016 has to offer, and they can turn to Microsoft Outlook alternatives.
When sorting through the best Outlook alternatives, IT professionals should consider the features their users value the most.
Feature-rich alternatives
If the end user needs a feature-rich option, then the best choice is probably Outlook on the web. Outlook on the web is an internet-based app that looks and functions almost exactly like the Outlook desktop app. It does not have every feature that exists in Outlook, such as integrated scheduling and incoming email automation, it simply connects to Microsoft email services, such as Office 365 or Hotmail. Even so, it is a nice example of Microsoft Outlook alternatives.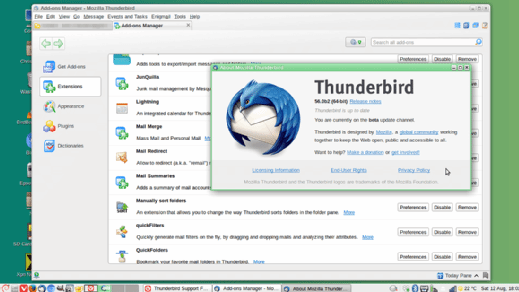 Another option is Mozilla Thunderbird. Like Outlook, Thunderbird supports email, calendars and tasks. It also has a built-in chat client. Best of all, Thunderbird is free.
There are countless POP3 clients that provide basic email support without doing anything fancy.
The Windows version of Evolution is another of the Microsoft Outlook alternatives that IT can consider. Evolution is an open source email client originally developed for Linux. A Windows version is available to download, as well.
As email clients go, Evolution is one of the more feature-rich clients available. Like Outlook, it has full support for tools such as email, calendars and contacts. More surprisingly, Evolution also supports some native Microsoft Exchange Server features, such as public folders.
Get to know POP3 and IMAP
If end users can get by on something a bit simpler, then IT pros should consider that most email servers support the Post Office Protocol 3 (POP3) and Internet Message Access Protocol (IMAP). The difference between these two standard email protocols is subtle, yet important: POP3 clients periodically download emails and IMAP clients hold emails on a remote server.
There are countless POP3 clients that provide basic email support without doing anything fancy. Although feature sets vary from one POP3 client to the next, these clients tend to provide the most basic mail flow capabilities, such as those found natively in some smartphones. A user can send and receive emails, but users shouldn't expect to perform more advanced tasks, such as merging email documents. More advanced mail clients -- including Outlook -- use more capable protocols, such as IMAP.
The easiest way to find a POP3 or IMAP email client is to search for them on Windows' app download site. There are hundreds of POP3 and IMAP clients to pick from; some are free and others are fee-based. With all of these options, users and organizations will likely find Microsoft Outlook alternatives that meet their needs.
Dig Deeper on Application management
While Google Cloud Storage has several limitations, these three are among the most prevalent -- but users have straightforward ways to get around ... Continue Reading
Unpredictable user behavior and boot storms can cause VDI resource usage fluctuations throughout the day. IT can take steps to identify and curtail ... Continue Reading
Determining how to host and manage desktops for an entire organization is a major task, so business leaders need to understand the modern VDI market ... Continue Reading