Guido Vrola - Fotolia
HCL software push lands Actian in latest venture
HCL software: The recent acquisition of Actian gives the $7.6 billion IT services provider a range of data analytics products it can sell as a global systems integrator.
Service providers have been turning to intellectual property as a path to differentiation. HCL Technologies Ltd., a global technology company with 2017 revenue of $7.6 billion, follows that approach as well, but is taking what the company views as a different tack with its recent acquisition of Actian Corp.
HCL Technologies, based in Noida, India, with U.S. headquarters in Sunnyvale, Calif., and Sumeru Equity Partners, located in Foster City, Calif., earlier this month agreed to acquire Actian in a $330 million cash transaction. Actian, based in Palo Alto, Calif., makes data management, data integration and data analytics products. The offerings expand the existing HCL software portfolio, which includes its DryIce autonomics platform and software development products.
Kalyan Kumar, CTO at HCL Technologies, said the Actian deal is part of his company's strategy to acquire and invest in software product businesses. Prior to the Actian purchase, HCL in 2017 acquired assets of Alpha Insight, including the latter company's iControl operational intelligence platform. The iControl offering is now part of the DryIce product suite, which incorporates AI elements such as natural language processing technology.
Also in 2017, HCL Technologies acquired Datawave, a company that automates the extract, transfer and load process in data migration projects.
The HCL software buys are part of a broader effort to expand the company's IP portfolio. Kumar said the global technology company has earmarked $1.15 billion for acquiring source code and IP as well as building IP-oriented partnerships. As for the latter, HCL last year took over software development responsibilities for IBM's Domino, Lotus Notes, Sametime and Verse products. That arrangement is part of a 15-year IBM-HCL partnership that also includes IBM's Rational software development and testing products.
Overall, HCL Technologies aims to cultivate two main businesses: IT services and IP, Kumar noted. Services firms are cultivating IP assets to stand out from the crowd and boost their valuation.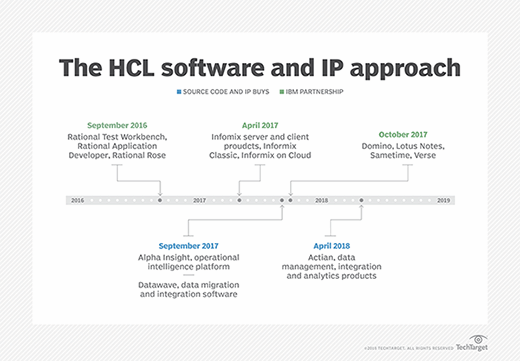 Actian deal expands HCL software
The Actian acquisition fits squarely in the IP side of the house but will also involve HCL Technology's IT services business. Actian's offerings include Actian Vector, a columnar database that the company said uses CPU caches for in-chip analytics.
Kumar said the database aims to "liberate the power of cache in the chip" and, thereby, boost the speed of big data analytics, which he suggested has been lagging.
Other Actian contributions include Actian DataConnect, a hybrid cloud data integration platform, and Actian X, a hybrid database for operational analytics.
When a large IT vendor acquires a much smaller software developer, a common fear is the smaller firm's pace of innovation will slow significantly under the new ownership. Failure to innovate is a charge leveled at big business in general.
Actian, however, has independence in its favor. The company will continue to operate as a separate entity, under a joint venture co-owned by HCL Technologies and Sumeru Equity Partners. Rohit De Souza, president and CEO of Actian, said access to capital and access to practical expertise in deploying technology -- not independence -- are the keys to continued innovation as part of HCL.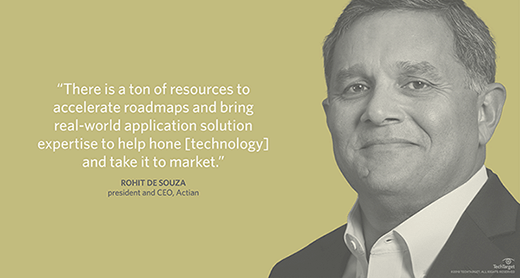 He said smaller software development companies excel at technology innovation at an early stage, but may struggle to advance the technology beyond a handful of initial use cases.
"They can get a use case or two from … different interactions with companies, but they really can't … move the technology forward," De Souza said. That's because they don't grasp the "full spectrum" of what needs to be done to broaden the technology, he added.
The HCL acquisition, however, creates a linkage that keeps the technology engine going, De Souza said, noting HCL's roots in product engineering.
"There is a ton of resources to accelerate roadmaps and bring real-world application solution expertise to help hone [technology] and take it to market," he added.
Global systems integrator, ISV relationships
As for go-to-market strategy, HCL will act as a global systems integrator (GSI) with respect to Actian, Kumar said. He said HCL aims to drive Actian sales into its customer base. But at the same time, Actian will still be able to maintain relationships with other systems integrators and partners, he noted.
The HCL software push will also involve an ISV arrangement in which HCL will embed Actian products such as Vector and DataConnect into its own offerings.
"So, there is a GSI relationship and an ISV relationship," Kumar explained.
HCL's acquisition of Actian will close by August 2018, according to the company.