Definition
mobile enterprise application platform (MEAP)
A mobile enterprise application platform (MEAP) is a development environment that provides tools and middleware to develop, test, deploy and manage corporate software running on mobile devices.
A MEAP serves as both a development platform and a management tool for enterprise mobile apps, freeing developers of the task to create separate applications for different operating systems (OSes). This is particularly significant because organizations that support many different devices don't have to write code for each device's OS. With a centralized management platform, admins can assign user access to particular applications and allow applications to pull data from specific enterprise databases.
MEAP vs. MADP
Gartner, a technology research firm based in Stamford, Conn., began using the term MEAP in 2008 in a Magic Quadrant report, before the proliferation of smartphones. Early MEAPs collected data on personal digital assistants (PDAs).
As the industry evolved, MEAPs began to fall under the more umbrella term of mobile application development platforms (MADPs), environments that enable developers to build, test and deploy mobile apps for employees, consumers and business-to-business (B2B) scenarios. Gartner stopped using the term MEAP in 2012, preferring to use the generalized term of MADP instead. Now, the term MEAP is more or less defunct because MEAPs are rarely referred to as their original terminology.
Important features
In general, a MEAP has two important features:
A mobile application development environment and back-end web services to manage those mobile applications and link them to enterprise applications and databases.
A centralized management component that enables an administrator to control which users can access an application and what enterprise databases that application can pull data from.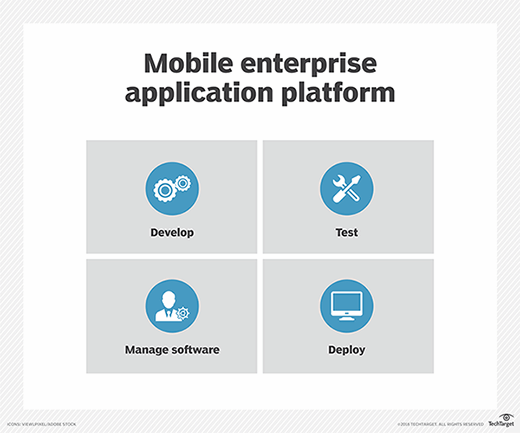 Sometimes, organizations will use a mobile enterprise application platform in conjunction with enterprise mobility management (EMM) or mobile device management (MDM). MDM manages mobile devices, while MEAP products manage the enterprise applications running on those devices -- although there is sometimes overlap between the functionalities of these two technologies.
Pros and cons of MEAP
Along with the benefits described above, a mobile enterprise application platform extends beyond fourth-generation language (4GL) tools for app development to use a graphical environment and dedicated script language. The tool makes business apps accessible to users from any location at any time. For ease of IT management, some MEAP products can run as a cloud service.
A MEAP, like any technology, comes with challenges. The initial investment is high -- it's expensive to begin with, though the total cost of ownership (TCO) goes down with use over time -- and it requires IT to perform additional tasks such as updating content, securing data, maintaining applications with updates and managing user authentication.
A MEAP often falls under the umbrella term, MADP. For more information about MADPs, read our definition.
This was last updated in
February 2018
Continue Reading About mobile enterprise application platform (MEAP)