idspopd - Fotolia
How to use a VMware content library
Follow these steps to create and populate a content library in VMware vSphere. Once you finish the initial configuration, you can create a VM from a template in the content library.
Objects that aren't directly tied to VMs, such as ISO files for guest OSes or applications or OVF and OVA files, still require effective management practices. Rather than storing these and other types of resources on a network share or on removable media, vSphere 6 enables you to keep resource files organized in a VMware content library.
A content library is a centralized repository where you can store all the files and resources you use to deploy VMs. For those with experience working with Hyper-V and System Center, VMware content libraries have many similarities to System Center Virtual Machine Manager libraries. For example, you can use both to store ISO files.
Whether you have a relatively small organization with only a single vCenter server or a larger organization with multiple vCenter servers, you can create a VMware content library and share its data across the entire organization.
Create a VMware content library
VMware makes creating a content library simple. In the vSphere Web Client, select the Home tab, and then click on the Content Libraries icon located within the Inventories section. Next, click on the Create a New Content Library option. This launches the New Content Library wizard.
The New Content Library wizard leads you through three steps. The first step is to assign a name to the new library.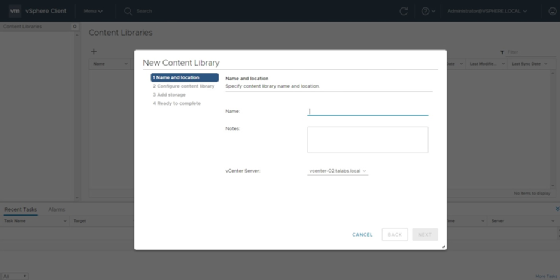 The second step is to choose between creating a local or a subscribed content library. A local library resides on a server in the data center -- though you can publish it externally -- whereas a subscribed library resides elsewhere and you link to it via a URL.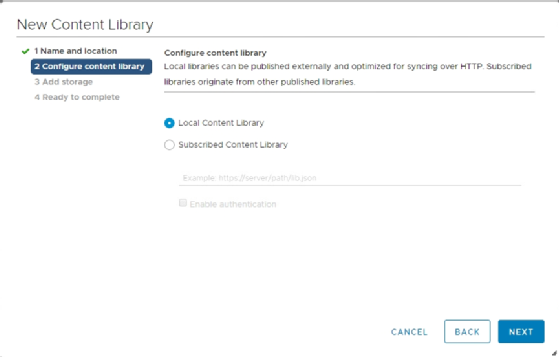 The last step in the process is to provide storage to the library using either a file system or a data store. You should use a data store for everything except for a published library.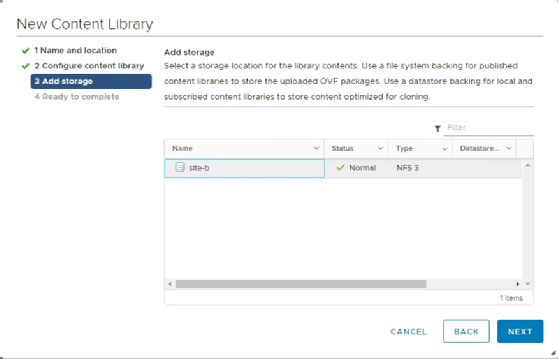 Populate a VMware content library
Once you create a library, populating it is a simple matter. In the vSphere web client, select the Home tab, and then click the Content Libraries icon located in the Inventories section. Next, right-click on the content library, and then select the Import Item option. This opens the Import Library Item dialog box.
The Import Library Item dialog box contains two sections: Source and Destination. In most cases, you can use Source to select the file you want to import into the library and Destination to enter a name and a brief description of the item.
To import an Open Virtualization Format (OVF) template, you must follow a slightly different process. First, in the Source section, select the OVF descriptor file -- that's the file with the OVF extension. Upon doing so, the console prompts you to provide reference files for the OVF template. These reference files are commonly VMDK and MF files.
Create a VM from a template in a VMware content library
Creating a VM from a VM template stored in a content library is a quick and easy process. In the content library, click on the Templates tab. Next, right-click on the VM template you want to use to create a new VM, and then select New VM From This Template. This opens the New Virtual Machine from Content Library wizard.
When prompted, enter a name and then choose a location for the VM. There is also a Customize the Operating System checkbox that you can select if you must make any changes to the guest OS. The wizard's remaining screens then prompt you to select a destination for the VM -- a host or cluster -- and a network to attach the VM's virtual network adapters to. Finally, you have the chance to review your settings before creating the new VM.
Dig Deeper on VMware ESXi, vSphere and vCenter