Definition
clickstream data (clickstream analytics)
What is clickstream data?
Clickstream data and clickstream analytics are the processes involved in collecting, analyzing and reporting aggregate data about which pages a website visitor visits -- and in what order. The path the visitor takes through a website is called the clickstream.
Clickstreams are categorized into clickstream data and clickstream analytics, which is also referred to as clickstream analysis. The clickstream data is the information collected about a user while they browse through a website or use a web browser. Clickstream analytics is the process of tracking, analyzing and reporting data on the pages a user visits and user behavior while on a webpage.
Websites use clickstream data to show how a user progressed from an initial search or landing page to buying an item or service. Search engines use clickstream data sets to show where a user has searched for a term, when they have clicked on it and if they go back to searching after this. Internet service providers, advertising networks, and IT and telecom organizations also collect clickstream data.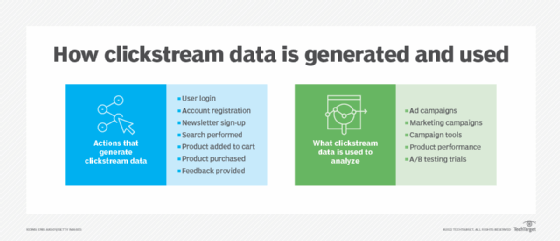 Clickstream data metrics
Clickstream data includes the following types of web analytics information:
whether the individual is a unique or repeat visitor to the website;
the terms an individual plugs into a search engine;
what page the individual lands on first;
the amount of time a user spends on a page;
the features on the page the user clicks on and engages with;
when and where an item is added or removed from a cart;
where the user goes next; and
when the back button is used.
Clickstream data collected from a single session of a user interacting with a website may not be useful. However, an organization can use aggregate data gathered from many visitors to improve its website or service.
For example, if a lot of visitors leave a site after landing on a page with too little information, the organization may need to enhance the page with more valuable information. Likewise, if visitors often land on a page that isn't the website's homepage, then the organization may want to redesign that page to be more inviting and informative to users.
Clickstream data does not include personal details about a user, and it is typically stored on the server that supports the website. Clickstream data is a useful addition to data from Google Analytics.
Clickstream analytics and how it is used
Organizations use clickstream analytics to uncover trends and draw conclusions from different metrics about their websites. This process typically uses a web server log file to monitor user activity on a website.
Using the clickstream analysis, an organization can collect data on the number of page visits, views, and unique and repeat visitors. This data provides an idea of how the organization's website performs and it can help approximate the typical user experience (UX). A website owner can then adjust the site to make it more user-friendly and increase the chance that visitors will stay longer, make a purchase or otherwise interact with the website and the organization behind it.
Because an extremely large volume of data can be gathered through clickstream analysis, many e-businesses rely on big data analytics and related tools such as Hadoop to interpret the data and generate reports on specific areas of interest.
Clickstream analysis is effective when used in conjunction with other, more traditional market research, evaluation resources, data sources and strategies.
There are two levels of clickstream analysis: traffic analytics and e-commerce analytics.
Traffic analytics
This analysis operates at the server level. It collects and analyzes the following data sets:
how many pages are served to a user;
how long it takes each page to load;
how often the user hits the browser's back button; and
how much data is transmitted before the user moves to a different webpage.
E-commerce analytics
This analysis uses clickstream data to determine the effectiveness of a website in terms of conversions and transactions. It is concerned with the following data points:
what pages the shopper lingers on;
what the shopper puts in or takes out of a shopping cart;
what items the shopper purchases;
whether the shopper belongs to a loyalty program;
whether the shopper uses a coupon code; and
the shopper's preferred method of payment.
Benefits of clickstream data analysis
There are a number of benefits organizations can get from clickstream data and clickstream analytics. Among them are the following:
User information. The data collected can include search terms used, pages landed on, webpage features used and the addition or removal of items from a cart, all of which can lead to more actionable insights.
User routes. Organizations can use data analysis to view the different routes their online visitors or customers take to reach a page or to make a purchase.
Customer trends and insights. Collecting and analyzing the clickstreams of a large number of visitors lets an organization identify trends in the following areas:

how visitors get to the website;
what they do once there;
how long they stay on a page;
the number of page visits visitors make; and
the number of unique and repeat visitors.

UX. If a majority of users quickly leave a page or website, it could be a sign that the page is poorly optimized or doesn't contain enough information of value. Clickstream data enables an organization to recognize UX shortcomings, enabling them to make necessary changes.
Digital marketing. Clickstream data can be used to determine the amount of traffic coming from ad banners and campaigns. Such data provides insight as to which advertisements are most effective and lead to customer conversion rate optimization. Clickstream analysis can also derive what times of day, month or year a marketing strategy is most effective.
Clickstream data is a source of big data for many organizations. Learn more about effectively using big data in this comprehensive guide.
This was last updated in
May 2022
Continue Reading About clickstream data (clickstream analytics)
Dig Deeper on Customer experience management