Sergey Nivens - Fotolia
AWS DCX Competency vets cloud customer experience partners
The AWS Digital Customer Experience Competency for content management, e-commerce, service and marketing automation certifies partners for infrastructure and security to create cloud CX.
The Amazon Web Services cloud dominates many tech sectors. Customer experience may be next, as marketers will have a new set of AWS-certified CX tools from which to choose, including Amazon's own personalization engine.
AWS' four partner competencies collectively are known as the Digital Customer Experience (DCX) Competency. Each covers a different slice of CX: content management, marketing automation, digital commerce and customer 360, a catch-all that includes customer data collection, tracking and analytics.
A separate AWS DCX Competency applies to consultants who aid the deployment of cloud CX systems. About 40 companies earned the certification as of the March 9 announcement of the new competency program.
Shawn Moore, CTO of Solodev, a content management vendor based in Orlando, Fla., said his company went after the AWS DCX Competency for a number of reasons. High on the list was that it is a precursor to using Amazon Personalize, a recommendation engine built on Amazon's retail site. Amazon Personalize -- which the company claims can drive 11.5% incremental revenue and 30% more page views -- now is in preview to some AWS partners.
"Personalize is the real exciting thing," Moore said. "They've taken the last 20 years of Amazon, all the analytics and the brains of arguably one of the most powerful websites and have turned it into a product. It's going to be able to provide predictive recommendations of content."
Rigorous AWS DCX audits required
The AWS DCX competencies are no easily bought seal of approval, which IT partner certifications can be at times. AWS puts candidates to the test with engineering audits on data security, operational metrics, reliability and infrastructure topics.
AWS also requires public and nonpublic case studies proving users have customers using their AWS instance in compliance with the technical requirements of the competency. Customer projects in the pilot or proof-of-concept stage don't count.
Auditors recommend that vendors provide in-house AWS engineers or architects, an operations manager and a business development executive to be on call to answer auditor questions. AWS gives vendor candidates five days to remedy deficiencies -- AWS calls them "critical findings" -- or at least develop a plan to correct them.
"It wasn't just a test of market leadership or of the existence of a product," said Andrew Lindsay, vice president of corporate and business development at HubSpot, which earned the AWS DCX marketing automation competency. "We believed we had the substance to stand up to that kind of testing, but there was a possibility that we weren't going to get it, which would have been quite disappointing."
In return, AWS -- which was contacted for comment in this story and did not respond -- recognizes and promotes its partners. Also, in the case of HubSpot, Lindsay said the competency, by extension, elevates the status of HubSpot's own third-party developer network, which has more than 200 members.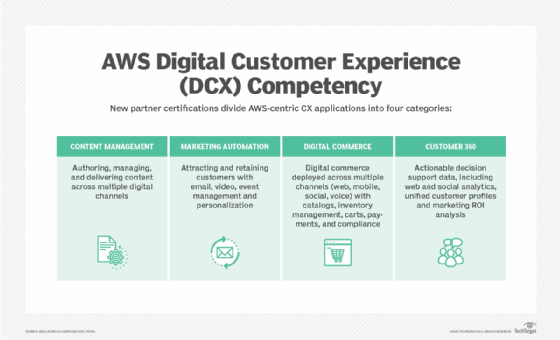 AWS creating more 'frenemies'
It feels like [the] first step in a big move into a new market segment, and we were really excited to be a part of that.

Justin KellerMarketing vice president, Sigstr
AWS DCX presents a competitive dilemma. Adobe, Salesforce and numerous CX and CRM vendors use the AWS cloud for customer deployments. In a not-so-subtle way, AWS is competing with them by building its own rigorously vetted partner ecosystem of CX tools, with Amazon Personalize as the centerpiece.
"It feels like [the] first step in a big move into a new market segment, and we were really excited to be a part of that," said Justin Keller, marketing vice president at Sigstr, an email signature vendor that earned the AWS DCX Competency for marketing automation.
For AWS reps selling to large, established CX-facing vendor accounts such as Salesforce and Adobe that now see AWS morphing into a CX competitor, it must make for some edgy conversations.
But they're not so much competing with each other than they are racing to make more open APIs so their customers can be selective with their own CX tools when customizing their martech mix, said Nicole France, a Constellation Research analyst, who added that the era of "the locked-down suite of stuff" is over.
"This is the weird and wacky world that we live in today," France said. "All these markets used to be very cut-and-dried. But I think it's very clear that Amazon thinks it can compete, at least in parts of this market, while still coexisting with a lot of these other big players who effectively are customers and partners, as well.
"I think that's reasonable," she continued. "Will that last forever? Probably not."