Salesforce coronavirus contact tracing platform goes national
Salesforce gets involved in state and local health authorities' coronavirus contact tracing efforts in New York City, Rhode Island, Massachusetts, California and Louisiana.
Salesforce users at both private businesses and public health authorities in several cities and states now have an app for tracking coronavirus exposure, and it will be used across Rhode Island, Massachusetts, Louisiana, California and New York City.
The decades-old contact tracing process involves notifying people who have potentially been exposed to the virus so they can self-quarantine. Typically, the process involves collection of testing data, and a call center at which calls are placed to those who tested positive and their contacts.
Salesforce isn't discussing governmental contact tracing engagements, but in an email acknowledged that its recently released Work.com tools enable both "public- and private-sector leaders to manually trace health and relationship contacts." Rob Seaman, senior vice president of product at Salesforce, made the case in a recent video that CRM makes for effective contact tracing for public health officials because of how it tracks relationships.
"Instead of doing that to better market to or service your customers, in this case you're doing it for the health of your constituents," he said, adding that Salesforce built the app for governments to deal with pandemics.
A Salesforce contact tracing system based on CRM workflows used by state governments isn't as revolutionary an idea as it might seem, said Nicole France, an analyst at Constellation Research. Salesforce has spent years building CRM use cases to win government business.
"This is not a completely new thing, contracting with states to do this," France said. "They do a lot of work with the public sector, including various government bodies at the federal level."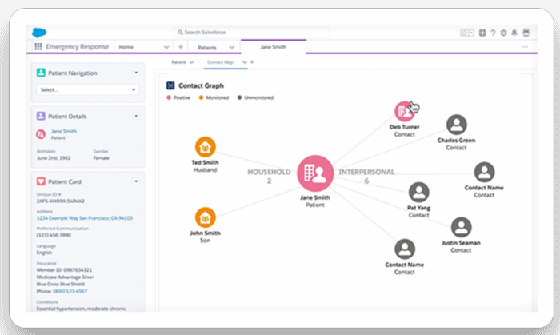 Rhode Island inspires Salesforce contact tracing process
Rhode Island first approached Salesforce in April to develop a database to make contact tracing more efficient. Since then, New York City, Louisiana, Massachusetts and California have either adopted the tool or plan to. Texas, Michigan and Kentucky also are live with contact tracing systems on the Salesforce platform.
The California contract adds an Amazon call center and will engage Accenture for implementation; New York City's incorporates a Salesforce call center. Accenture declined to be interviewed for this story.
"One of [our] clients that was really impactful for us was the state of Rhode Island," Salesforce CEO and co-founder Marc Benioff said in a CNBC interview last week, characterizing Gov. Gina Raimondo's leadership as "incredible." "She had the vision that she needed to couple contact tracing with her testing. That really gave us the vision that every organization is going to need to build and deploy information technology like contact tracing to mitigate the spread of the virus."
State contact tracing may turn out to be proof of concept for a much larger contract Salesforce and its competitors want to land: a piece of the $500 million Coronavirus Aid, Relief, and Economic Security, (CARES) Act funding designated for modernization of "public health data surveillance and analytics infrastructure modernization." The CDC's Division of Health Informatics and Surveillance is currently evaluating technologies to decide if -- and how -- it will upgrade its contact tracing technology.
Salesforce steers clear of AI
Salesforce enthusiastically touts its Einstein AI technology at its user events -- even assigning it an omnipresent mascot at Dreamforce and its regional Salesforce World Tour marketing events. Yet the company has been careful to keep AI away from its contact tracing process discussions so far.
The Salesforce tool differs from the app developed by Google and Apple to run on smartphones. That app requires users to voluntarily download and use it on their smartphones -- effectively leaving out a chunk of the population exposed to coronavirus, Constellation's France said. Smartphone apps can be fraught with privacy challenges as companies decide what data to use in tracking those who have been exposed.
Clearly a huge issue reason for [Salesforce steering clear of AI] is the very big and very thorny issue of data privacy, especially in a healthcare context.

Nicole FranceAnalyst, Constellation Research
It's not a coincidence that Salesforce is avoiding discussing AI with its contact tracing app, she added. Contact tracing for public health authorities is a repeatable, standardized process based on specific protocols. If Salesforce is to win contracts, it needs to focus exclusively on digitizing the established method.
"Clearly a huge issue reason for [Salesforce steering clear of AI] is the very big and very thorny issue of data privacy, especially in a healthcare context," France said, citing regulations such as HIPAA, with which healthcare entities must comply. "Contact tracing has a set of policies and procedures that are designed to tread that line between maintaining an appropriate degree of privacy protection, while addressing the critical issue of who an infected individual has come in contact with."
For its part, a Salesforce spokesperson emphasized the "manual" part of the company's contact tracing technology as the company moves into supporting public health efforts to slow the spread of the coronavirus.
"New technology is being developed every day to mitigate the spread of COVID-19," the company said in an emailed statement. "We're focused on helping our customers implement manual contact tracing. As always, the protection of our customers' data is paramount."