Microsoft adds more AI tools to Copilot for Sales, Service
The new capabilities let sales and service teams access customer information from apps such as a knowledge base or CRM system using natural language prompts in Microsoft platforms.
Microsoft on Wednesday unveiled Copilot for Service and Copilot for Sales to let enterprise customer service and sales teams access data from third-party CRM and contact center platforms with generative AI-supported tools.
In this way, Microsoft is aiming to simplify the service and sales teams' daily workflows by reducing clicks between apps and screen clutter needed to retrieve the necessary information from other systems.
Both new copilots include a license for Microsoft Copilot for Microsoft 365, which extends the AI reach into data from Microsoft 365 apps as well as third-party platforms such as CRM systems and knowledge bases. Microsoft Copilot for Sales is the updated, renamed version of Microsoft Sales Copilot.
The copilots were unveiled at Microsoft Ignite, the software vendor's annual conference for developers and IT professionals, held Nov. 14-17 in Seattle. The event has featured a slew of new product updates and releases across nearly every segment of the tech giant's enterprise software portfolio, many of them focusing on AI.
The product moves also come as other tech giants pursue similar strategies of incorporating generative AI assistants into workplace productivity and other applications.
The copilots are one example of how Microsoft is using technology from AI vendor OpenAI, into which Microsoft has invested $13 billion, to bring generative AI capabilities into its products. Copilot technology stems from OpenAI's GPT large language model format.
Each new copilot will cost $50 per user, per month, and that includes Copilot for Microsoft 365.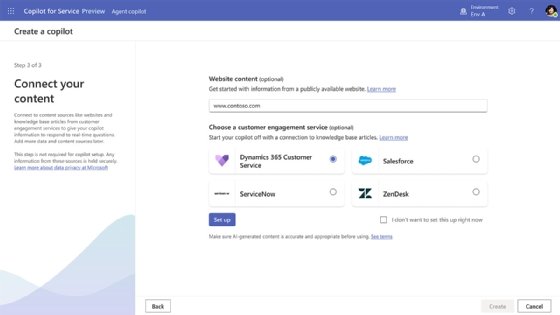 An assistant to gather data
These new copilots exemplify Microsoft's strategy of incorporating generative AI capabilities that simplify sales and service teams' workflows by transcending the boundaries created by separate applications.
Rather than users logging into various systems and navigating different databases to locate the necessary information, the copilots can surface it in response to users' natural language prompts.
This capability, made possible by generative AI, creates a new unified domain for information collection between systems, according to Daniel Newman, chief analyst at Futurum Research.
What Microsoft is building with Copilot continues to be very compelling.

Daniel NewmanChief analyst, Futurum Research
"What Microsoft is building with Copilot continues to be very compelling," Newman said. "The problem has historically always been, how do we get all the data in one place? How do we make it really easy to organize? Microsoft wants to create a very natural language human-machine interface that makes it easier."
By letting teams use Copilot to access databases from third-party applications such as Salesforce, ServiceNow and Zendesk, Microsoft is also expanding the use cases for Copilot and helping Microsoft to co-opt other vendors' users, according to Joshua Greenbaum, analyst at Enterprise Applications Consulting.
"They're trying to get their hands on their competitors' customers. They want to be present in that account," Greenbaum said. "Even if it's wall-to-wall Salesforce, if they can get their Copilot in there as an adjunct to Salesforce -- that's a Trojan horse kind of strategy to get yourself in the door."
A new way to interact with technology
Generative AI is changing the user experience for customer service and sales workflows because it is overhauling how teams input and export information, according to Emily He, Microsoft corporate vice president of business applications marketing.
For a long time, the user experience consisted of logging into a home screen that showed a table-style form with different data links that users can click to access other forms. But Copilot is changing that interface, she said.
"With Copilot, you no longer need to manually enter data into the system. You can simply use natural language to ask a question, and Copilot will fetch the right information and provide the answer," He said.
Training Copilot with feedback
The change in user experience propels sales and customer service teams to interact with their work tools in a new way, especially for data search within their systems.
"Not only are we going to give our employees a more intuitive user experience through Copilot, but also fundamentally change the way they access data, they think about what questions to ask and they think about how to engage with technology," He added.
The way for users to get the best output from Copilot is to be patient and iterate with it so that it can better understand what the desired information is and the best way to deliver it to meet the users' expectations, according to He. She compared it to working with a smart intern who needs more feedback to do a new job.
It's also a change in mindset from the one-question-only search approach that has dominated natural language interactions, such as a simple database search or a Google search.
"As users, we spent so many years doing search, we think an answer is an answer. And we don't think about iterating with Copilot to come up with the right answer," He said.
AI as an essential component
The new copilots support Microsoft's mission to make generative AI tools an intuitive, smooth and integral part of its various product offerings, according to Opus Research analyst Dan Miller.
"I'm fascinated, maybe fixated on what Microsoft with OpenAI is doing with Copilot. It is making Copilot ubiquitous, with presence on every screen in Microsoft 365. I think there will be some downward pressure on its pricing, but there is genius in extending the power of a flavor of GPT to support search and increased productivity while end users are taking advantage of their most popular software," Miller said.
Mary Reines is a news writer covering customer experience and unified communications for TechTarget Editorial. Before TechTarget, Reines was arts editor at the Marblehead Reporter.