ltstudiooo - Fotolia
Benefits of migrating customer experience apps to the cloud
Nemertes research claims 75% of contact centers do some or all business in the cloud. As CX technology improves, businesses increasingly consider the benefits of cloud migration.
Technology becomes more advanced every day, and just about any organization can find some benefit in cloud-enabled customer experience apps, platforms, AI, APIs or customer-facing initiatives.
Organizations still running contact center or customer experience apps on premises may want to consider moving to the cloud. Here's why.
Why companies move to the cloud
By moving to the cloud, companies can implement new features and upgrades more quickly than it would take to test and execute on premises, and cloud systems can make app integration less time-consuming. This enables IT and CX teams to focus on applying the technology to a company's specific business requirements. In some cases, this may mean using APIs to develop customizations that align with business needs.
But more importantly, a cloud migration can improve customer retention for a few reasons:
easy integration with cloud application ecosystems;
ability to quickly scale during busy times or emergencies to serve customers more quickly; and
ability to reassign IT resources to more strategic functions to improve customer engagement.
After all, improving CX may directly result in a measurable revenue increase.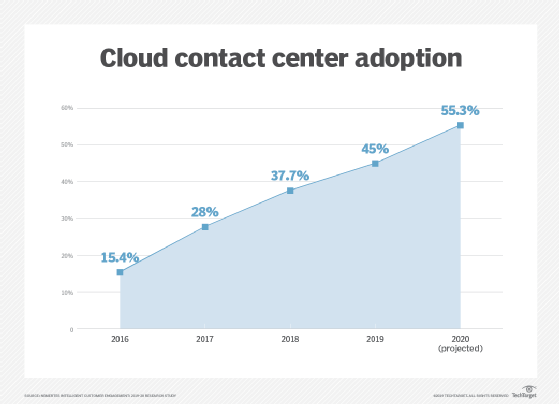 Contact center architecture trends
Contact centers present an excellent model for how a migration can improve key performance indicators (KPIs). Modern contact centers are embracing new interaction channels, self-service options, mobile capabilities, improved analytics and AI-based apps in their efforts to improve CX. The outcome of all this new technology, besides increasing the net worth of the startups and investors behind it, is a net-positive shift for organizational KPIs, such as higher customer ratings, increased revenue and reduced costs.
Organizations still running contact center or customer experience apps on premises may want to consider moving to the cloud.
If a company's competitors are quicker to the market with innovative CX technology, these metrics could be affected. CX leaders fall into two distinct camps about how to address these developments:
Turn it over to the experts. In the larger camp, some executives admit that they don't have the resources to keep up with all the developments in the CX space. The amount of time it would take to evaluate, test, secure and administer fast-changing technology options is a non-starter. They tend to move to the cloud to gain access to CX experts who can stay up to speed on emerging capabilities for them. These companies then focus on how to use new customer experience apps, features and integrations to serve their customers based on these expert recommendations.
Keep it in-house. In the other camp, some executives believe they have internal resources with the time and expertise to stay abreast of all the developments in CX. They can evaluate new technologies knowing exactly what the company needs. These organizations typically stay with their on-premises system or use a hybrid architecture that takes advantage of cloud apps where they find them most useful.
CX cloud migration by the numbers
About 25% of organizations are still fully on premises for contact center services. Around 45% are using multi-tenant contact center as a service (CCaaS) offerings, and 12% are using single-server hosted services, according to the Nemertes "Intelligent Customer Engagement: 2019-20 Research Study."
There is no longer the distinct difference between small and large companies that there was in the early years of CCaaS, when mostly small companies moved to the cloud. Small companies typically make decisions more quickly, and cloud providers initially targeted small companies for cloud services. The promise of improved network reliability and security now has many large companies shifting either partially or fully into the cloud. In many cases, the number of agents these organizations have operating in the cloud may be small compared to the total number of agents.
More than half of small companies fit into the "move to the experts" camp, with 52% using CCaaS. Very large companies, defined as those with more than 10,000 employees, are quite mixed. Although 37.5% are using CCaaS and 15.6% are using single-server hosting, only 28.1% have adopted a hybrid architecture, with 15.6% remaining on premises. Surprisingly, 34.8% of very small companies remain on premises, according to the study.
Though companies such as Avaya, Cisco, Genesys and Mitel assure ultra-large contact centers that they will continue to support on-premises applications, all are investing heavily in cloud-based options. At the same time, other contact center providers such as Five9, Talkdesk and Serenova find success selling cloud-only services. Cloud-only providers RingCentral and 8x8 have options for selling integrated unified communications and contact center services, too.
Dig Deeper on Customer experience management